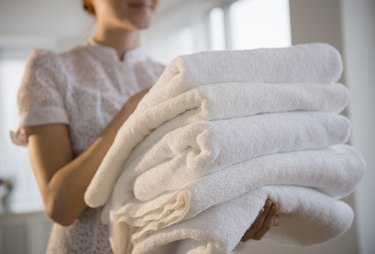 There's no question that chlorine bleach is a powerful stain remover, but it's also a harsh chemical that has a strong odor and a negative impact on the environment. If you're set on using a stain remover in addition to laundry detergent but want to try an eco-friendly alternative, there are several green options that can brighten your laundry ... and your day. Naturally-derived bleach alternatives provide the power of full-strength bleach but without toxic chemicals like chlorine, dyes, brighteners and phosphates.
If you prefer to DIY a bleach alternative, you can do it with items you likely already have around the house. There are several recipes floating around the internet, but here's one we stand by: 2 cups of 3% hydrogen peroxide, 1/4 cup lemon juice, 10-15 drops of lemon essential oil, 3/4 cup baking soda and 7 cups of water. Or, you can make your life easier (and cleaner) and choose an eco-friendly bleach alternative from our list below.
What to Consider When Purchasing an Eco-Friendly Bleach Alternative
‌Ingredients:‌ The ingredients in bleach alternatives won't disinfect your laundry since there isn't any sodium hypochlorite, a chemical that kills bacteria, fungi and viruses, but they'll certainly clean your clothes and get your whites whiter. Some active and safe ingredients you can expect in natural bleach alternatives are sodium percarbonate, citric acid, lemon essential oil and other plant-based ingredients.
‌Type:‌ There are generally two types of bleach alternatives: powder and pods. Powder is the most eco-friendly option, as pods are typically made of polyvinyl alcohol film (PVA), which is a type of plastic that's dangerous for the marine ecosystem. However, many brands are now making more sustainable pods that are free of plastics.
‌Loads:‌ Just like regular chlorine bleach and laundry detergent, the number of loads will most likely be listed on the front of the package. Most packages come with enough pods or powder for around 25 or 30 loads. Unless you or someone in your home is super messy and requires constant stain remover (we're lookin' at you, kids), one package of laundry bleach should last a while.
‌Packaging:‌ One good reason to switch to environmentally safe chlorine bleach is to avoid purchasing those big plastic jugs of laundry detergent. To reduce your carbon footprint even more, you'll want to make sure the packaging is eco-friendly. Some chlorine bleach alternatives come in recycled plastic bottles or jars, some come in recyclable packaging and some are biodegradable.
Now that you know a bit more about eco-friendly bleach alternatives, keep scrolling to find one that will work best for you.
1. Grab Green Bleach Alternative Pods
If pods are more your thing than powder, check out these plant and mineral-based bleach alternative pods from Grab Green. They come in a 24-pack, 60-pack or 132-pack and the formula can tackle difficult stains, brighten colors and make your whites whiter. The pods are free of chlorine and other harsh chemicals, but they still manage to be effective at deodorizing. They are fragrance-free, hypoallergenic and free of all scents and dyes, which is ideal for anyone with allergies or fragrance sensitivities. Throw one of these pods in the washing machine along with a detergent pod and your clothes and linens will be as good as new.
2. Charlie's Soap Oxygen Bleach Powder, 1.3-lb. Bag
Oxygen bleach naturally releases peroxide and oxygen to tackle tough stains, whiten whites and eliminate odors. This concentrated oxygen bleach formula cleans every part of your clothes and linens, leaving no residue behind and bringing a clean, soft and fresh look to your laundry. It's safe for whites and colors and is much milder than regular bleach as it doesn't have any chemicals. This powder oxygen bleach is multipurpose, safely removing stains and soil from anything washable, and it can be used for general household cleaning. You won't have to worry about damage to marine life or your septic system, as this formula is safe for both. If you're sensitive to perfumes, fillers, chlorine, or if you have sensitive skin, this is a great option. This one comes in a 20.8-ounce bag.
3. Molly's Suds Natural Oxygen Whitener
Many eco-friendly bleach alternatives only offer fragrance-free options, but Molly's Suds has eight scents to choose from, including pure lemon essential oil, eucalyptus, pure lavender essential oil and basil spring. The powder formula is paraben-free, fragrance-free, phosphate-free and dye-free. There are only plant and earth-derived ingredients in this one, so it's safe to use in your washing machine with no harsh chemicals to worry about. It can whiten whites and brighten colors, as well as fight stains and oils on fabrics. This multipurpose powder can also be used as a stain remover in toilet bowls, porcelain sinks and bathtubs to naturally remove hard water stains. It comes in 41-ounce or 79-ounce bags.
4. Savvy Green Oxygen Brightening Powder, 2.5-lb. Bag
This 2.5-pound bag of oxygen-brightening powder is ultra-concentrated to boost the cleaning power of your detergent for brighter, cleaner clothes. Savvy Green's powder is safe to use in cold water, warm water and hot water on all types of fabrics. It's free of harsh chemicals, including phosphate, chlorine and fragrances. The bag it comes in is resealable and recyclable.
5. Noodle & Boo Baby Laundry Essentials Bleach Alternative, 32-oz. Jar
Any natural bleach alternative that's designed for babies like this Noodle & Boo powder is also a great option for laundry belonging to all age groups, especially those who have skin sensitivities or allergies to fragrances. The formula is highly concentrated, so you can get up to 32 washes in. It's also multipurpose, giving you the option to safely use it to clean your baby's high chair, car seat, or other items or furniture your baby touches.
6. Ecover Nonchlorine Bleach, 64-oz. Bottle
It might look like chlorine bleach, but this natural bleach alternative is anything but. This unscented liquid bleach packs the punch of chlorine without the chlorine. It's color-safe, deodorizing, biodegradable, suitable for septic tanks and not tested on animals. Inside this jug, you'll find 64 ounces of non-chlorine bleach.
7. Biokleen Laundry Oxygen Bleach Plus, 2-lb. Container
Best for high-efficiency (HE) washing machines, Biokleen's oxygen bleach will whiten your whites and brighten your colors. This concentrated formula has strong cleaning power without any harsh chemicals. It's eco-friendly, plant-based, and has no artificial fragrances or preservatives. It's loaded with fabric and water conditioners, along with special detergent boosters to fight stubborn stains. The formula can do more than just your laundry, it also works well on household stains. You get 32 HE loads out of this bottle.
8. OxiClean White Revive Laundry Whitener + Stain Remover
OxiClean isn't the most eco-friendly option, but it is a strong chlorine-free laundry whitener and stain remover worth mentioning. It's safe on colors and contains 40% more whitening power per load than chlorine bleach. You can use this stain remover by adding it to a load of laundry or presoaking linens or clothes. Use the powder or pods along with your laundry detergent of choice. Choose from a 3-pound or 5-pound tub of powder or a bag of 24 pods.