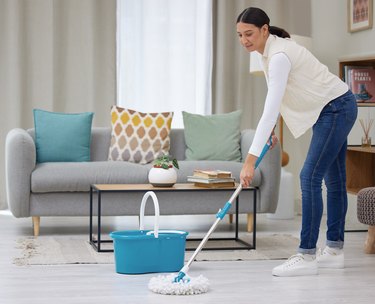 Let's face it: Cleaning can be a total drag. However, dragging the right mop across your floors can make a big difference in the cleanliness of your home. While vacuums suck up dirt and grime, mops clean up what is left behind. This cleaning tool breaks down build up and scrubs it away with a cleaning solution or water, leaving floors sparkling clean. Depending on what mop and cleaner you use, a mop can even remove a majority of bacteria and common household germs. Taking into account your lifestyle, cleaning routine and preferences, you can determine what mop is the best for you and your home.
Now that we've convinced you that a good mop purchase is worthwhile, you may be feeling a bit overwhelmed. From spin mops and sponge mops to dry mops and microfiber, the choices are endless. So, how will you decide on the perfect purchase and a mop to call your own? With so many options on the market, we put together a handy guide to help you pick the best mop for your needs.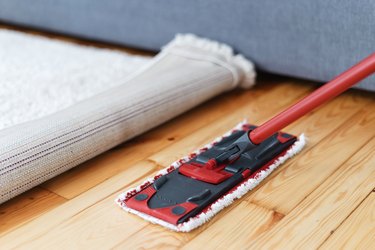 What to Consider Before Purchasing a Mop
A mop may not seem to be the most exciting of household cleaning tools, but it's one of the most helpful. There are a few different details and features of a mop that can alter your cleaning regimen and much you will want to keep in mind before purchasing a mop. What types of messes are you cleaning within the home? Do you need a heavy duty mop or something with more versatility? Before bringing a new mop into your home, you will want to take multiple factors into consideration, including type, functionality, versatility and material in order to get the best bang for your buck.
‌Type:‌ There are several types of mops on the market: Your choices are nearly endless and the world is your bucket. Mop types include but are not limited to: Steam, sponge, spin and spray. The type of mop you choose is dependent on your home routine, cleaning needs and household preferences.
‌Functionality:‌ Some mops will have several built-in features such as sprayers, steamers, rotation and even different types of fabric and shaped heads, while others will be more basic in nature. Some handles can be ergonomic, as well. Remember, there is no right or wrong answer when making a mop purchasing decision. What you choose is entirely up to your preference and needs.
‌Versatility:‌ Depending on what you value in a home cleaning product or tool, you may want your mop to be more versatile in its cleaning capabilities. If you would like to optimize your cleaning routine and are looking to save space within your home, look for a mop that is gentle, can clean various surfaces and doesn't take up too much real estate in your broom closet. If you are looking for a mopping solution for a more aggressive mess, you may want to dig further and get a less versatile purchase for a more sticky situation.
‌Material:‌ Mop heads come in several materials including strip, microfiber, sponge, dry, wet and dust, and they all have their purposes and benefits. For example, sponge mops are great for cleaning tile and linoleum and are usually equipped with a wringer to squeeze out extra water, while dry mops are great for sweeping up dust between cleans on smooth surfaces. Some mop heads are reusable and other options are disposable. Depending on your cleaning needs, you will want to factor in the type of mop head and surfaces within your home before making your purchase.
The Best Mop for Daily Cleaning
A sponge mop usually consists of a sponge-based head and a wringer that allows for the elimination of excess water from the head while cleaning the floor. The Yocada Sponge Mop includes a honeycomb sponge design which is more absorbent and easier to dry. The sponge head is easily removable for convenient cleaning and storage. A water squeegee attachment feature on this mop also allows for the cleaning of water on your floors in a more efficient way. The simple design, scrub brush attachment and quality of materials makes this a solid, overall choice for those who want to do a quick yet thorough clean.
A spin mop can clean both wet and dry surfaces, with easy and touch-less ways to wring and clean the mop head. This Twist and Shout spin mop has a self-wringing feature that spins dry, pivots and rotates for easy movement. A versatile cleaning staple, this mop comes with reusable and machine washable microfiber mop heads which also moonlights as a dry mop. A bonus: The Twist and Shout comes with a lifetime warranty.
A spray mop allows for that all-in-one experience without the added inconvenience of dragging a bucket around while you clean. If you hadn't heard of the Swiffer WetJet, you'll be glad to know it now. A much-loved and classic mop, this gadget features an all-in-one mopping system with a dual nozzle spraying function (and, it's totally safe on finished floors). If you're angling for ultimate convenience and low hassle, this mop is just the thing. Plus, disposable cleaning pads make for quick, hassle-free clean up.
This industrial-grade mop has a telescopic handle which makes storage easy and convenient.The mop includes one cotton mop head with looped ends that allow for absorption without fraying. The head is soft and gentle on all surfaces including tile, marble and hardwood, too. The handle is reliable and adjustable, making it a versatile tool for many different types of cleanups and surfaces.
A microfiber mop is made out of synthetic and small fiber material that easily traps dirt and dust, which allows for more effective and efficient cleaning. This OXO Good Grips microfiber duster is sure to brighten up your routine and makes dusting a snap. With its nonslip handle and a machine-washable microfiber head that pivots 360 degrees for seamless full coverage, cleaning your space will never be easier. Plus, might we add that the bright orange and white super mod color combo is a total vibe?