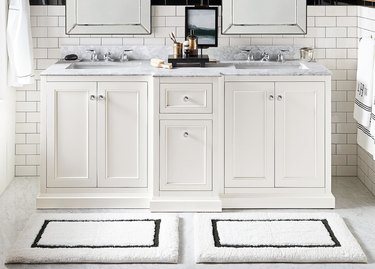 A bath mat is an essential part of taking a shower—or at least, the moments directly following a shower. The right bath mat absorbs water, prevents you from slipping when your feet are wet, adds cushion to your bathroom floor and can bring some style to the space.
Bath rugs certainly aren't hard to come by, but finding the right one for your space can require a little bit of research. Not only should a bath mat be functional, it should also be something you enjoy looking at on a daily basis. Finding one that fits with your bathroom decor and your style is key.
What to Consider When Purchasing a Bath Mat
‌Size:‌ The size of your bath mat matters. If the bath mat is too small, it won't cover enough square footage to keep the floor dry and prevent slippage. If it's too big, it could take up too much space and your entire bathroom floor could be a bath mat. The right size will cover the whole area where you step out. Consider measuring the area outside of your shower and bath tub to make sure you purchase the correct size. Bath mats come in different sizes and shapes, so perhaps a circular bath mat or a runner would work better in your space than the classic rectangle.
‌Material:‌ The most common bath rug materials include microfiber, cotton, polyester and memory foam. Microfiber is a great option if you have kids who take baths or if your floors tend to get pretty wet after a shower, as it's super absorbent, dries quickly, has a velvety feel and can hold more water than cotton. Cotton is usually more absorbent than polyester, but polyester dries quicker and doesn't shrink in the dryer. Memory foam is the most comfortable to stand on, as it provides the most cushion. Wood, bamboo and stone bath mats are also a popular option as they look and feel like you're in a spa and they don't require much as far as upkeep. They do, however, tend to be more expensive.
‌Non-Slip Grip:‌ An important feature on a bath mat is non-slip backing. A grip bottom can prevent the bath mat from moving around when stepped on, causing you to slip, ultimately defeating the purpose of having a bath mat to begin with. An anti-skid backing can be made of rubber, latex or thermoplastic, all of which provide effective slip resistance and can also protect your floors from water damage.
‌Care:‌ Most shower mats made of fabric are machine washable, but some require hand-washing or spot cleaning. The most low-maintenance bathroom rugs can be machine-washed and dried, so if that's important to you, be sure to check the care instructions before making your purchase.
Below, you'll find our top picks for the best shower mats of 2022.
The Best Overall Bath Mat
Gorilla Grip makes the best-selling bath mat on Amazon, and it's popular for a reason. Made of soft and thick chenille, the bath rug offers a cozy place to step after getting out of the shower or standing at the sink. It's absorbent and has a textured rubber backing that's built to last—even after being machine-washed. This shag bath rug is available in 11 sizes and a whopping 44 color options.
For a budget price, this bath mat has a lot to offer. The rectangular, chenille mat has a non-slip backing with a high pile for a soft and cozy feel on your feet. It's quick to absorb water, and it's machine-washable, so just throw it in the wash with your other bathroom rugs, the rest of your bath towels and linens and you're good to go. This bath mat comes in three size options.
The Bath Mat With the Best Design
A diamond motif decorates this chic and stylish cotton bath mat that could also pass as an area rug. Made using eco-friendly production methods, this cotton bath rug is free from many chemicals, toxins and irritants. It's machine-washable—just be sure to use non-chlorine bleach to keep the gorgeous color in tact. Speaking of colors, the bath rug is available in seven colors—each just as pretty as the next. It comes in a small rectangle shape or as a bath runner.
The Best Machine-Washable Bath Mat
Make your life easier with this machine-washable, quick dry bath rug. Just pop it into the washing machine whenever needed and it'll be fresh and ready for the next shower. Made of 100% nylon with a channeled texture, the rug is soft under your feet and is skid and fade resistant. There are four sizes and nine colors to choose from.
The Best Memory Foam Bath Mat
Treat your toes to an ultra soft feeling every time you step out of the shower. This luxurious, machine-washable memory foam bath mat is designed with fluffy polyester and memory foam underneath. It has a non-skid latex backing and it's available in three sizes and six border colors that can be paired with bath towels or a shower curtain that matches.
It isn't cozy like the other bath mats on our list, but this wooden mat has excellent functionality. Made of 100% teak wood, the slatted design allows water to drip through. It's water-resistant and thrives in humid environments like a bathroom. It can be cleaned with a soft, dry cloth. The mat comes in natural and black and in three sizes. It's the perfect bath mat to trick you into believing you've stepped into a spa every time you take a bath or shower—at least for a moment.
The Best Reversible Bath Mat
One side of this bath mat is white with black accents and the other side is black with white accents, so when you're ready for a change, just flip it over. It has eyelash fringe on the edges and it can be machine-washed and tumble dried. The reversible bath rug is free from over 400 toxins making it a safe choice for your home. It's available in a two sizes: a rectangle that's 24 inches by 36 inches and a runner that's 24 inches by 60 inches.
There are several benefits to using a stone bath mat. This diatomaceous stone mat is porous and quickly absorbs water. In fact, it's so good at absorbing water, wet footprints can disappear in 15 seconds or so. The bottom of the mat comes equipped with an anti-slip pad, and the mat is available in several sizes, shapes and patterns.
The Best Microfiber Bath Mat
Here's another great option for a super soft and cozy bath mat. It's made of microfiber material with an anti-slip backing, so it's very quick to dry and is machine-washable for easy care. It's the type of bath mat that isn't too fancy but gets the job done well. Choose from six colors.
Bring some light-hearted humor to your bathroom with this "Get Naked" bath mat. It can also serve as a friendly reminder to take off your clothes before you hop in the shower or tub (if you need such a thing). This mat has a non-slip back to keep everything in place, and it needs to be spot cleaned.