Maintaining your upholstery is a staple of any cleaning routine. With entertaining and home living comes laughter, joy, delicious food, paw-prints, messes and, dare we say it, stains. Luckily, there are plenty of tools out there to tackle unwanted stains on the beloved fabric within your home, including upholstery cleaners.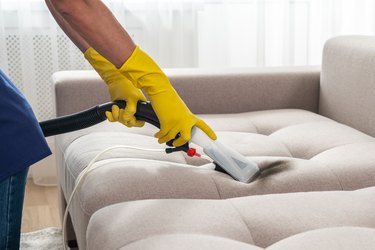 But what is upholstery cleaning, exactly? Upholstery cleaning is the cleaning of the fabric that covers your furniture and adorns your home. Whether it's the fabric on your favorite chair, the rug in your bedroom, or your favorite dress shirt, not all fabric is the same, so there are varied methods to clean upholstery or fabric, as not every method, chemical, or tool proves effective for every material or mess. Whether it be spot cleaning for stains, or a general cleaning to rid your furniture and household fabric of dirt, dust and grime, upholstery cleaning requires special materials, solutions and equipment: There are many different options to tackle myriad materials and messes.
What to Consider When Purchasing Upholstery Cleaners
Before investing in an upholstery cleaner, there is much to take under consideration. There is no one-size-fits-all-mantra when it comes to upholstery cleaners because of the variety of stains, messes and upholstery itself. In order to address the mess at hand and ensure proper care of your home, you will want to learn about the types of upholstery cleaners on the market and see to it that your cleaner is compatible with the material of your upholstery. Additionally, you will want to know if the cleaner you are using is versatile, and if the attachments and cleaning solution are appropriate for the mess at hand.
​Type:​ Because of the variety of upholstery out there and the potential for different stains and messes, there are several types of upholstery cleaners on the market, and you will want to be aware of them before making your purchase. These include but are not limited to:
Handheld appliances

Carpet cleaners

Steam cleaners

Spot cleaners

Wipes

Leather cleaners
​Surface:​ Be sure to check that your upholstery cleaner is compatible with the surface you are working on. Some upholstery cleaners are designed to clean certain materials and surfaces, but not others. If you are purchasing a spray, be sure the formula is safe to apply on the fabric or stain you are looking to use it on. Every fabric and spray is different: Checking labels and ingredients, and running a spot taste can easily clear your mind from worry of ruining cherished furniture and fabrics.
​Attachments:​ An upholstery cleaner, depending on the type, can be enhanced with certain attachments. Upright, handheld and steam cleaners, especially, can utilize different attachments, including brushes and cleaning pads, which may affect your purchasing decision.
​Versatility:​ Versatility from your upholstery cleaner can make your cleaning routine more effective and efficient. Depending on the upholstery you are looking to clean, or the stains you're looking to fight, you may want to evaluate if the upholstery cleaner you are about to purchase is versatile and can handle multiple cleaning scenarios. Get some bang from your buck!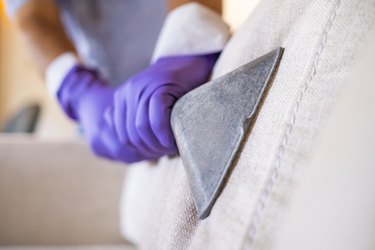 The Best Overall Upholstery Cleaner
Bissell SpotBot Pet Hands-Free Portable Cleaner
This Bissell SpotBot Pet is an all-around great upholstery cleaner for furniture and carpets. It comes with multiple attachments and even has pre-set cleaning modes to tackle hard to clean stains, including set-in stains. It also comes with a hands-free mode so you really don't have to do a thing while it cleans—we love that! Bonus: Bissell donates up to $10 to their pet foundation for every pet product purchase upon activation, and since this product is technically in their pet line, it counts!
​Type:​ Canister
​Capacity:​ 30.6 oz
​Cord length:​ 15 feet
​Weight:​ 14 lbs
​Attachments:​ Hydro-rinse tool and 3" tough stain tool.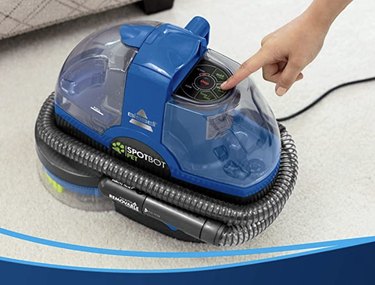 The Best Upholstery Cleaner for Cars
Hoover ONEPWR Spotless Go Cordless Portable Spot Cleaner
This small cordless spot cleaner from Hoover is perfect for cleaning carpets in a vehicle. This lightweight upholstery cleaner allows for freedom of movement so you can clean between every nook and cranny! Its dual tanks keep clean and dirty water separate, so it's as easy as fill, empty and rinse once you're done cleaning. It comes with several useful attachments, such as a 4-inch scrubbing tool and a removable hose, as well as a rechargeable battery and charger.
​Type:​ Spot cleaner
​Capacity:​ 9 oz
​Cord length:​ Cordless
​Attachments:​ Scrubbing tool, removable hose, ONEPWR charger, and more.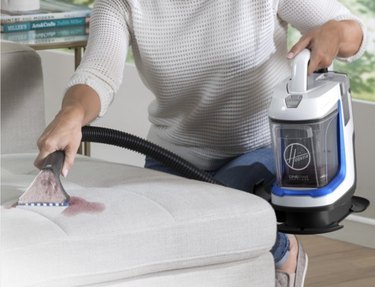 The Best Eco-Friendly Upholstery Cleaner
Earth Friendly ECOS Everyday Stain and Odor Remover
If you want to be more environmentally-friendly with your cleaning without putting in too much effort, this biodegradable upholstery spray treatment is an effective and easy eco-friendly option for fighting stains and household odors. It works on common household messes like pet urine, grass stains, wine spills and coffee stains. The cleaner boasts an EPA Safer Choice-certified formula that uses the power of natural enzymes to cut through odors and stains. Just be sure to double-check that it is compatible with any materials and stains you spray it on before use!
​Type:​ Spray
​Capacity:​ 22 oz
​Attachments:​ None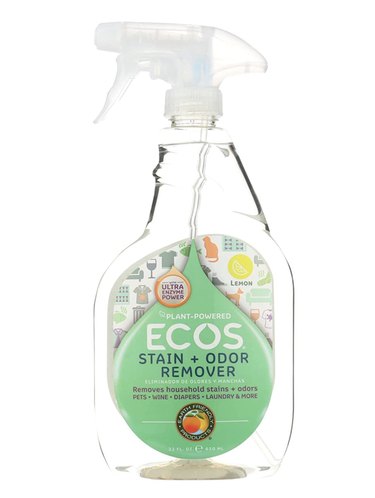 The Best Pet Stain Remover
Bissell Pet Carpet & Upholstery Cleaner, Blue 12oz
This pet spot lifter and upholstery cleaner includes a patented odor-eliminating formula that discourages pets from re-soiling the same area while leaving a fresh, clean scent behind. Additionally, the Bissell cleaner comes with a fabric-safe brush to help clean upholstery and carpet fibers. This product is tailored more specifically for upholstery and carpet, but do check the label and spot test to see that it will work for your surface to ensure you maintain your favorite fabrics to your standards!
​Type:​ Foam
​Capacity:​ 12 oz
​Attachments:​ Fabric-safe brush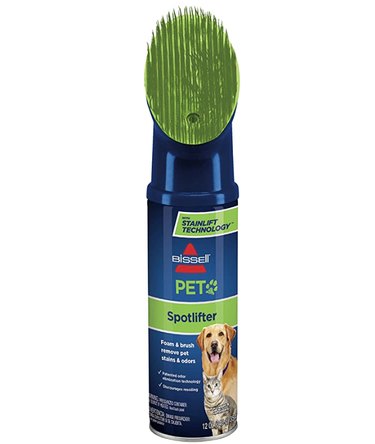 Weiman Leather Conditioning Wipes, 30 Count
​Quantity:​ 30 wipes
​Attachments:​ None
​Features:​ Provides UV protection for leather furniture
Ever confused about how to clean your leather goods? For a quick and effective clean for your leather seats and furniture, these leather conditioning wipes by Weiman will do the trick. These wipes are non-toxic and help prevent cracking and fading on leather couches, car seats and even purses and shoes! Additionally, they offer UVX protection from sun damage. Using these wipes can safely remove oil and dirt while offering moisturizing treatment and fading protection for your cherished leather items, all in an easy wipe.