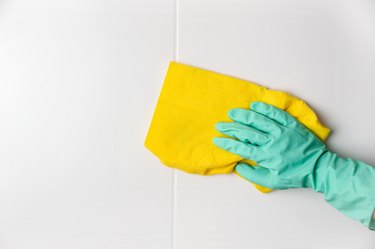 Have you ever thought cleaning gloves were just plain ... silly looking? Time for a change of heart. A pair of cleaning gloves can be a total game-changer, acting as an extra layer that can help you take on the day and your chores list! Cleaning gloves can be useful for shielding your hands and wrists from the elements, whether that's hot, sudsy dishwater or bathroom cleaner with bleach. Gloves can protect your skin from drying out and reduce exposure to harsh chemicals, which could cause burns or irritation. It might be easy to overlook this extra step when you're in the cleaning zone, but shielding your hands from bacteria, grime and dangerous chemicals is always worth it.
You might think all cleaning gloves serve the same purpose, but the materials, durability, fit and function vary widely. As invincible and amazing as a pair of cleaning gloves has the potential to make you feel, not all gloves are up to all cleaning tasks. In fact, you may wish to purchase a few pairs of gloves for activities like dishwashing, scrubbing the toilet or treating laundry stains. Think about which chores you'll use the gloves for most often before making your purchase and putting on a fresh, new pair.
What to Consider When Purchasing Cleaning Gloves
Gloves may not seem like the most complex cleaning tools, however, there are many different features that can alter your cleaning experience for the better—improving efficiency and even safety practices. Before purchasing cleaning gloves, take some of these factors into consideration:
​Material:​ Not all cleaning gloves are made of the same material—and this may be of concern to someone with a latex allergy. Thankfully, today's shoppers can find cleaning gloves made with latex alternatives, including nitrile, PVC and neoprene. For added comfort, some cleaning gloves are lined with cotton and other soft material blends. Lined gloves are less likely to stick to damp hands and some have cuffs that can be rolled to prevent water and other liquids from seeping in while you're cleaning.
​Durability:​ Depending on the task at hand, you may need to opt for heavy-duty gloves that are more durable. Some gloves are disposable and allow for easy cleanup, while others can be reused again and again. Thicker gloves are good for yard work, cleaning with hot water or scrubbing the bathtub, whereas lightweight gloves may be more suitable for tasks that require flexibility and ease of movement, like cleaning out the refrigerator.
​Protection:​ Not all gloves resist the same chemicals. If you're going to be working with things like oil, acid, alkali or solvent, you'll want to purchase chemical-resistant gloves rather than everyday cleaning gloves. These types of heavy-duty gloves also tend to have higher temperature tolerances and nonslip grips.
​Fit:​ Cleaning gloves come in a variety of sizes and styles that vary between manufacturers. Consider how you want your gloves to fit—snug or loose—and the ideal length for your most common cleaning tasks. Additionally, you can choose between a myriad of colors, patterns and even textures, which can make your cleaning routine a little more cheerful.
​Purpose:​ Some cleaning gloves are used for dishwashing, while others are best for bathroom deep cleans. There are gloves that can be used for dusting, and texturized gloves that are intended for scrubbing scorched pots and pans. You will want to know how your gloves should be used so you can utilize your purchase properly.
Now that we've discussed what to look for in a pair of hardworking cleaning gloves, here are some of the best options on the market in 2022.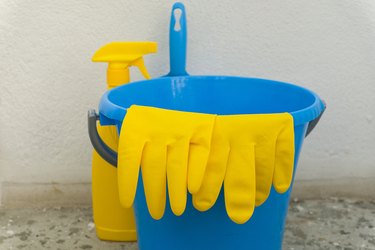 The Best Latex-Free Cleaning Gloves
These allergy-friendly, latex-free gloves feature a plush lining to keep your hands dry when washing the dishes. The material is 20 millimeters thick and tear-resistant, offering an embossed, nonslip grip. The 12-inch long cuffs are even embellished to give the gloves a unique flare. This pair is ideal for washing dishes, cleaning the kitchen or tidying up the bathroom. Listed here is size medium, but you can also purchase them in size small or size large. All three sizes are sold in multipacks if you want to stock up for future clean-ups or multiple projects.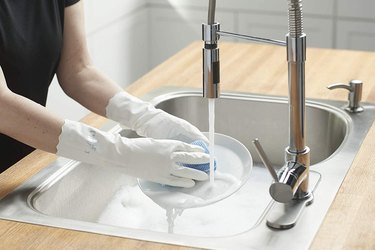 The Best Heat-Resistant Cleaning Gloves
Working Hands PVC Coated Heavy Duty Rubber Glove, 1 Pair
If you are looking for something a bit more heavy-duty, these PVC-coated gloves from Working Hands offer water resistance, increased protection from harsh chemicals, and the comfort of a cotton fabric-lined glove all in one. They have long cuffs and are extra-thick, which makes them resistant to extreme temperatures. This navy blue pair is perfect for anyone who washes dishes in scalding hot water or needs some extra protection when deep-frying on the stovetop. The gloves come in two sizes—medium or large—and are roomy enough for people with large hands to use.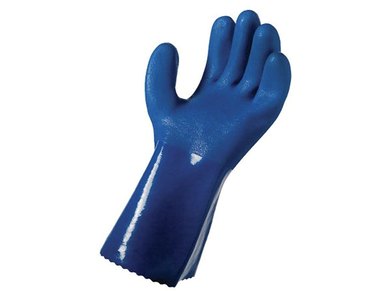 The Best Multifunctional Cleaning Gloves
Hettor Silicone Scrubbing Gloves, 1 Pair
These silicone gloves by Hettor have dense brush bristles on the palm side for added friction and efficiency. They're dishwasher-safe for easy sterilization and can handle hot temperatures up to 320 degrees Fahrenheit. Best of all, they're multifunctional and can be used to remove stuck-on food from dishes, massage shampoo into your dog's coat, and clean fresh produce, just to name a few. The silicone material dries quickly and the gloves have a convenient hole for hanging them up after use. As an added bonus, the gloves come in several eye-catching, bright colors: pink, blue, yellow, gray and purple.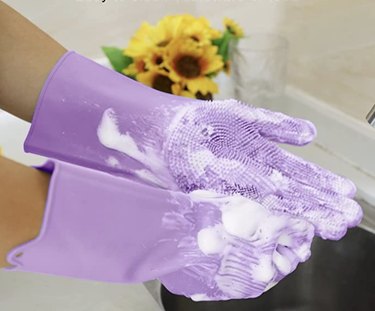 The Best Dishwashing Gloves
These cleaning gloves have a latex exterior and a cotton-flocked lining, allowing for breathability and comfort. A double cuff keeps your hands dry and prevents water from getting inside, while grip patterns on the outside of the gloves allow for easy handling of dishes, as well as other household cleaning tasks. The aqua gloves come in sizes small, medium and large, in addition to a second bright fuchsia color. They do have a mild baby powder scent, which is arguably better than the rubbery smell of some other cleaning gloves, but if you're sensitive to fragrances you may want to opt for another pair.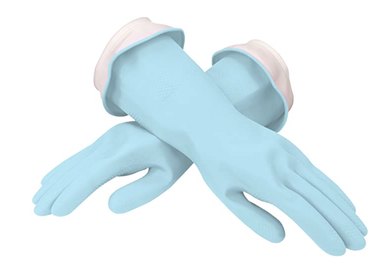 There are many varieties of cleaning gloves that can help make your chores easier and cleaning tasks more efficient (and even fun). Some gloves are more durable than others, and they come in a variety of materials, which can be important to take into consideration if you have an allergy to latex. Take note of what chores you spend your time on and what you will be needing your cleaning gloves for. This will help you determine what cleaning gloves you may or may not need to fulfill your household cleaning routine.