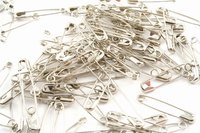 Primitive decor is greatly influenced by the colonial period and features simplicity in its furnishing and accessories. As this decorating style continues to develop and change with trends, one particular trend that has gained popularity is extreme primitive. Extreme primitives are identifiable by heavy staining and grunging with teas and cinnamon, simple style stitching, and rusty accessories like safety pins. Although you may find rusty safety pins to purchase for your primitive crafts, it is inexpensive to make your own.
Things You'll Need
Glass jar with lid, 1 qt.
Bleach
Strainer
Apple cider vinegar
Salt
Paper towels
Place non-stainless steel safety pins in the glass jar and pour enough bleach into the jar to cover the safety pins.
Screw the lid on tightly and let set for 24 hours.
Strain the bleach from the jar and refill it with enough apple cider vinegar to cover the safety pins.
Add 1 tsp. of salt and screw on the lid to seal the jar.
Let the jar set for 24 hours, then strain out the vinegar solution.
In the sunlight, spread the safety pins across paper towel. Move around as needed until the safety pins are completely dry.