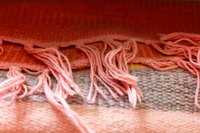 Area rugs are an extension of decoration in homes that also serve the purpose of insulation on cold hard floors in the winter. Rugs trap dirt and debris deep into the backing and occasionally need a more thorough cleaning than a vacuum cleaner can supply. Steam cleaning removes dirt, dust, debris and allergens from area rugs without the use of harsh chemicals to aggravate allergies.
Things You'll Need
Scissors
Double stick tape
Vacuum cleaner
Steam cleaner
Carpet stain removers
Water
Take the area rug outside and shake any debris and dirt out of it. Place the area rug upside down on a hard surface, such as a kitchen floor.
Cut strips of double stick tape to cover the circumference of the rug. Peel one side off each piece of double stick tape and press the sticky side onto the outer edges of the rug about 1 inch from the edge. Peel the backing off the double stick tape.
Carry the area rug to a hard surface floor, place it on the floor right side up and walk on the edges to stick it to the floor.
Vacuum the area rug with a vacuum cleaner to remove any remaining dirt and debris from the rug.
Spray treat any stains on the rug with a carpet stain remover according to the package directions.
Remove the lid on the water tank of the steam cleaner. Fill the water cup and replace the lid. Place a new cleaning pad on the steam cleaner and tuck the edges in to secure the pad.
Plug the steam cleaner into a wall socket and push the "on" button. Wait until the ready light illuminates so that the steam cleaner heats to a pre-set temperature.
Slowly start cleaning the area rug on one side at the farthest point from you. Push the steam cleaner back and forth over the area rug starting at one side and working toward the other side in the same manner as vacuuming.
Clean the area rug from one side to the other following this method until reaching the other side of the rug. Overlap each pass by about 3 inches to provide even cleaning without streaks.
Remove the double stick tape from the back of the area rug. Wipe any sticky residue from the floor using a mild dish soap and water solution on a dish cloth.
Let the rug dry completely before walking on it.