Things You'll Need
4 1-by-6-by-12 cherry boards

Miter saw

Wood glue

1 box of finish nails

Hammer

Damp rag

2 1-by-12-by-12-inch cherry boards

Wood finish of your choice

2 hinges with screws

1 hasp set, with screws

1 padlock, with key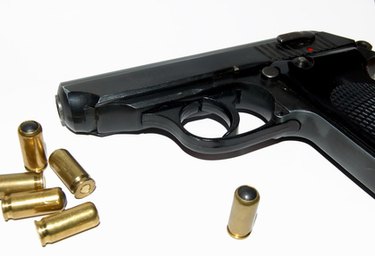 Collectors and gun enthusiasts need ways to store their handguns when not in use. Wooden pistol boxes, more decorative than metal boxes, are a good option for display and storage. The wood showcases the pistol as well as storing it safely. A homemade wooden pistol box can be made to fit your pistol better than a generic box purchased commercially.
How to Make a Wooden Pistol Box
Step 1
Cut a 45-degree angle on both ends of the four 1-by-6-by-12 cherry boards with the miter saw. These are the sides of the pistol box. Place the sides together to form a box. The 45-degree angles will allow the sides to go together to form a square. Apply a bead of wood glue to the joints where the sides meet. Fasten the sides together with finish nails and a hammer. Use two finish nails per joint. Wipe off any excess glue with a damp rag. This is the box assembly.
Step 2
Position the box assembly on a work surface. Place one 1-by-12-by-12-inch cherry board on top of the box assembly. This is the bottom of the box. Apply a bead of wood glue along the edges. Fasten the board to the box assembly using finish nails and a hammer. Space the nails evenly every two inches. Wipe off any excess glue with a damp rag.
Step 3
Apply a wood finish of your choice to all of the box assembly and remaining box parts. Allow the finish to dry completely before continuing. Refer to the wood finish container for drying instructions.
Step 4
Place the remaining 1-by-12-by-12-inch cherry board on top of the box assembly. This is the box lid. Align the edges with the sides so that they are flush. Place a hinge 1/2 inch in from each end of one side of the box. Fasten the hinges in place using a screwdriver and provided screws.
Step 5
Align the hasp set on the center of the side opposite the hinges. Fasten the hasp set in place using provided screws and a screwdriver. Place the padlock through the hasp. Lock or unlock the padlock with a key. Keep the key in a safe place away from children.
Tip
A 12-by-12-inch box will fit most pistols. For a custom fit, you can place dividers in the box. Or if you prefer, you can adjust the measurements of the box size to accommodate your gun. Add storage compartments for cleaning tools to the inside of the box.
Warning
Wear eye protection when working with wood. Follow tool safety precautions for safe operation. Firearms should be stored unloaded. Ammunition should always be stored separately from the gun. Both firearms and ammunition should be stored out of reach of children.