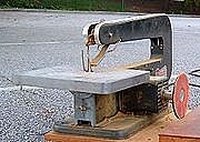 Scroll saw or fretwork plans, or patterns, are in high demand. More and more woodworkers are discovering the fun of creating these works of art.
Luckily, some amazingly artistic folks are willing to share their patterns for free. Once you've found and downloaded the patterns you want, please take a moment to thank them.
Things You'll Need
Check out http://fssp-arpop.blogspot.com/ to find an ever bigger assortment of free patterns. Patterns are conveniently arranged by categories such as animals, silhouettes, people, religious, historical and much, much more.
Finally, be sure to look at http://scrollsawworkshop.blogspot.com/ where you'll find a scroll saw blog that is filled with advice and links. Scroll down to find a number of exceptional scroll work patterns. The site owner has even produced videos to demonstrate the techniques and help you.