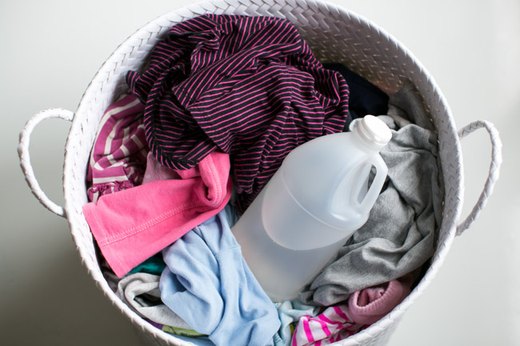 Put versatile vinegar to work in the laundry room to brighten colors, kill odors and eliminate tough stains. A staple in any homemade cleaning arsenal, distilled white vinegar is a multitasking must-have for your laundry routine. The inexpensive ingredient is an effective natural cleaner and is safe to use on everything from towels and sheets to delicates and baby's clothing. Learn 11 easy ways to incorporate vinegar into your laundry routine.
1. Brighten Colors
For a laundry boost, add 1/2 cup of vinegar to clothes before washing. It can help your detergent work more effectively as well as protect colors from fading and dissolve the dulling residue that soap and detergents can leave behind on clothes. The result is brighter colors.
2. Fabric Softener
Replace expensive commercial fabric softeners with white distilled vinegar. Vinegar acts as a natural fabric softener that softens clothes without leaving any residue. Add 1/2 cup of vinegar to the final rinse cycle.
3. Static Reducer
Dryer sheets will be a thing of the past! Add 1/2 cup of vinegar in the final rinse cycle of each wash load to prevent static cling.
4. Eliminate Soap Residue
The acetic acid in white vinegar breaks down any soap residue that may have built up on clothing, towels, blankets and sheets. This residue can irritate sensitive skin, especially in babies and young children. Add 1 cup of white vinegar to the rinse cycle to eliminate soap buildup.
5. Minimize Lint and Pet Hair
Not only will vinegar reduce static cling, but it will also help minimize lint and pet hair build up. Adding 1/2 cup vinegar to the rinse cycle will help keep lint and pet hair from clinging to fabrics.
6. Whiten Whites
Keep white clothes white and remove yellow or dingy stains with vinegar. To prevent stains, add 1 1/2 cups of vinegar to the last rinse cycle in a load of white clothing.
7. Stain Treatment
Don't cry over spilled coffee. Keep a spray bottle of undiluted white vinegar in the laundry room to pretreat coffee, wine, soda, chocolate and jelly stains. Apply vinegar to stains on washable 100% cotton, polyester and permanent press cotton fabrics until saturated. Let the fabric absorb the vinegar for 10 minutes, then gently scrub with a soft brush and launder according to care tag instructions. For accidental deodorant stains, saturate one corner of a washcloth with vinegar and gently wipe away stains.
8. Eliminate odors
Vinegar is great for eliminating funky odors and even works on smoke or mildew smells. Add 1 cup white vinegar to the last rinse cycle to deodorize an entire load.
9. Prevent Fading
Brightly colored clothing tends to run in the wash (hello, pink socks!). You can prevent fading and extend the life of colored clothes by making them colorfast before washing. Soak new colored clothing in solution of one part vinegar and one part water for 20 minutes to prevent them from bleeding in the wash. Test on an inconspicuous spot before immersing fabric and then launder according to the manufacturer's instructions.
10. Wash Delicates
Use vinegar instead of detergent to hand-wash delicates and swim suits. Add 1/4 cup of vinegar to a sink full of lukewarm water and soak delicates for 15 to 30 minutes. Rinse thoroughly and air dry.
11. Clean Your Washing Machine
Soap residue and mineral deposits can build up in your washer's barrel, dispensers and hoses. Remove soap scum and freshen your washing machine by adding 1 cup of vinegar to an empty washing machine and running it through a normal wash cycle without clothes once a month.
More Great Cleaning Tips
For more natural ways to get your home clean and glowing, these DIY solutions will help you!