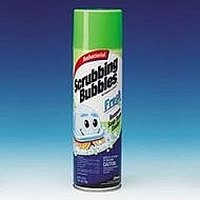 Hate cleaning those ceilings? Ceilings, especially textured ones, can be a thankless job. Here is an easy and quick way to clean those. Works on Nicotine Stains well.
Things You'll Need
Scrubbing Bubbles or other like bathroom cleaner
Rubber Gloves
Goggles (optional)
Several cleaning cloths, wet and dry
Open windows and make sure area is well ventilated. Lay cloth or towels on floor around area of ceiling to be cleaned.
Put on rubber gloves and optional goggles. Spray Scrubbing Bubbles on ceiling, doing one section at a time. Let sit a couple of minutes.
Wipe clean with wet and dry cloths. Repeat if necessary. Move on to next area.