Packing a great lunch is easier than you think. With a few secret tricks and tools, the whole thing will take only minutes, and that lunchbox will come back empty (almost) every time. Stock your fridge and pantry with these grocery store must-haves, and you'll be able to mix and match tons of delicious lunch combinations every week.
Things You'll Need
Two kinds of mini veggies (cherry tomatoes, small cucumbers, mini bell peppers)
Two types of colorful fruit (raspberries, fresh pineapple, blueberries, grapes, cantaloupe)
Crackers and pretzels
Whole-wheat rolls or pita bread
Eggs
Dried fruit (raisins, prunes, apricots, cranberries)
Trail mix
Nuts (Check to see if nuts are allowed--some schools ban nuts due to allergies)
Granola bars
Pickles
Two kinds of deli meat (turkey, salami or ham)
Two kinds of cheese (cheese sticks, sliced cheese)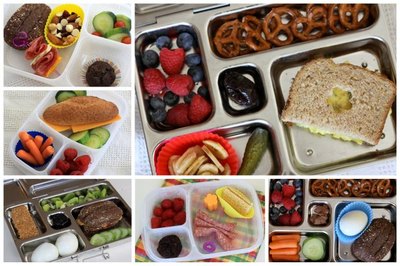 Start with a Few Secret Tools
Step 1
Bento boxes are the best way to start. With three or more compartments, it's easy to build a balanced (and attractive) lunch by filling each section with something different. Think different colors, different textures, different food groups.
Step 2
Then arm yourself with a couple of gadgets that can transform plain food into fun shapes, add color and deliver ingredients in style. Hardboiled egg shapers, sandwich molds, vegetable cutters, silicone cups, even toothpicks. Don't buy all of them, just choose one or two that seem fun for your child's taste.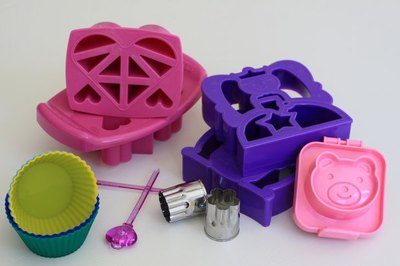 Step 3
When you're grocery shopping, aim to repeat twice in the week. Do two turkey sandwiches this week, but do them different ways: once as a sandwich punched with a cool design and next time rolled up like sushi. Pack hardboiled eggs twice this week: first served whole, then as an egg salad sandwich. Salami can show up as a sandwich and also with cheese and crackers.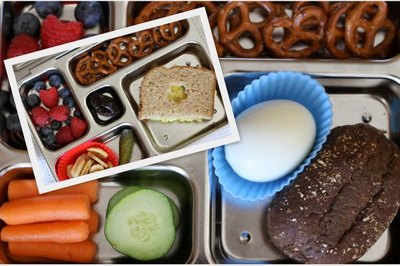 Try New Recipes and Techniques
Step 1
Sandwiches may a staple of kids' lunches but that doesn't mean they have to be boring. Try shaped sandwich molds, cutting up sandwiches and putting them on a bamboo skewer (or straw if your school won't allow it) or rolling them up, as seen here. Just flatten out regular bread with a rolling pin then apply your favorite toppings like PB&J or mayonnaise and turkey. Roll up, cut with a bread knife and serve like sushi.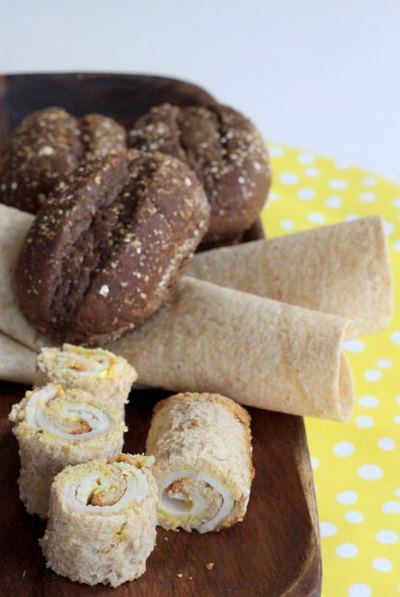 Step 2
One of the easiest ways to entice any kid to eat a good lunch is by using color. Fresh fruits and vegetables are a great choice but even pickles and dried fruit work too, especially if you borrow a pop of color from a silicone baking cup like this one.
Step 3
Homemade muffins are a foolproof way to deliver fresh fruits and vegetables in a tasty little package. We make banana muffins, zucchini, pumpkin, carrot and every other combination you can think of. Use a couple of different kinds of pans, just for variety, and throw the whole batch in a freezer bag. Just pluck out what you need to round out any lunch any day.
Step 4
Transform a plain lunch into something more fun with a simple skewer. Instead of a classic sandwich on regular bread, use whole-wheat rolls (slathered in salted butter if you like) and serve a side of salami and cheeses on a stick. Put cucumbers and tomatoes on a stick, or put the whole sandwich on a stick... the options are endless.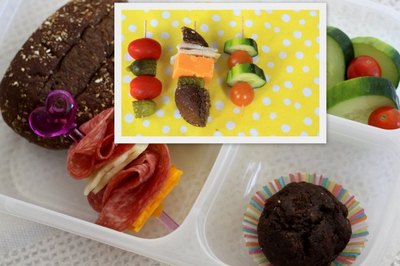 Step 5
Don't forget cheese and crackers. When time is especially tight, cheese and crackers can't be beat. Use veggie cutters to cut out a few fun shapes and throw the salami on a stick.
Step 6
Keep dried fruit and nuts on hand. They keep for months and they're easy to grab in a rush. We like edamame, trail mix, banana chips, prunes, raisins, plain peanuts and more. All these staples make grab-and-go lunches easy to make... and best of all your kids will love them!