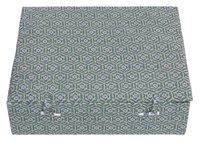 Recycle an old piece of wood furniture or decor with fabric by using a decoupage technique. Create arts and crafts projects by covering wood with decorative fabrics, and finish off with embellishments such as buttons and jewels. Use fabrics of all kinds to cover old wood pieces, or to decorate a new wood piece to coordinate with linens in any room. Use light to medium-weight fabrics such as cotton and linen, or decorative brocades and damasks.
Things You'll Need
Cleaning cloth
Dish soap
Primer paint
Paintbrushes
Decoupage medium
Utility knife
Clean the wood using a clean cloth. Remove all excess dust and dirt from the surface. Use soapy water and a cloth if necessary to remove grease or stains, and allow the piece to dry thoroughly for about an hour.
Apply a layer of primer paint to cover the entire surface that you will be covering with fabric. This will create a protective surface that the fabric will adhere to on a porous wood surface. Use one thin coat, and apply a second coat if necessary. Allow drying according to can instructions.
Measure the wood piece you are covering and cut a piece of fabric to this measurement.
Apply a thin layer of decoupage medium to the wood surface. If you are working on a small surface, paint the whole surface with the medium and then apply the fabric. If you are working on a large surface, paint a small area at a time and apply the fabric a little at a time. Paint the medium, and then place the fabric onto the surface, spreading the fabric so it lays flat on the surface. Smooth the fabric out using your fingers, from the center of the piece outwards, to press out any air bubbles. Allow drying according to bottle instructions.
Trim any excess fabric around the edges of the piece of wood using a utility knife. Work slowly and carefully, gliding the knife along any edges.
Apply another layer of decoupage medium over the fabric that you attached to the wood surface. Create a thick, but even layer of the medium. Decoupage medium will dry clear and create a protective coating over the fabric, and create a final seal to adhere the fabric to the wood. Brush over the edges of the fabric to prevent the edges from pulling up. Allow drying according to package instructions. Decoupage mediums are available in matte and gloss finishes. For a shiny topcoat, use a decoupage medium with a gloss finish.