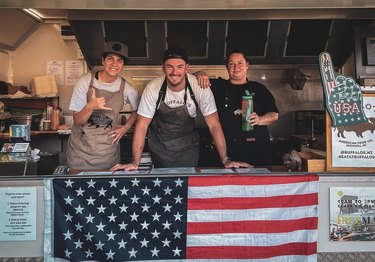 Chef Alex Moore's love of cooking classic American diner fare can be traced all the way back to a Dairy Queen in Illinois. It was there, at age 16, that Alex flipped his first burger. He never imagined that his training there would have an impact on his career. "It was just one of those jobs you get because your friends work there and you think you'll have fun working with them," he says, looking back.
And yet, nearly 30 years later and more than 8,000 miles away, he now owns and operates a beloved, five-star food truck where he pays homage to his early days in a kitchen and the nostalgia he feels for growing up on diner-style food.
Buffalo's American Food Co. is "the place" to get a good burger in his small town of Cromwell, New Zealand, and customers are quick to call it "the best burger ever."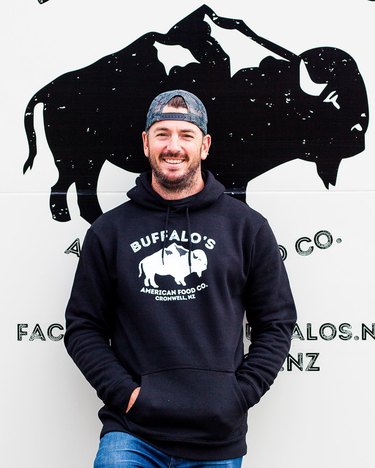 Though it wasn't a linear journey, Alex, who is a physical education teacher by trade, was encouraged by family and friends who raved about his cooking to start serving American eats again. Armed with his affinity for diner food and the confidence his loved ones instilled in him, he decided to listen to his dreams—literally! "I needed to follow the commitment to myself and do things that I said that I wanted to do instead of just dreaming about them," he says.
We sat down with Alex to discuss his culinary journey, tricks of the trade and advice to get a small business going.
1. Tell us, how in the world did you end up running a food truck in New Zealand?
​ALEX:​ Well, I got started cooking by working at a Dairy Queen as a teen in Collinsville, Illinois. I started out making the burgers in the back, but I was super excited when I was moved to the front and got the chance to interact with customers at the cash register.
I actually went to school to become a teacher. For many years, I worked as an elementary school teacher, first in the States and then in the UK, where I met my now-wife. When we found out we were having twins in 2013, we moved back to her home in New Zealand.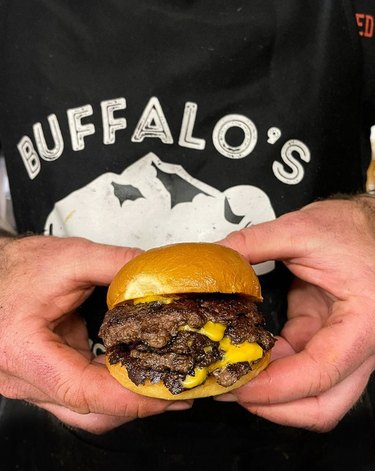 I'm the kind of person who likes trying out different things. If I find something interesting, I'll want to give it a go. And I like being my own boss. I read a book close to 15 years ago called ​The Art of Nonconformity,​ and it put me on the path forward to starting my own thing. Figuring out what exactly I wanted to do? That was the trickier part.
When I'd host barbecues in New Zealand, though, I always cooked American BBQ favorites. My friends and family were blown away each time, especially with my "smash burgers." They always said, "You should open a restaurant or a food truck!"
2. So what made you decide to finally open a food truck?
​ALEX:​ I was kind of dragging my feet on it. I was a bit hesitant, just probably from a lack of confidence of being able to actually do it. And I was listening to a podcast on commitment. It wasn't about commitment to your spouse or anything like that. It was about a commitment to yourself, posing the question: "What are you not following through with that you're saying you want to do?" It came up at the perfect time. And Buffalo's American Food Co. was born in November 2021.
That said, it didn't always go perfectly! At the start, it was just me and my good friend's son, who's about 14. When I opened up on my roadside spot for the first night, it was absolute chaos. And then for our first event, there was a big mix-up with the wholesaler. I picked up the food order in Queenstown about 40 minutes away. I got home, and I'm unloading everything realizing there are no hamburger buns—a pretty key ingredient for burgers! It's like eight o'clock at night, and so I called and was like, "I have this event tomorrow, and I don't have the buns!" Luckily, they had someone working that night and it worked out.
3. Given how chaotic running a food truck can be, why open a food truck and not a restaurant?
​ALEX:​ Actually about five years ago, I had a dream. There was a fish and chip shop here, and I had a dream that my wife and I owned it. I told my wife, and she was like, "We're not owning a fish and chip shop!" But after that premonition, I'd always keep an eye out for food trucks and cafes for sale.
Most of the trucks were far away and pricey. About a year later, in October 2021, a friend of mine told me a truck in town was up for sale. I hadn't been to it, but I had seen it a few times. I messaged the owner, and he said he wanted to get rid of it fast. It was a really good deal, almost too good to be true, and everything just fell into place. I believe that things happen for a reason, and for the truck I bought to be available in my small town at the time it did and for the price, I knew that it was meant to be.
​ALEX:​ Sharing my favorite diner-style foods was something that I loved doing with friends and family in New Zealand. American-style food is fairly common with fast-food places like McDonalds, KFC, etc., Smaller places like myself doing more niche American food is probably more common in the bigger cities, but not really in smaller towns like Cromwell, where we live.
The name came from wanting to do American food, and buffalo is one of the iconic American animals, besides the bald eagle. Plus, the buffalo is one of the only animals that run through a storm rather than away from it. I like the mentality of it.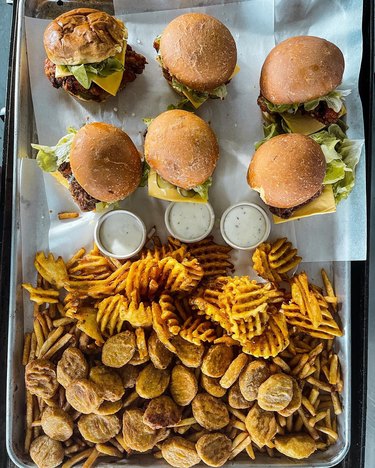 5. Your specialty is the smash burger. Got any cool burger grilling tips and tricks for us?
​ALEX:​ First, have the right tools. Of course, there's the Smash Square for smashing the burgers. What you might not think of is that a really good scraper is needed to keep all the flavorful, crispy, crunchy edges intact. Even a floor scraper that you get from the hardware store is better than a normal burger turner, which isn't sharp enough to get everything. Just make sure you use a brand-new one.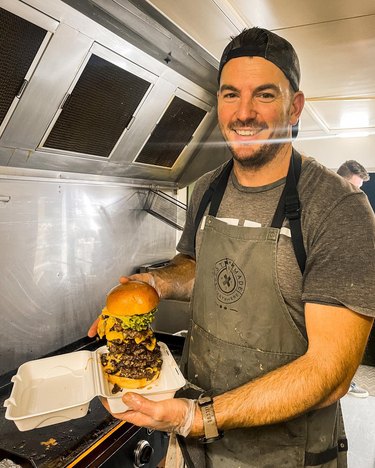 Patience is also important. I know you want to get to smashing, but when you put the beef balls on the griddle (you need a flat surface, not grates), let them warm up for about 30-45 seconds. It will make them easier to smash if they are warmed up, especially if they've been in the fridge.
​How to Make the Perfect Smash Burger​
1. When shopping for ground beef, pick out something from the grocery store that has a higher fat content. Alex usually goes for a 75/25 or 80/20 beef/fat ratio.
2. Take a few minutes of prep time to roll the ground meat into balls that weigh about 60-70 grams. Be careful not to pack them too tight.
3. Let the ground beef balls sit on the hot grill (Alex likes a Weber) for 30-45 seconds.
4. Use the burger smasher to flatten them as much as possible (much less than 1-inch thick), putting more weight on the edges to make them crispier while in the middle you have a juicy burger. Hold for about 10 seconds.
5. Season it with a good amount of kosher salt and black pepper. You can just season the one side because the burger is so thin.
6. When the patty edges sear and turn brown (usually after a minute or so), use the scraper to lift the edges from the grill and then grab a spatula to flip. Cook burgers longer if you are going for a well-done patty.
7. While the patties are cooking, toast the hamburger buns on the grill. Alex uses mayo on a brioche bun. Once bun is toasty, put the pickles, your sauce of choice (ketchup, mustard, Worcestershire sauce) and other toppings on the bun.
8. After you flip the patties, put on the cheese (if you want a cheeseburger) and wait for it to melt. As soon as it's melted, the patties are done!
9. Stack two burger patties on top of the bun, and voila!
Cook time: Less than 5 minutes
6. Beyond your burgers, what kind of fare do you serve up and what's been the most well-received?
​ALEX:​ It's funny, but the deep-fried Oreos are a big hit even among my most health-conscious friends! The buffalo chicken sandwich is also a favorite since that's something you can never find here. And then I love the chicken strip basket because that was one of the things at Dairy Queen. It's my homage to them.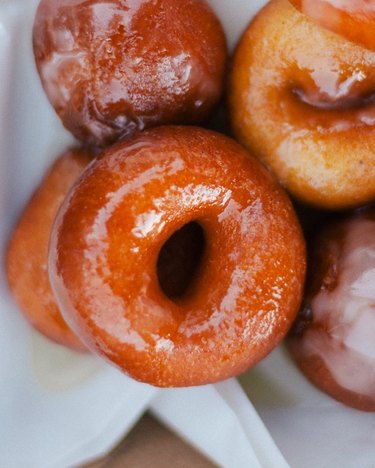 7. What are your favorite things about your job?
​ALEX:​ Probably just being able to share my nostalgia of growing up eating diner food with people here. That's been really a great journey, and it's awesome to hear the feedback I get from the customers like "best burgers, best customer service."
Even more than that, the customer service aspect of it is pretty amazing. We get regulars every weekend that we know by name. People will call or text orders, and we save their names in the phone so in the future we can answer with their name. They get quite shocked, but I think it shows people that you care. You're not just throwing burgers.
Also it's great community building. I have met so many new people doing this and quite a lot of people who are new to town. I know when I moved here, I struggled meeting people. This truck is really all about community. Whenever I'm short-staffed, friends come out and help. I've had quite a few nights where my friends work in exchange for burgers! It's been awesome.
8. How did your loved ones react to the news that you were now a food-truck owner?!
​ALEX:​ My wife never wanted to work in it, but she helped out one weekend when we had a staffing shortage. She said, "Well, I'll try helping, but we might end up getting divorced if I work in there." It was actually the opposite! She really loves it, and we work quite well together. We're not at each other's throats. So working with her is awesome too. She loves connecting with our customers and giving them an amazing food experience, and it reflects in the reviews and recommendations we receive.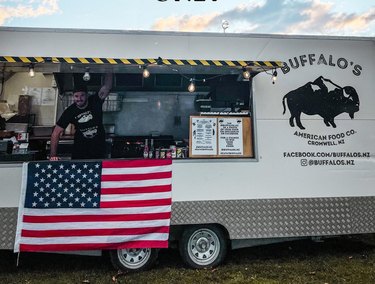 And my kids in the summertime come and hang outside. They stay with their grandparents while my wife and I are both working, and that's nice for all of them to have that time together and build that relationship. But when they come, they definitely love getting the food and raiding the fridge for sodas.
9. Any advice you have for other people who want to pursue a passion that might feel like a really big leap of faith?
​ALEX:​ I've actually talked to a lot of people who want to start a business. A lot of them worry that they aren't good enough and can't do it. I tell them to think about the worst thing that could happen. When I was talking to my wife about buying the truck, she said, "Well, what's the worst that could happen?" And I was like, "Well, we can always just sell it." If you put things in that context, you think, "That's actually not too bad. Let's give it a go."
10. What's next for you and your food truck?
​ALEX:​ The truck we have now is quite tight, so I'm looking at a second one to park next to the first truck that would have coffee, shaved ice and ice creams. I bought an ice cream machine for frozen custard, and I also bought a mixer for concrete-style. I'll be inspired by my Dairy Queen roots once more!