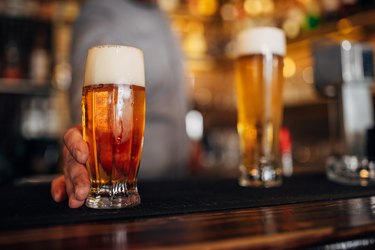 Although Busch and Budweiser are both beers from the Anheuser-Busch brewery in St. Louis, Mo., the two have followed their own separate historical trajectories and reveal themselves as subtly different in a blind tasting.
Despite a 28 percent decline in sales in the five years leading up to 2012, in part due to the launch of a Bud Light version from the same stable, ‌Budweiser enjoys an unofficial cachet as America's national beer‌. Launched in 1876, Budweiser was the creation of Adolphus Busch, who wanted to brew an American-style lager with broad appeal. Budweiser, in response, is a medium-bodied, crisp beer that uses a blend of American and European hops, with an accessible, dependable flavor.
Busch, on the other hand, was the first beer introduced by Anheuser-Busch after the Prohibition era. Initially called Busch Bavarian beer, the light, unassuming brew was launched in 1955, with a light version following in 1989. With its distinctive Alpine mountain artwork and "Head for the Mountains" advertising tagline, ‌Busch positions itself as a refreshing beer for lovers of the outdoors‌.
Anheuser-Busch publicly revealed the ingredients of Budweiser in 2014, in response to suggestions the beer contained additives and corn syrup. In fact, Budweiser is brewed from just five ingredients that have not changed in as many generations; namely, water, barley malt, hops, yeast and rice as an adjunct.
The beer is aged for 30 days in beechwood, and undergoes a natural carbonation process called ‌kraeusening‌. Standard Budweiser comes in at 5 percent alcohol by volume, but in some states the level may not exceed 3.2 or 4 percent. Each bottle requires around 30 billion yeast cells to begin fermentation, each cell directly descended from the original Adolphus Busch culture.
Busch is lighter in alcohol at 4.3 percent, and is made with hops, malt, grains and water. While Busch is hardly rhapsodized for its assertive flavor, the brewery dabbled in the craft beer market with a Signature Copper Lager, initially rolled out in the Midwest.
‌Budweiser is noted for its slick marketing campaigns and much-anticipated Super Bowl ads‌, consolidating its image as an unpretentious blue-collar beer, the antithesis to so-called hipster craft beers. Although Budweiser is one of the best-known American beers overseas, U.S. sales nevertheless account for 60 percent of the global total.
Busch, by contrast, suffers from a comparative lack of identity, and is sometimes characterized as Budweiser's less illustrious sibling. Curiously, both Budweiser and Busch have seen their popularity eclipsed by their own offspring. ‌In 2013, Bud Light was America's most popular beer‌, with sales of almost $6 billion, while Budweiser was in third place with around $2 billion in sales. Busch Light is the seventh most popular beer in the U.S., with Busch ninth with sales around $690 million.
For the committed beer-drinker, however, light versions of both beers tend to be widely scorned. The trick is to drink either light beer extra cold, something the brewers themselves have tacitly acknowledged with heat-responsive packaging and serving suggestions bordering on the Antarctic. Nevertheless, ‌novice beer drinkers will find both Budweiser and Busch, standard or light, easy to adopt‌, and both tend to be beers of choice around college campuses.