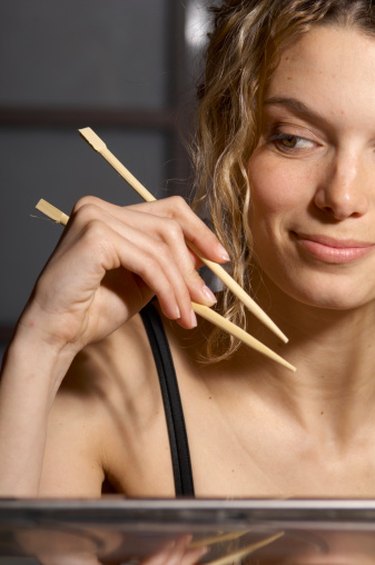 Hunan chicken is an Asian dish that is spicy, yet not too hot. Hunan cuisine comes from the Xiang River region of China and is otherwise known as Xiang cuisine. The dish has a dry, hot taste and enough aromas to pleasure the senses. However, it does not contain a plethora of vegetables like many other Asian recipes. While there are many variations of the recipe that add seasonal vegetables, there are four vegetables that are present in most traditional Hunan chicken recipes and their sole purpose is to help kick up the flavor of the sauce.
Garlic
Hunan Chicken is distinguished by its liberal use of garlic along with chile peppers. The garlic defines the taste in the sauce and adds intensity to the dish. Most recipes call for minced garlic which is mixed into the sauce for the stir fry. The sauce is set aside; only added to the dish at the end in which it is stir fried with the rest of the ingredients for a few short minutes.
Scallions
Scallions, otherwise known as green onions, are found in the stir fry sauce. Scallions are a vegetable noted by its white base and green leaves that are much like stalks. The Hunan chicken dish calls for only the white portion of the scallions. The flavor of scallions complement dishes that also contain garlic.
Chile Peppers
Red chile peppers add the dry, hot flavor to the Hunan chicken dish. Hunan cuisine varies by each recipe; while some recipes may call for fresh chile peppers others ask for chili paste or dry peppers. Either way, it is vital that red chile pepper is added to the recipe if you want the heat in the dish as it is the defining ingredient in Hunan chicken.
Ginger
Ginger root is a vegetable, found in the produce section of grocery stores all year round. It has a very distinct taste that adds zest and bit of spice to stir fry dishes. In some Hunan chicken recipes the chicken is marinated in a sauce that contains the ginger (shredded usually), while other recipes will call for the ginger to be added to the sauce that is used for the stir fry near the end of the cooking time. Don't fret; just take your time reading the recipe and be prepared to insert the ginger when needed according to the particular recipe you are using.