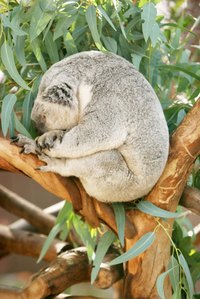 Eucalyptus oil has a pungent aroma that also carries health benefits. According to the University of Maryland Medical Center, eucalyptus oil is rich with the antiseptic cineole, also known as eucalyptol. Traditionally, eucalyptus leaves and oils have been used to treat respiratory conditions such coughs and bronchitis. This makes eucalyptus oil suited as an aromatic air freshener that also kills bacteria in the atmosphere.
Things You'll Need
Eucalyptus oil
½ tsp. vodka
2 cups water
Spray bottle
2 cups boiled water
Bowl
Candle
Small crock pot
Combine 15 drops of eucalyptus oil with ½ tsp. of vodka and 2 cups of water in a spray bottle. Spray around the room and on furniture. Add more oil to make the scent stronger.
Boil 2 cups of water. Place a bowl in the room you want air-freshened and add the boiled water. Deposit 10 or more drops of eucalyptus oil into the hot water. The steam heats the oil, creating rapid evaporation throughout the room. This method is effective, but lasts only a few minutes.

Let a candle burn for five minutes. Put the candle out and place 1 drop of eucalyptus oil in the wax that has melted. Light the candle again. Eucalyptus oil tends to be highly flammable, so do not get any on the candle wick.

Heat the water on high temperature in a small crock pot. Add eucalyptus drops to reach your preferred scent strength. This method has a lasting aroma for hours.