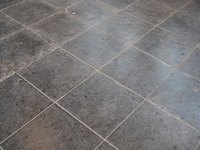 One of the best ways to maintain your tile floors is through use of preventative maintenance. That will assure a long-lasting floor that remains attractive. Wipe up spills immediately, and don't drag chairs or heavy objects across the surface of the tile. With just a few of these precautions along with regular cleaning, you should be able to enjoy your tiled floors for years.
Things You'll Need
Water
Mop
Liquid dish detergent
Bucket
Cornstarch
Plastic wrap
Mop tile floors on a regular weekly basis with plain water to keep them clean. For especially dirty tile, add a small amount of liquid dish detergent to remove stains. Change the water in the bucket when it becomes dirty. Refresh the water, add liquid dish detergent if desired and repeat the process.
Remove stubborn stains with a poultice. Combine about 1 tsp. of cornstarch with 1/2 tsp. of water and make a paste. Apply the paste to the stained area. Cover with plastic wrap and let sit until dry. Remove the paste with a wet sponge and see if the stain is gone. If not, repeat the poultice process until the stain has disappeared.
Erase stubborn black stains left by shoes with a simple school eraser. Run the eraser over the marked area. Repeat until the stain is gone.