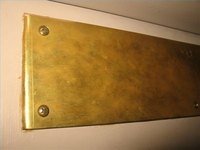 Brass hardware adds a classy and cozy feel to any establishment. Unless, of course, it's bright, cheesy and chintzy-looking. That doesn't have to be the case. You can tarnish brass hardware with a simple remedy and turn your place from cheesy to cozy in a few simple steps.
Things You'll Need
Brass darkening solution (see Resources)
Soft cloth
Rubber gloves
Newspaper
Container, bucket or spray bottle
Remove and clean the hardware. Unscrew any knobs, hinges, pulls or whatever other brass items you wish to tarnish. Rub off any smudges, dirt and fingerprints with a damp cloth. Place the hardware on a piece of newspaper or other protective surface in a well-ventilated area.
Apply the brass darkening solution by soaking. Pour a small amount of the solution into a small container or bottom of the bucket, enough to cover any hardware you wish to soak in it. Soak the hardware, using gloves to extract the pieces after a few minutes to check on the progress. The longer you leave it soaking, the darker the tarnish will become.
Apply the solution with a saturated cloth. Dab a small amount of the solution on a soft cloth and rub on the hardware. Again, the more you apply, the darker the hardware will become. Start sparingly.
Spray it on. Special care should be taken if you wish to spray the solution on the hardware. Wear a surgical mask and definitely go outdoors and upwind. Fill a spray bottle with a bit of the solution and spray it on the hardware as desired.