Jarred spaghetti sauces just can't measure up to a homemade version. It's fine to start with canned tomatoes, but allow plenty of time for the sauce to simmer and really draw out the flavors of the seasonings. The brown sugar adds a little sweetness to cut the acidity of the tomatoes but you can omit it if sugar is a dietary concern. The perfect spaghetti sauce is more art than science, so don't be afraid to play with the measurements and incorporate your favorite ingredients, such as mushrooms, red peppers or Italian sausage.
Things You'll Need
1 pound ground beef
2 tablespoons butter
2 tablespoons olive oil
1 onion, diced
2 cloves garlic, minced
2 tablespoons flour
1 tablespoon Italian seasoning, or 1/2 tablespoon each of dried basil and dried oregano
Cracked pepper
20 ounces diced tomatoes
15 ounces tomato sauce
2 tablespoons brown sugar
Spaghetti
Parmesan cheese
3-quart pot with lid
Stock pot
Colander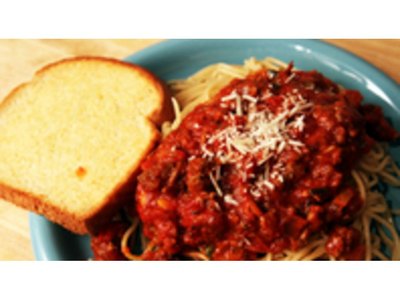 Step 1
Place 2 tablespoons of olive oil and butter in a pan over medium-low to melt the butter. Chop the onion and mince the garlic, and then add to the pan along with the ground beef.
Step 2
Cook on medium heat until the beef is browned. Drain the excess grease. Add 2 tablespoons of flour to the meat mixture and stir.
Step 3
Stir in the Italian seasoning or dried herbs and the cracked pepper. Add the diced tomatoes, tomato sauce and brown sugar. Bring the pot to a boil and then reduce the heat to low to simmer slightly covered for 1 hour and 15 minutes. Stir the sauce every 10 to 15 minutes to keep it from burning.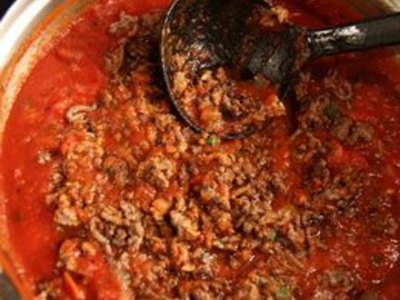 Step 4
Cook the pasta according to the package directions. Drain the water when the noodles are finished. Ladle the homemade spaghetti sauce over the pasta and sprinkle with fresh grated Parmesan cheese.