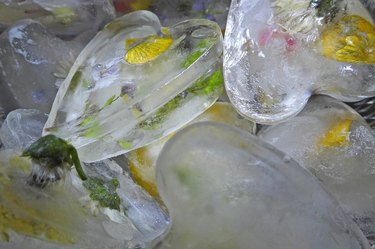 Forget fancy kitchen gadgets. You know, the ones you use once and then collect dust for the next decade. (Looking at you, spiralizer. Wherever you are … ) Instead, we're seconding TikTok's latest obsession: Aesthetic ice cube trays. Why settle for boring ice when you can just as easily make heart-shaped ice or adorable mini spheres?
Here's betting your cold brew will taste ‌this much‌ better with tulip-shaped ice. Your 5:00 p.m. beverage of choice will sip smoother with a monogrammed cube too. So go ahead, give your ice maker a rest.
Scroll on for fun ice cube trays that make everyday ice an elevated experience.
Consider jazzing up your beverages with these super simple ice recipes.
‌Fruit Ice Cubes:‌ Wash and cut the fruit of your choice into small pieces that fit into the ice cube tray you're using. Use as little or as much fruit as you'd like; the more you include, the more impactful the flavor will be. Any fruit would work, but the more colorful, the better. (Think: Strawberries, oranges, kiwis, blueberries, raspberries, pineapple.) Add water, then freeze.
‌Matcha Ice Cubes:‌ Mix matcha powder and water well, either in a blender or by shaking in a jar. Transfer immediately into your ice cube tray. Once the cubes are frozen solid, add a few to a cup, then top with your milk of choice and any sweeteners you may like.
‌Coffee Ice Cubes:‌ Simply pour cooled brewed coffee into ice cube trays, and then freeze for three to four hours. When you're ready for a hit of caffeine, add your coffee cubes to a glass or mug, then top with your go-to milk, any sweeter and stir.
1. Silicone Flower-Shaped Molds, 3-Count
Cool down your summertime sips with this set of flower-shaped ice cube molds. Each set comes with three trays, and six different flowers (including daisies and tulips) on each tray. Since they're made of BPA-free silicone, there's no need to worry about losing petals when you break them out of the molds; the flexible silicone is nonstick, making for easy release. The silicone is fairly thin though, so you'll need a steady hand as you walk them to the freezer. And here you thought lemonade couldn't be any sweeter …
2. Mini Sphere Ice Mold With Lid
One scroll through TikTok and you'll likely see these cute-as-can-be mini spherical ice cubes. With $10 and a little patience (at least four hours for the water to freeze), you can load up your beverages with ice spheres. Imagine a mini cooler full of these for a backyard barbecue. "Oohs" and "ahhs" from your guests are inevitable.
3. Dachshund-Shaped Silicone Ice Cube Mold
If you have a four-legged friend at home, this one's for you. These dachshund-shaped ice molds are bound to make you (and all your guests) laugh, no matter what you make with them. Since this mold is made of ultra-durable food-grade silicone, it can be safely put in the freezer or oven. How about whipping up some homemade doggy treats?
4. Mini Heart-Shaped Ice Cube Mold, 2-Count
We feel nothing but love for this pair of oh-so-adorable ice cube trays, which (combined) create 110 mini hearts. You don't have to be hosting a Valentine's or Galentine's Day bash to use these though. They could become your everyday ice cubes—or, ‌um‌, hearts—or could be used to make chocolate or candies, especially since the mold is made of easy-release silicone.
5. Narrow Ice Stick Cube Trays, 3-Count
We've all been there, trying to jam giant ice cubes into our small-mouthed water bottles. No more! Instead of sipping from a bottle full of lukewarm water or painstakingly shoving individual chunks of ice into it, add these narrow ice stick trays to your Amazon cart. Each set comes with three silicone trays of 10 ice sticks, so you can remove the exact number of sticks that you need. They come in fun colors, which brighten up your freezer, and with the option to buy with or without covers.
6. Hexagonal Ice Cube Molds, 2-Count
Who said ice cubes need to be, ‌well‌, cubes? No one, which is why you should spend a few dollars on this delightful hexagonal mold. (Just because you can.) This silicone design comes with a lid too, which helps prevent overflowing as well as preventing odors from sneaking into your ice.
Who would have thought that ice could be so romantic? Whether you're cooling down a Negroni or pink lemonade, these intricate and extra-large ice cubes make whatever you're sipping on all-the-more fun. The tray makes four roses that are each 2.5 inches tall. It takes about 5 to 6 hours for the cubes to freeze all the way through.
8. Custom Monogram Cocktail Ice
If you're shopping for a creative gift for a host with the most, look no further. These custom-made monogram molds would delight anyone. Choose the font, color and number of hexagons, then rest assured you got them a one-of-a-kind present they'll use again and again.
9. Home State Ice Cube Molds
Show off your home state pride with this large ice cube tray from Uncommon Goods. Simply fill the silicone tray with water, then practice a little patience as the six 2-inch square ice cubes become stamped with the outline of your lovely state. (Psst—this would make for an especially thoughtful gift for any friend feeling a little homesick.)
10. OXO Good Grips Silicone Stackable Ice Cube Tray With Lid
Leave it to OXO to make one of the best ice cube trays. There's nothing funny about this Good Grips tray—no cheeky shapes here—but it will give you six solid square ice cubes, perfect for cooling down a cocktail on the rocks. (Or, one giant rock.) The flexible silicone tray is dishwasher-safe and comes with a base and lid that make the slow-motion walk to the freezer, trying not to spill, a thing of the past.
11. Cat-Shaped Silicone Ice Cube Molds and Tray, 2-Count
Here, kitty, kitty! Any cat lover would adore these cat-shaped ice molds, which are made from durable silicone and come in a set of two. Just be careful when removing them from the mold—you wouldn't want to accidentally break the tail off.
12. Football Ice Molds, 2-Count
Impress all the other football fans at your tailgating party with these intricate football-shaped ice cubes. The shape melts slowly, so it'll cool your drink without watering it down. The only downside? Each set includes two molds, so if you want a bunch of mini footballs, you'll have to think ahead and start freezing days before kickoff.
13. Stars, Moons and Hearts Ice Cube Tray With Lid
Do you have trouble getting your little ones to drink enough water throughout the day? Here's a trick: Add these adorable stars, moons and hearts, made from this mini ice cube tray, to their cup. They'll be asking you for a refill before you know it.
14. Skull-Shaped Ice Mold Trays, 2-Count
If every day is Halloween in your house, go ahead, and add a set of these silicone skull-shaped molds to your Amazon cart. Not only would they make spooky ice (which makes for more laughs once the faces start melting), but you could create a whole slew of skull-shaped goodies with these silicone molds: chocolatey treats, homemade soaps and ice cream, just for starters.