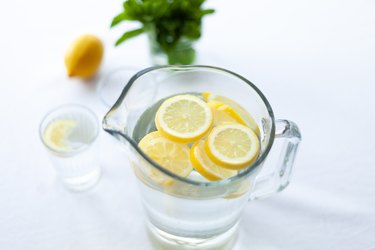 Whether it's just something you keep in your fridge or it's a critical serving item for pouring iced tea, sangria or other beverages for your guests, it's worth putting a little time and thought into finding the best drink pitcher for your purposes. After all, it doesn't just deliver drinks; it also protects them from contamination and affects their freshness and temperature. Plus, the design can affect how easy it is to pour from, as well as what sort of mess you could end up with in the event of a knocked-over carafe.
What to Consider When Purchasing a Drink Pitcher
‌Size:‌ Drink pitchers come in a wide range of sizes, so think about how many people you typically serve—and how much space you have in your refrigerator. Around 50 to 60 ounces is a standard size for drink pitchers, but some small models have about half as much capacity, while large ones can be twice as big. Check out the shape, too; many pitchers are designed to fit on refrigerator door shelves, if that's something you want.
‌Lid:‌ Many drink pitchers come with a lid, and these vary in style. Some just offer basic protection from things falling inside the container, while others double as a strainer that lets you pour out the liquid contents while holding back ice cubes, pieces of fruit and other solid stuff you may put into a beverage. And then there are lids that form an airtight, leakproof seal. These are great for keeping drinks fresher tasting and, of course, preventing unfortunate messes.
‌Material:‌ Most drink pitchers are either glass or plastic. There are different types of glass and plastic, though. Borosilicate glass offers much better heat resistance than regular glass, so it's a good choice if you want a pitcher equally well suited to hot beverages as cold ones. Glass is heavier and more durable than plastic, but also higher priced and able to shatter. Some plastic is heat-resistant, but many plastic products are only suitable for cold beverages. It's a more budget-friendly option, too.
‌Features and Accessories:‌ Yes, even simple drink pitchers have features and accessories. For example, you can find double-walled pitchers that provide extra insulation to better maintain the temperature of their contents for a longer time. Products made from glass or plastic may or may not be dishwasher-, microwave- or freezer-safe. Some water pitchers have built-in filters. Some drink pitchers have integrated infusers or separate compartments inside that you can fill with ice to keep drinks colder without diluting them.
Along with your budget considerations, these factors will help you pick out the best drink pitcher for your needs and preferences.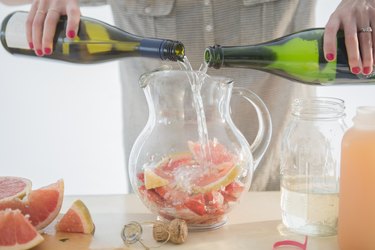 The Best Overall Drink Pitcher
This high-quality, elegant-looking glass pitcher is a perfect all-around carafe, whether you're serving water, iced tea, hot coffee, juice, sangria, margaritas or anything else. Made from hand-blown, lead-free borosilicate glass, it's a great pitcher for cold beverages and it's heat-resistant up to 300 degrees Fahrenheit. With an ample capacity of 50 ounces, the narrow body was designed with refrigerator door storage in mind, while the wide mouth makes hand-washing easy (which is recommended, though it is dishwasher-safe, as well as microwave- and freezer-safe). Also, the stainless steel lid doubles as a filter, letting you pour the liquid contents smoothly while retaining ice, fruit slices and other solid drink additives.
The Best Budget Drink Pitcher
If you're looking for a low-cost drink pitcher that doesn't sacrifice quality or capacity for savings, look no further. Made from BPA-free plastic, this large 3-quart water jug includes an airtight, leakproof, flip-top lid with a patented double-sided hinge lock. It's a durable product for the price, and it's top-rack dishwasher-safe as well as microwave- and freezer-safe. The tall, slender body makes it easy to keep in the refrigerator, too. Choose from seven different lid colors, plus you can even get a 2-quart version for a couple bucks less.
The Best Plastic Drink Pitcher
This is an excellent, budget-friendly plastic drink pitcher. It's made from sturdy, durable, lightweight, BPA-free Tritan plastic. It won't crack or shatter, and the material won't become cloudy, stain or retain odors. The twist-on lid forms an airtight, leakproof seal, keeping beverages fresher longer and allowing you to store the filled container on its side. But this 2-quart container has a narrow body, so it won't take up too much space when stored upright in your fridge or on the refrigerator door. The lid comes in a few different fun colors, too.
The Best Large-Capacity Drink Pitcher
When you need an extra-large drink pitcher for dolling out beverages to a crowd, this 100-ounce, lead-free borosilicate glass pitcher does the job. And it's available at a price comparable to quality glass pitchers half its size. It handles cold and hot beverages (it's heat-safe up to 300 degrees Fahrenheit), and it's a nice-looking piece to use for serving guests, too. A stainless steel filter lid lets you easily pour out liquids while holding back solids like ice cubes and fruit segments. It is dishwasher-safe, though hand-washing is still recommended.
The Best Insulated Drink Pitcher
For a drink pitcher that maintains the temperature of both cold and hot beverages for a few hours longer than a typical standard pitcher, choose this one from renowned glassware manufacturer Zwilling J.A. Henckels. The durable, double-walled borosilicate glass construction provides superior insulation, also keeping the exterior cool to the touch even when there's an extremely hot beverage inside. And this product is dishwasher- and microwave-safe. Just note that with a 27-ounce capacity, it's a bit on the small side.
The Best Airtight Drink Pitcher
Here's a hermetically sealing drink pitcher made of recyclable lead-free glass. It's made by Luigi Bormioli, a highly regarded brand for quality glassware offered at a great price point. Keep in mind, though, that it's not extra-heat-resistant borosilicate glass like many similar products, and it's best used just for cold beverages. The thick glass provides effective insulation, keeping drinks cold for quite a while. And this airtight jug keeps them tasting fresh for an extended time—even milk—plus you never have to worry about leaks. This durable pitcher resists cracks, chips and breaks, and the carafe and lid go right in the dishwasher for easy cleanup. It features a comfortable handle and a well-designed pour spout, and it has an ample 68-ounce capacity.
The Best Drink Pitcher With Ice Container
When your priority is keeping cold drinks ice cold without diluting them with melting ice cubes, this is an ideal solution. Serve lemonade and other juices, punch, smoothies, cocktails and more in this glass carafe, which features a separate compartment running down the center of the interior that you load up with ice. It also includes a plastic lid and stirrer. The glass is thick and durable, providing good insulation to further help keep the contents cold, and everything except the ice container is dishwasher-safe. It's a clever design and a fun shape, making it a nice serving piece for a party.
The Best Water Pitcher With Filter
There's no more-familiar name in water filter pitchers than Brita. This affordable product has a generous 10-cup capacity with an integrated filtration system that eliminates the smell and taste of chlorine in tap water, and it filters out elements like copper, mercury and cadmium, leaving you with healthier, cleaner-tasting water. It's made out of durable BPA-free plastic, with a sizable reservoir for efficient filling, a convenient lid, a large handle and a smoothly pouring spout. Replace the filter every two months to maintain the best-tasting results. This is a great way to significantly reduce your consumption of environmentally damaging plastic water bottles.
The Best Drink Pitcher With Infuser
For iced tea lovers—as well as cold brew coffee enthusiasts—this drink pitcher does double duty as a steeping vessel for freshly made beverages and a serving carafe. Made from durable BPA-free Tritan plastic, it has an integrated fine mesh infuser for tea leaves and coffee grounds. After steeping with hot water, remove the infuser, add ice and shake, and the patented Flash Chill technology delivers a nice cold drink within about 30 seconds. And don't worry about shaking; the lid is airtight and leakproof. This model has a 2-quart capacity, and the lid is available in several different colors.