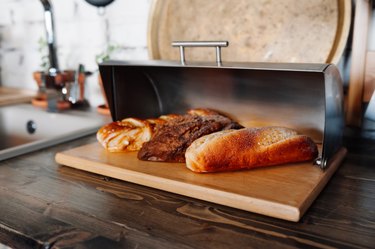 A bread box may seem like an old-fashioned piece of kitchenware, but how can you pass up a storage container designed to keep bread fresh? If you have the counter space for it, a bread box is great for storing fresh store-bought or homemade bread, bagels, croissants, muffins, pastries, cookies, doughnuts and other baked goods. The best bread boxes help keep them from getting stale or moldy quickly, help keep items like baguettes crispy and crunchy, or cakes soft and moist, and also look much nicer on your countertop than a plastic bag.
What to Consider When Purchasing a Bread Box
‌Size:‌ As with any countertop accessory, size—and your available counter space—is a key factor to consider. Standard bread boxes are about 12 to 16 inches long, with this range accommodating average to large bread loaves. The depth and height matter too, of course, affecting the total capacity, how high you can pile things up inside, and more.
‌Design:‌ There are a number of things to think about regarding bread box design. There's the appearance. Do you want a farmhouse style or a retro look, or a sleek contemporary model? Also, consider whether you want an airtight or ventilated model. The former can keep baked goods from going stale for a bit longer than the latter, but mold often grows a little faster in them without any air circulation or a way for moisture to escape.
Many bread boxes have roll-top lids, while others have fold-down doors, flip-top lids or container-style lids on top. This can affect the clearance space you need around the box. If the lid is transparent, or if it has a window in it, you can see what's inside the box without opening it. Do you want a two-tiered bread box because you often have lots of baked goods on hand, or because you'd like to keep certain foods in separate compartments?
‌Material:‌ As with most kitchenware, you have a variety of choices for the material. Farmhouse-style bread boxes are usually aluminum, which is affordable and lightweight, and sometimes it's coated with enamel. Stainless steel bread boxes are also common, and they're durable, rust- and corrosion-resistant, and usually a little pricier. Bamboo is another option, and it's a budget-friendly, environmentally-friendly, aesthetic option. Bamboo and wood can absorb moisture though, so they aren't always a great pick in a humid climate.
You can also find relatively cheap plastic bread containers, usually in the shape of store-bought sandwich loaves. Then there are ceramic bread boxes, which are good for most climates, but are typically the most expensive. Many bread boxes aren't dishwasher-safe and should only be hand-washed, so consider the care requirements of the material you choose.
These considerations will help you pick out the best bread box for your home.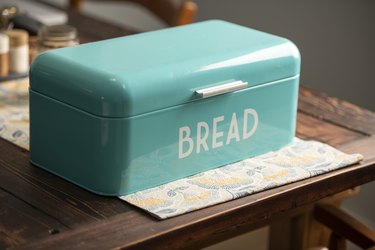 The Best Overall Bread Box
If you're looking for a bread box with ample capacity (16.53 liters) that keeps bread and baked goods fresher longer and that looks nice on your countertop, look no further. This high-quality, durable, easy-to-assemble product is sold at a good price, and you can choose between light brown, black and bamboo finishes.
Five small air vents in the back promote breathability and humidity control, and there are four nonslip rubber feet on the bottom. The door features a large semi-transparent window, offering visibility and privacy at the same time. Because it folds down in front, you can use the flat top for convenient storage, plus these bread boxes are securely stackable should you decide to buy two or more for additional storage space.
The Best Roll-Top Bread Box
Roll-top bread boxes are a traditional type, and this product gives you several choices for the roll-down lid material. The box's body is stainless steel—strong, durable, easy to clean and rust-resistant—and you choose from stainless steel, frosted plexiglass, tempered glass or bamboo for the lid. And then, you can also opt to buy the bread box with a matching stainless steel canister, bucket or spoon rest.
At 15 by 10 by 7.75 inches, this model has a good amount of storage space that'll accommodate multiple loaves of bread, piles of rolls and more. It's airtight for prolonged freshness, and has a simultaneously classic yet contemporary look. The door has a large stainless steel handle, and four rubber feet prevent sliding and protect your countertop surface from scratches.
The Best Farmhouse-Style Bread Box
For those who prefer a classic aluminum farmhouse-style bread box, this is a great buy at a budget-friendly price. It has a vintage-style design with a clean white look to its enameled finish, as well as the quaint addition of the word "bread" written in large black block lettering on the front. All in all, it's a rustic, charming piece that also offers reliable functionality.
The box has two handles on the side for easily moving it around, plus the sloped, tight-fitting lid has a large loop handle on top for easy opening and closing. It measures 13 inches long, 8.5 inches deep and 12 inches high, providing decent capacity for an assortment of baked goods. In particular, the height makes it useful for things like stacks of bagels. The product is also simple to clean, but you should do so by hand only.
The Best Bread Box With Cutting Board
Here's another charming farmhouse-style metal bread box with the added convenience of a built-in cutting board. The white food-grade metal body is sturdy and easy to clean, while the attractive, snugly fitting natural bamboo lid doubles as a cutting board for your bread, bagels, rolls, muffins and more. If you have country or country-chic kitchen decor, this product will fit right in.
It's a budget-friendly product at the lower end of the standard price range for the category. Similar to the previous item on this list, it too has the whimsical addition of "bread" written on the front in a clean black cursive typeface—a common touch on vintage-inspired farmhouse bread boxes. The box is 13 inches long, 7 inches deep and 5 inches tall.
The Best Retro-Style Bread Box
Have retro decor in your kitchen? This mid-century modern-inspired bread box will add to the fun. This highly polished, powder-coated stainless steel bread bin closes tightly, but also has small holes in back for ventilation and humidity control to extend the shelf life of baked goods. There are more than 10 cool colors to choose from, so you shouldn't have any problem finding a perfect match for your kitchen.
Even with its sleek retro design, there's plenty of storage space; the box dimension are 16.5 by 8.9 by 6.5 inches. It won't rust or corrode, but keep in mind that it's not dishwasher-safe. However, it's quick and easy to wash by hand. This is an affordable option, and as an added bonus, the bread box comes with an ebook containing 35 bread recipes and a bunch of bread-making tips.
The Best Plastic Bread Box
Just need a low-cost plastic bread holder that accommodates a loaf of sandwich bread? This is a budget-friendly, durable, effective, BPA-free product you can stick in your pantry or cabinet if you don't want to leave it out on your kitchen countertop. Conveniently though, you can store this bread container lying down or standing up for the best fit in its storage location.
Keep store-bought bread in its plastic packaging and, with the tightly closing lid, this container keeps bread fresh considerably longer than when it's in its bag alone. And it doesn't just slow down the process of getting stale—it also protects soft loaves from getting crushed and deformed. It's easy to dispense bread by the slice, too. This product measures 5.25 inches wide and tall and 13.5 inches long.
The Best Two-Tiered Bread Box
If you want large-capacity storage for your fresh bread and other baked goods, or if you prefer to keep different types of foods in separate compartments, this two-tiered, two-compartment bread box is a recommended buy. It's made from waterproofed bamboo, with an attractive appearance and the added benefit of being an eco-friendly pick. Large clear plexiglass windows on the fold-down doors provide a clear view of the contents. The doors open and close smoothly and lock shut with magnets (which is especially nice if you have pets that like to try to serve themselves snacks).
There are small vents for airflow and moisture control to stave off mold while maximizing how long the box keeps food from getting stale. It's available in a large and extra-large size, with either model providing ample storage space for whole loaves of bread and other baked goods. You can even buy the large model pre-assembled for a slightly higher price, though the self-assembled versions are quick and easy to put together.