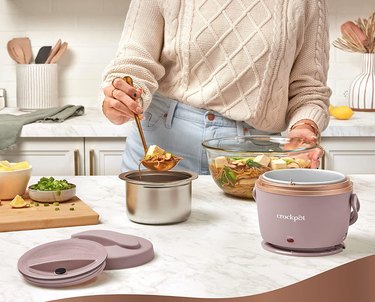 Did you know that lunch boxes can be electric? You might be wondering, "What's the point of that?", but for people working in an office without a kitchen or a microwave, or those who enjoy taking their lunch break outside or on-the-go, an electric lunch box can be quite convenient. Perfect for warming soups and stews (but other types of fork, spoon or chopstick meals can work, too), these personal-sized appliances slowly and evenly heats your meals to the perfect temperature—without that overcooked, microwave-heated taste. It's basically like having a personal slow cooker that won't take up lots of space on your desk or the office kitchen's counter, allowing you to reheat hot meal away from home as if it had just been prepared.
We've scoured the internet for the best electric lunch boxes, including some heavy-hitters from top brands like Crock-Pot and HOTLOGIC. The concept of reheating a hot lunch without a microwave might seem a little odd or even unnecessary (depending on your lunch or work situation), but we're pretty sure you'll warm up to the idea.
What to Consider When Purchasing an Electric Lunch Box
‌Power Source:‌ Most electric lunch boxes aren't cordless. If possible, look for electric lunch boxes that come with two types of power cords: one that can be plugged into a standard outlet (such as at your office desk or on the office kitchen's counter), and one that works in your car's power socket. This simply offers you more flexibility, allowing you to warm your food in transit, especially if your final destination won't have a standard wall outlet. If your selected food warmer lunch box only comes with a standard plug, it's not the end of the world; you can always purchase a power converter so you can bring your lunch box for car rides and heat your food during your commute.
‌Container or No Container:‌ Most electric lunch boxes include a removable container (usually made from food-grade stainless steel) that doubles as a food bowl, which may or may not be divided into separate food compartments. However, some models known as "portable food ovens" or "portable food warmers" don't come with a food storage container. These types of lunch boxes serve more as an insulated bag and give you the option of using your own container, such as a takeout container or a heat-safe dish with a lid.
‌Capacity:‌ Most electric lunch boxes offer a capacity ranging from around 2 to 6 cups of food. Consider how much you normally eat, how long you'll be away from home and how much potential weight you're willing to tote around. Regardless of the food capacity of your lunch box, it's also a good idea to stir your food every so often to allow for a more even temperature distribution.
‌Extras/Accessories:‌ Some electric lunch boxes come with thoughtful extras or accessories, such as removable, heat-safe containers for sauces or sides (like fresh fruit), optional plastic dividers (similar to a bento box), eating utensils and an insulated carrying case. These bonuses aren't necessary, but are certainly nice to have.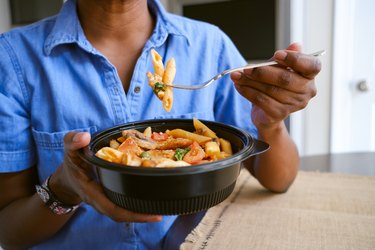 The Best Overall Electric Lunch Box
An overall winner with a thoughtful design and accessories, this electric lunch box comes with two power cords for plugging into a standard wall or car outlet, giving those with a busy lifestyle flexibility and convenience. The heated lunch box's stainless steel container is dishwasher-safe and can hold up to 1.5 liters of food (or about 6.3 cups), giving you a lot of capacity. The set also includes a heat-resistant plastic container and lid that can be used to hold a side dish or sauce. A leakproof ring on the underside of the snap-on lid ensures contents won't spill.
Container Capacity: 1.5 liters
Heating Time: Approx. 30 minutes
Power Source: Wall outlet or car socket
Included Accessories: Utensils, stainless steel container, plastic container, insulated carrying case, power cords
The Runner-Up Best Electric Lunch Box
Another strong contender for best overall electric lunch box, this food-warmer lunch box has many of the same features as the overall best pick, with a slightly more budget-friendly price tag. The only thing it's missing is an insulated carrying case, which may or may not be a dealbreaker for you. There is, however, a folding handle built into the lid for easy portability, and the box's secure snap-on lid won't leak, so you may not need a carrying bag, anyway.
The two included power cords allow you to plug the lunch box into a wall or vehicle outlet, and the set includes a dishwasher-safe, 1.5-liter stainless steel container, as well as a plastic container insert for sauces or side dishes. It also has an integrated utensil container for stashing the included fork, spoon and knife. How handy!
Container Capacity: 1.5 liters
Heating Time: 20 to 40 minutes
Power Source: Wwall outlet or car socket
Included Accessories: Uutensils, stainless steel container, plastic container, power cords
The Best Small-Capacity Electric Lunch Box
Coming from the most well-known brand on this list, this aesthetically-pleasing electric lunch box from Crockpot (previously styled as Crock-Pot) is also a solid option. It's available in upmarket colors like blush pink and faded blue and includes a large capacity 20-ounce stainless steel container (or about 0.6 quarts), which is less than half the size of the other options, so it's ideal if you're looking for something compact and tend not to have a very large lunch. It comes with two lids to keep food items safely contained: a twist-on outer lid with a handle and a tight-sealing inner storage lid. Even if you're bringing soup, stew or a pasta dish on the go, your contents (and car interior!) will be safe.
The detachable wall power cord allows you to warm your food, unplug, and then carry the insulated base and bowl to your dining destination. There's also a built-in storage compartment for the power cord so you don't lose it. In addition to keeping meals warm, the Crockpot can also be used to keep hot dips melty and scoopable, making this a good pick for bringing along to parties. You can even use it as a small rice cooker. Both the stainless steel container and sealing lid are dishwasher-safe for easy care. One caveat: You'll have to buy a power converter if you want to plug it into your car, and there are no eating utensils included.
Container Capacity: 20 ounces or 0.6 quarts
Heating Time: approx. 30 minutes
Power Source: Wall outlet
Included Accessories: Power cord
The Best Multi-Compartment Electric Lunch Box
Perfect for those days when you want to bring multiple warm dishes for lunch, this electric lunch box features a large capacity 1.5-liter stainless steel food container with a built-in divider, so you can keep entrées like meats and veggies separate from sides like rice or noodles—or simply bring two different main courses. The lunch box itself has a securely-fastened lid and a handle for easy carrying, and it comes with two power cords for use in a standard outlet or in your car, for extra convenience. To top things off, the lunch box also comes with a knife, fork, spoon and an insulated lunch bag. For the best heating results, the manufacturer recommends adding a scoop of water to your food before turning on the warmer to avoid it drying out.
Container Capacity: 1.5 liters
Heating Time: 30 to 40 minutes
Power Source: Wall outlet or car socket
Included Accessories: Utensils, stainless steel container, power cords, insulated lunch bag
The Best Electric Lunch Box for Using Your Own Container
Less of a lunch box and more of a heating sleeve, the HOTLOGIC food warmer looks more like the soft lunch boxes you may have carried in elementary school. This self-heating lunch box comes with a standard wall power cord, and the interior features a heated base and reflective material that will keep food warm for up to 12 hours without drying it out. The zipping lid opens wide for easy loading and removal of your meals, and it's compatible with a variety of flat-bottomed, lidded containers up to 1.5 quarts, including those made from heat-safe plastic, glass, metal, cardboard and foil. Reheating your food in this portable oven is an easier way to enjoy a healthy meal than using a microwave. On days when you don't need to warm food, you can use the HOTLOGIC lunch box as a regular soft lunch box. It comes in your choice of nine colors.
Capacity: Holds containers up to 1.5 quarts (approx. 0.95 liters)
Heating Time: 20 to 30 minutes
Power Source: Wall outlet
Included Accessories: Power cord