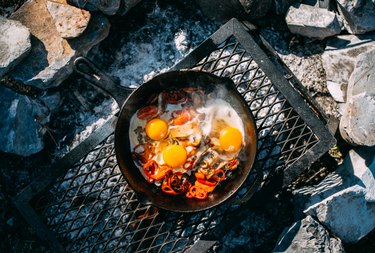 There's a unique joy that comes with living simply in the great outdoors for a little while. And the simple al fresco cooking and eating that goes along with it is an essential part of the experience. All you need are a few key pieces, which the best cookware for camping sets provide in one convenient, compact, lightweight package. No matter what style of camping or hiking you favor—and whether you go it alone, with a partner or with a group—there's a perfect camping cookware set for you.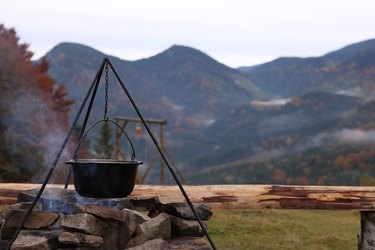 What to Consider When Purchasing Cookware for Camping
‌Pieces:‌ You can buy individual pieces of camping cookware, but in most cases, it makes sense to buy a set that has everything you need. Most sets include at least one pot and one frypan, plus a straining lid for the pot, eliminating the need for a colander or strainer. Others have a large and small pot, some sets include dishes and utensils, and some have additional cooking accessories like cutting boards and trivets. And if you won't be building a fire or have access to a grill, look for a set with a backpacking stove or camping stove.
‌Size and Weight:‌ In addition to the types of pieces included, consider the number, too. Will you only be cooking for yourself or you and one other? Or do you need a set with four plates and bowls? Also, look at the cooking capacity; how big are the pots and pans? Most camping cookware is designed to be as compact and lightweight as possible, and the storage size and total weight are extra important if you'll be carrying the stuff while backpacking. Look for features like detachable handles and collapsible items that allow things to nest inside the biggest piece.
‌Material:‌ As with indoor cookware, outdoor cookware comes in a variety of materials. Aluminum is especially lightweight, and it's often coated with Teflon or ceramic to be nonstick (ceramic being a bit heavier and susceptible to cracks and chips). But its lightness makes it more prone to hot spots while cooking and to damage.
Stainless steel is a more durable, slightly costlier option, but it can be harder to cook certain foods with and to clean because it's not nonstick. Cast iron is another popular outdoor option. It delivers a great cook and it's nonstick, but it's also heavy and has special care requirements. Also, the material affects which cooking surfaces you can cook over, so think about whether you need something that you can stick directly on a campfire.
Along with your budget considerations, these factors will help you choose the best cookware for camping for your needs and preferences.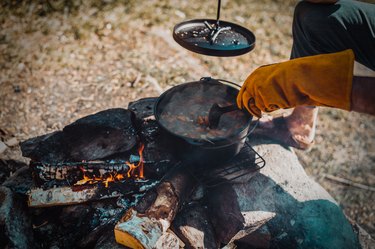 The Best Overall Cookware for Camping
This 21-piece camping cookware set stocks you—and multiple others—well for cooking and eating on camping trips. It includes a 3.5-liter stainless steel pot with a vented strainer lid, a 7-inch stainless steel pan, an extendable spatula, an extendable serving spoon, a cutting board, four 6-inch plates, four 22-ounce bowls, four sporks, a dish-drying rack, a trivet and a locking bungee cord.
And all these lightweight but durable pieces nest together in the pot for compact storage and easy transport. The lid even has nesting instructions on it in case you're not the best at spatial puzzles. The pot and pan heat quickly and evenly, and can be used over an open flame. Everything is dishwasher safe for easy cleaning and sanitizing when you get home, too. Plus, this large set is offered at a great price for its size and quality.
The Best Budget Camping Cookware Set
If you just need some budget-friendly but quality cookware to add to your assortment of camping gear, this four-piece set is a smart buy. Just be aware that the pieces are on the small side, designed for a single camper or hiker. The stainless steel 1-liter pot and 6.3-inch sauté pan heat evenly and boil water quickly, and their handles fold down as part of the set's complete nesting design.
One thing to note: You may get some hot spots with this cookware, which is a common issue with such lightweight pots and pans made for taking backpacking out into backcountry. But, it's still durable enough to resist scratches and dents. This kit also includes a stainless steel bowl, BPA-free polypropylene cup and a mesh stuff sack. All the components are dishwasher safe, and at just over 1 pound in total, it's all easy to carry.
The Best Nonstick Cookware for Camping
The Teflon-coated hard-anodized aluminum cookware in this set easily releases food without sticking, and it's a breeze to clean up, too. It comes with a large pot (5 liters) with lid and silicone-coated bail handles, a mid-size pot (3 liters) with lid, a 9-inch frypan, a detachable and foldable handle for the medium pot and frypan, a cutting board, and a mesh carrying bag. The lightweight, BPA-free nylon lids have convenient integrated strainers.
If you're looking for an impressive cooking capacity-to-weight ratio in addition to effective nonstick capabilities, this is one of the best camping cookware sets you can buy. All pieces combined only weigh in at a little over 4 pounds, and they're big enough to prepare food for a group. While this product is a bit pricier than many other nonstick camping cookware sets, the durability and total cooking capacity help justify it.
The Best Stainless Steel Cookware for Camping
This is a great buy if you want stainless steel pots and pans for camping. It has 11 pieces and totals just over 8 pounds—which is not high at all for the material and the size of the cookware. You get a 4.75-quart stockpot and a 1.9-quart small pot, an ample 8.75-inch sauté pan, straining lids for the pots, a collapsible cutting board, two spatulas (a turner and a serving spoon) with retractable handles, two trivets and a locking bungee cord.
Thanks to their multi-layered bottoms, the pots and pan heat notably evenly for such lightweight cookware—even over an open fire. Everything nests together neatly, and all the stainless steel pieces are dishwasher safe. And the package is sold at a good price for the material, quality and number of pieces. While this set is too heavy to be practical for backpacking, it's ideal for campers and RVers.
The Best Cast-Iron Camping Cookware
Camping and cast-iron cookware go together like graham crackers and melted chocolate and marshmallows. It's heavy, yes, but that's why it conducts heat so well and heats so evenly, giving you a nicer sear than you get with just about any other cookware material. This pre-seasoned Dutch oven and 10.25-inch skillet (that doubles as a lid for the Dutch oven) are indestructible, high-quality pieces from the best-known name in cast-iron cookware.
You can use this cookware on most cooking surfaces, including a grill and directly over a fire. And it has good nonstick qualities that only get better over time with repeated use. Just make sure to familiarize yourself with cast-iron care; it's a bit more involved than with most other materials because cast iron is highly susceptible to rusting. But it'll last a lifetime—and longer—with proper care.
The Best Camping Cookware Set With Backpacking Stove
If you're an avid backpacker and want a cookware set that comes with a small backpacking stove, this is the mess kit for you. It includes a PocketRocket propane stove (fuel sold separately), a 2-liter aluminum pot with a strainer lid, two deep bowls, two 12.5-ounce insulated mugs and two foldable sporks. Everything nests together compactly in the pot, weighing in at only 1.6 pounds and measuring 5.5 inches wide by 6.25 inches high.
All the pieces besides the stove and pot are made from BPA-free plastic. The stove can bring a pot of water to a boil in just 3.5 minutes—impressive performance for its size. The components are surprisingly durable for their extra-light construction. Well, with one exception worth pointing out: The collapsible sporks are on the flimsy side; you might bring along an extra utensil or two. Even considering that, it's a good price point for a comprehensive cookware set for a couple of backpackers.
The Best Camping Cookware Set With Camping Stove
For those who invest in serious camping gear, this set includes a dual-burner camping stove to simultaneously accommodate its 5-liter aluminum pot with strainer lid and its large 10.5-inch ceramic-coated nonstick sauté pan. The stove folds closed and is fueled by propane, which you have to buy separately. It also comes with a storage bag that everything fits into.
The 10,000 BTU stove brings a pot of water to a boil in just over three minutes, but it's still notably fuel efficient. Everything packs down inside the pot to a compact 10.3 inches by 7.2 inches and weighs in at 9.1 pounds. While backpackers are better off with a set that comes with a backpacking stove (see the previous entry), this is a great investment for basecamp cooking, overland camping, car camping, RVing and more.