I eat a lot of rice and whole grains. Right now my pantry holds basmati and plain old long-grain white rice, jasmine rice, brown rice and arborio rice for risotto; and my shopping list includes sushi rice because my granddaughter wants to try her hand at maki. And that's before we get into millet, barley, freekeh, farro, and all of the other grains I cook (including, and especially, the steel-cut oats I eat for breakfast most mornings).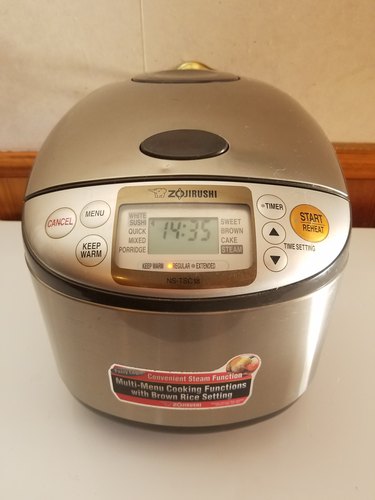 That's why I've wanted a Zojirushi rice cooker for years. Why a Zojirushi specifically? Because they make perfect rice. Perfect. That's a strong statement, but I said what I said. So when I found a good price on a Zojirushi NS-TSC18 Micom rice cooker last year, I jumped on it. I can use it for as little as 2 cups of uncooked rice (those special "rice cooker" measuring cups, which are actually 6 ounces), which is perfect for the two of us plus some leftovers, or I can cook up to the full 10 cups of rice when we're having company. The unit comes complete with a steamer insert basket for cooking fish or vegetables (which adds to its versatility), and a nylon rice paddle that won't scratch the pot's nonstick coating.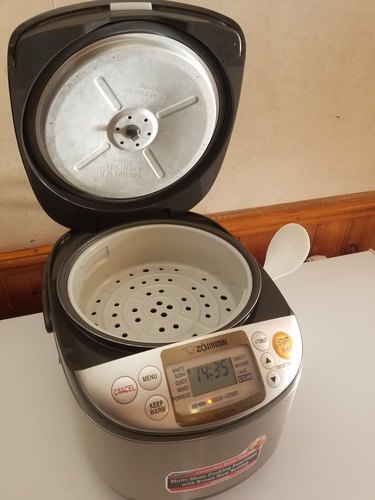 To be clear, I can make really good rice in a pot. I'm a trained chef, I know lots of ways to do that. But working with a pot on the stovetop means I need to give it some of my time and attention, and as a busy freelancer—with a small acreage to maintain, and grandkids to enjoy—my time and attention are always scarce commodities. With an electric rice cooker, I can "set and forget," and get back to whatever else I was doing. That's not the real story here, though. The real story is the "fuzzy logic" that makes a Zojirushi so good at what it does and sets it apart from other machines.
Consider the instructions on basically every package of rice you've ever bought. They'll tell you to bring the water just to a boil, then turn it down to a low simmer and let it go until all the water has been absorbed. Now think about basic rice cookers, the one-button kind most of us had in our dorm rooms or first apartments. They cook your rice at a full rolling boil until it's done, then they shut off. See the difference? A Zojirushi uses its sensors and fuzzy logic circuitry to adapt on the fly, just as a human cook would. It'll raise or lower the temperature, and shorten or extend the cook time to get you the results you want. That's how it can adapt not just between different types of rice, or for the quality of the rice, but even between different batches of the same rice (because newer and older rice won't cook the same way).
It's easy to use. The inside of the nonstick pot is marked with measurements for white rice, brown rice, sweet rice, and so on. Suppose I'm making three cups of brown rice (shown here in the photos). I measure the uncooked rice and place it in the inner pot, then I turn the pot so I can see the markings for brown rice. I add water until it reaches the three-cup line, and then put the pot into the machine. I close the lid, press the Menu button to cycle through the presets until "Brown" is highlighted, and press Start. That's it. The end result is fluffy rice that's never mushy, never undercooked.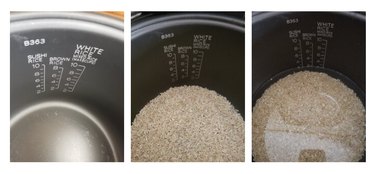 Most types of rice take around an hour, give or take, which may be longer than you're used to. It's not that big a deal, because you can set a timer and have the rice start cooking whenever is convenient for you. I'll often do that either before I start work, or while I'm taking my lunch break. Once the rice is done, the keep warm function will hold the rice at a food-safe temperature for hours without any loss of quality, so if you run late at work or if your guests are held up in traffic that's not a problem. I'll even set mine up at night on the "Porridge" setting—usually used for congee—to cook my steel-cut oats for me, and have them ready at breakfast (I add a handful of raisins and a pinch of cinnamon to mine; my Scots ancestors would disown me).
There are lots of other kitchen appliances that can cook decent rice. An Instant Pot or similar multicooker can do pretty good rice, for example, and so can lesser brands of rice cookers. But if you want the best rice, you'll want the best rice cooker as well, and that's a Zojirushi. The top pick in our recent roundup of rice cookers was another Zojirushi model, a smaller 5.5-cup rice cooker (mine, you'll recall, will make up to 10 cups).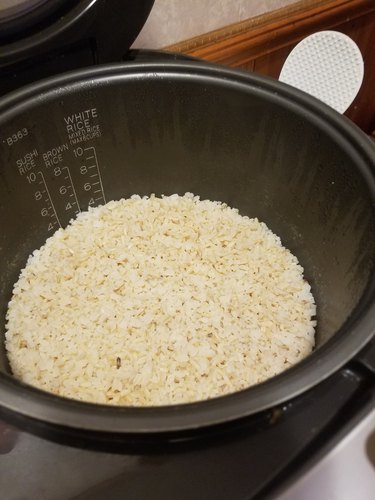 I cooked perfectly good rice for decades before I bought mine, but now that I've owned a Zojirushi there's no turning back. If you, like me, eat a lot of rice (or other grains), then you need one of these gadgets. Sure, they cost more than most, but you'll make it back in long-term durability and (I can't stress this enough) perfect rice, every time.