I don't know about you, but my kitchen is full of single-use products that make me feel like I'm slowly killing our planet, including paper towels, cleaning products, dish soap in plastic bottles, plastic wrap, Ziploc bags, plastic straws and plastic trash bags. It isn't just a feeling, however, because disposable plastic items don't biodegrade—they break down into micro particles that contaminate our environment by polluting our water sources and our food, according to Greenpeace.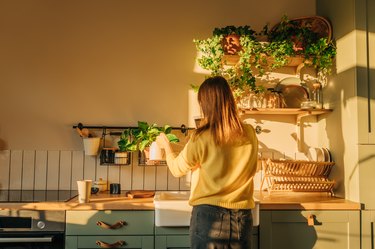 The good news is there's an easy solution. There are loads of products that'll replace your single-use kitchen products with more sustainable ones. The even better news is that I did the digging for you, so all you have to do is scroll through this list, pick what you want and take care of the swapping.
What to Consider When Purchasing Sustainable Kitchen Products
‌Type:‌ Consider what you actually use in your kitchen before stocking up on sustainable items, otherwise you won't really be doing much to cut back on the waste. Pretty much everything in your kitchen that's made of plastic can be swapped for eco-friendly items like stainless steel straws, cloth produce bags, food storage bags, washable bamboo dish cloths, biodegradable kitchen sponges, silicone storage containers, beeswax wrap, various cookware and more. You can even swap out paper products like paper towels and napkins for reusable options.
‌Material:‌ The great thing about sustainable products is the absence of plastic. Instead, you'll find eco-friendly kitchen items that are made of silicone, bees wax, bamboo, glass, cloth, stainless steel, and other compostable and natural materials.
‌Quantity:‌ Many products that come in multi-packs have a variety of quantities to choose from. For items like food storage bags, you'll probably need at least a handful to prevent you from resorting back to plastic bags when they're all being used. In addition to multi-packs of several products, I've also included a couple of starter sets on the list so you can easily buy all the things you need while getting the biggest bang for your buck.
I researched the best sustainable kitchen swaps that can take the place of your single-use plastic items that just don't make sense anymore. If your goal is to have a zero waste kitchen, or at least a kitchen with a lower amount of waste, these items will get you on track. Check out the list below.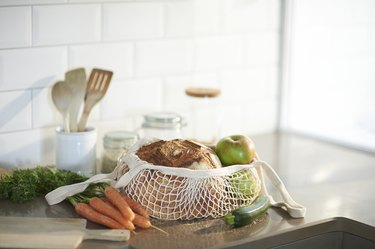 1. Lerine Reusable Food Storage Bags, 10-Pack
These super popular reusable silicone bags can take the place of your current Ziploc bags. The pack comes with 3-gallon bags, four sandwich bags and three snack bags, so they can work for a variety of storage purposes, including school lunches. Made from silicone with an airtight, leak-resistant zipper, the bags are dishwasher-safe making them super easy to clean. Choose from gray, white or multicolor.
2. Mioeco Reusable Paper Towels
If you have kids or make a lot of messes on your own, it's easy to go through a roll of paper towels every other day or so. These reusable cloth towels will not only take the place of paper towels, but they'll also save you money on that giant pack you always buy—not to mention saving all the plastic that paper towels come wrapped in. The organic cotton towels are machine-washable, bleach-free and have no toxic chemicals. You can purchase a pack of 10 or 20 depending on your needs.
3. Vejibag Fresh Vegetable Storage Bags
Not only will these 100% organic French terry bags take the place of the plastic fruit and veggie bags you get at the store, but they're also designed to help your produce stay fresh and crispy longer. To get the most out of the bags, you'll need to dampen them before you place the produce inside, which will keep everything fresh for a week or more. If the bags get dry, spritz them with water to freshen things up. The bags come in standard, large or extra-large in a set of two, or you can grab a variety pack in a set of three.
4. Trifecta Living Co. Hunnybeee Beeswax Food Wrap
If someone's ever told you to mind your beeswax, this is probably what they meant. (OK, probably not, but it's a lovely thought.) These beeswax food wraps are great for leftovers as they have a sticky side that effectively clings to bowls and other food containers. They're also great for storing a half-used avocado, onion, tomato or lemon. Made from cotton, jojoba oil, ethically harvest beeswax and tree resin, they're ideal alternatives to plastic wrap. The package of seven includes two small wraps, three medium wraps and two large wax wraps, while the package of three includes one small, one medium, and one large wax wrap.
5. Airnex Biodegradable Natural Kitchen Sponge, 12-Pack
The CDC recommends switching out your sponge every two weeks, so it makes sense to use sponges that are biodegradable to have the smallest impact on the environment. These 100% plant-based, compostable sponges are made of white cellulose and coconut fiber, making them tough enough to cut the grease while giving you the opportunity to take a more eco-friendly approach to dishwashing. Its porous structure helps the sponge stay fresh longer than its plastic counterparts. Buy a pack of 12 or a pack of 24.
6. Blueland Dish Soap Starter Set
I love Blueland's innovative and eco-friendly products because they're effective and affordable. This dish soap starter set comes with a 16-ounce silicone "forever" shaker along with plant-based, planet-friendly, powder dish soap. When water is added to a sponge or dish, squeeze the bottle to create a thick foam that gets the job done well.
7. Eplanita Natural Dish Brush Set
Small changes can make a big difference, and that includes the dish brushes you use. This set comes with a dish brush, three replacement heads and an ec0-friendly sponge. The brushes and bristles are made of bamboo and agave cactus fibers and can help you reach your goal of having a fully, or at least partially, sustainable kitchen.
8. Ayotee Biodegradable Trash Bags
As often as you take out the trash, you might want to consider trash bags that don't harm the environment. These plant-based trash bags are heavy-duty and can effectively hold a container's worth of trash while being completely compostable. Choose from 13- to 15-gallon kitchen trash bags, 8-gallon trash bags, 2.6-gallon bathroom trash bags or 1-gallon mini trash bags.
9. Hiware Reusable Stainless Steel Straws, 12-Pack
If you regularly use straws, the sea turtles and other marine animals will thank you for switching over to reusable stainless steel straws. There are 12 straws in this pack, which also comes with a cute storage bag. There are four different sizes and types, including six bent straws and six straight straws. They are dishwasher-safe and BPA- and lead-free. The straws come in five color options: silver, gold, rainbow, rose gold and black.
10. Full Circle Refillable Glass Spray Bottle
If you're ready to stop buying cleaning solutions that come in wasteful, single-use plastic bottles, go for this refillable glass bottle. This spray bottle holds 16 ounces and is finished with bamboo details with a silicone base to help prevent the glass from breaking if it gets knocked over. Whether you use refillable cleaning solutions from a company or DIY formulas, this bottle will get the job done.
11. Mother Earth Stretchy Can Cover Lids, 6-Count
Why use cling wrap or foil when you can use these convenient and sustainable plastic-free silicone can cover lids? They are the perfect way to keep your cans of food fresh after they've been opened, as well as to place on fruit or veggies that you'll come back to later, like lemons or oranges. You can even use them on mason jars or on top of soda cans to preserve carbonation.