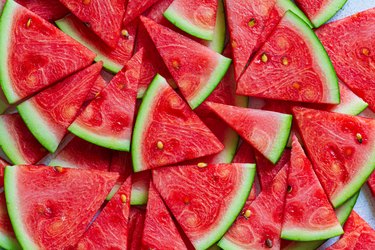 From its fantastic flavor to its wonderfully refreshing texture, watermelon is a summertime staple for a reason—though we think it deserves year-round love. In fact, watermelon is incredibly versatile, no matter how you slice it. To provide an out-of-the-box look at this fantastic fruit as a cooking ingredient, we've rounded up five mouthwatering watermelon recipes from TikTok, ranging from salads to beverages to desserts. Heck, you could throw a whole watermelon-themed dinner party with these ideas! Read on for all the juicy details.
1. Watermelon Summer Salad
We'll kick things off with a spectacular salad from TikToker @mayakapouranis. You need only a few ingredients for this fresh dish: watermelon, cucumber, basil or mint leaves, feta cheese and lime juice. Simply toss all ingredients in a large bow. Commenters also recommended adding balsamic vinegar and pomegranate seeds for added flavor. That's the beauty of a watermelon salad: Kick it off with the star ingredient, and experiment from there. Personally, we'd add some sliced strawberries for extra sweetness!
Ever heard of watermelon jam? TikToker @simplymasarra hadn't either until she spent time visiting her grandmother in Turkey. With Grandma's guidance, the creator explains how to use leftover watermelon rinds (yes, this recipe calls for rinds!), sugar and lemon juice to concoct an underappreciated but tasty jelly that would be fantastic with toast, crackers or other small bites. We're definitely going to give this one a try.
Next up? A refreshing drink in the form of watermelon lemonade from TikToker @mamasheedz. Again, the recipe is fairly simple and requires just a few ingredients. Start by blending and straining watermelon. Next, put slices of lemon, crushed ginger and a cup of sugar in a beverage dispenser. Finally, add water and strained watermelon juice, stirring everything to combine. Seeing it all come together in a tall glass with ice has us ‌seriously‌ craving our own sweet sip.
How to Cut a Watermelon
If you're planning on making any of these recipes but unsure about the best way to chop up a whole watermelon, you're in luck—we have a helpful watermelon-cutting guide on our very own ehow TikTok. From sticks to chunks to slices, we demonstrate it all for you!
And now for something completely different: watermelon on the grill! This trending recipe might sound strange, but TikTokers like @alexawhatsfordinner swear by its deliciousness. Simply grill standard watermelon slices until they've achieved those dreamy charred lines, then top with Greek yogurt, mint, lime and honey sauce. This might just become your family's new favorite fare!
Take your next taco night up a notch with the addition of watermelon salsa, which is just as intriguing (and mouthwatering!) as it sounds. TikToker @cafehailee shows how it's done, combining diced watermelon with onion, cucumber, jalapeño, avocado, lime juice, salt and pepper. In essence, this is a watermelon pico de gallo recipe—perfect for pairing with tortilla chips or tacos.
Here's to a refreshing culinary adventure! Just remember: If you ‌do‌ throw that watermelon-themed dinner party, we'd love an invite.