Making things hot is a large part of what kitchens are all about, and the moment will inevitably arrive when you have a hot pan in your hand and need to set it down (rather quickly if your pot holder is threadbare). The problem, of course, is that a hot pot can potentially damage the surface of a counter or table, and setting a glass or ceramic casserole dish on a cold countertop can make it shatter. To protect your tabletops, counters and dishes, you'll need a selection of trivets to place between hot cookware or bakeware and your work surface. Sure, a pot holder or kitchen towel will work in a pinch, but the best trivets are more functional and can even look pretty good in your kitchen.
What to Consider When Purchasing Trivets
‌Materials:‌ Trivets can be made of just about anything, as long as it protects your countertops and table from hot dishes. You'll see them made of cast iron (plain or enameled) and other metals; stoneware and other ceramics; wood, bamboo or woven grasses; and especially—in recent years—silicone. They're all heat-resistant to varying degrees but a few, most notably cast iron and stoneware, can absorb enough heat that they themselves can potentially give you a nasty burn.
‌Design and Aesthetics:‌ Many trivets are completely utilitarian and just focus on getting the job done, but others are visually appealing in their own right. Whether that appeal comes from the look of natural materials (brass, marble, oiled wood), colorful materials or striking designs, they'll lend a decorative design element to your kitchen when they're not in use.
‌Versatility:‌ When is a trivet not a trivet? When it's equally adept at other jobs in your kitchen, of course. Many trivets are multi-taskers, and there's some definite overlap between trivets and other kitchenware including pot holders, placemats and cooling racks. Silicone trivets are the champions in this respect because you can also use them as pot holders, jar openers, spoon rests, placemats or even—if they're deeply patterned—draining mats for any dishes you've hand-washed. The more potential uses a trivet has, the better the value it offers.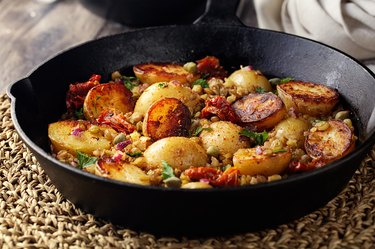 The Best Cast Iron Trivet
gasaré Cast Iron Trivet, Tree of Life Design
Sturdy metal trivets can stand up to as much heat as anything in your home will put out (unless you're a welder), so they're just as useful on top of a woodstove as they are beside your kitchen range. Cast iron, in particular, will last a lifetime and demands little upkeep, other than keeping it dry so it won't rust. This one from gasaré (yes, the lower-case G is deliberate) has rubber feet so it won't slip on your countertop—remove them for use on a woodstove—and it's sturdy enough to hold any pot that fits its 8-inch diameter. What really makes it stand out, though, is its beauty. It's one of a number of striking gasaré designs in different sizes, and it's attractive enough to serve as a wall hanging when you aren't actively using it (there's a provided loop for hanging it). Getting both an indestructible trivet and a piece of wall art at such a low price is a definite win.
The Best Silicone Trivets
Q's INN Silicone Trivets, 4-Count
This set of four silicone trivet mats provides a perfect illustration of silicone's versatility as a material. The mats—two round ones at 7 inches and two square ones at 7-1/4 inches—are lightweight and flexible, but they're still good for up to 440 degrees Fahrenheit. That's plenty for most cases as a trivet, but their flexibility gives them plenty of uses beyond that. Wrap one around the hot handle of a cast-iron skillet, use one to lift the hot lid from a boiling pot, or use them as pot holders to grab a hot pan from the oven without burning yourself. The square ones can double as a nonslip anchor for a cutting board, the round ones make a good jar opener for stubborn lids, and because silicone is nonstick, any food spills will just wipe right off (but they're dishwasher-safe, should you need to get stuck-on food out of the little crevices). Oh, and did we mention they come in well over a dozen colors? As trivet sets go, there's a lot to like about this one.
The Best Expandable Trivet
Totally Bamboo Expandable Bamboo Trivet
One of the minor irritations with most trivet designs is that you need large ones for large pots and small ones for small pots. That's not the case with this inventive expandable trivet from Totally Bamboo. When compacted, it measures 8.75 inches square, and when expanded, it measures 8.75 inches by 11.7 inches. The trivet is also 1/2-inch thick to create more than enough distance between your hot dish and the tabletop. It slides open easily and holds steady even under heavy pots and pans. Made of durable and sustainable bamboo, the trivet should be hand-washed or spot-cleaned with a damp cloth if it gets dirty.
The Best Design-Forward Trivet
Mid-Century Modern Block Trivet
Your trivet will spend most of its time not performing its main task, so the question becomes where (and how) you'll store it. That's not the case with this striking wood trivet from Frederick Arndt Artworks, sold exclusively at Food52. Made of American black walnut, its funky and unconventional design of open blocks recalls the classic mid-century style in furnishings and architecture. You won't want to hide it away, because it works beautifully as an accent piece in your overall decor (even if your home and style aren't necessarily mid-century). Aside from its visual appeal, the open-block design means it's really, really good at allowing heat to dissipate. The trivet measures only 6 inches per side, so you'll need to double-check that large pots are properly centered, but if you prioritize looks in your kitchen accessories that's a minor inconvenience.
The Best Stainless Steel Trivets
P&P Chef Round Trivet/Cooking Rack, 3-Count, 3-Count
Wire trivets are almost as versatile as silicone trivets, but they're versatile in different ways. They work equally well as cooling racks for your baked goods, as a baking rack in your air fryer or Instant Pot, or even as a roasting rack for a chicken or a small roast. The best are made of heavy-gauge stainless steel, rather than chrome-plated (the plating will chip over time, leaving your trivet susceptible to rust). This set of three from P&P Chef provides excellent value, with 7.5-inch, 9-inch and 10.5-inch trivets all included at one rather modest price. The thick wires are placed close together for strength and are reinforced by a steel rod so they'll handle even large, heavy pots. If pure function is how you roll in the kitchen, these are hard to beat.
The Best Multi-Functional Trivet
Surpah's Dish Drying Rack & Trivet
Not all trivets are multi-taskers, and not all of them multi-task in the same way. That's not a bad thing because it means you can pick a trivet that does things you, individually, actually need. Consider this dish drying rack from Surpah, which just missed being named as best-in-category in our roundup of dish drainers (we like it better as a trivet). When you aren't using it directly on top of your sink to drain dishes, its sturdy silicone-coated wires make it a very functional trivet as well. It rolls up, so you can open it as much or as little as you need at any given moment. At full size, it measures 13 by 17.5 inches, plenty for the largest sheet pans or all the pots and pans you'll use in a normal meal. The company also makes larger models, up to 20.5 by 15.5 inches, which might even handle all of the hot dishes needed for a holiday feast.
The Best Gift-Worthy Trivet
Eximious Hand-Carved Wooden Trivet, 2-Count
Wooden trivets have an enduring appeal, drawn partly from the warm, natural look of their grain and partly due to the artistry that goes into making them. This set of two trivets, hand-carved by artisans in India, scores on both counts. The workmanship and detail of the hand-carving are pleasing to the eye, and the dark walnut stain brings out the depth of the wood's grain. If dark stains aren't your thing, there are other finishes—natural, burnt or whitewashed—to choose from. Like other trivets, they'll protect your surfaces from high temperatures, whether that's shielding your dining room table from hot plates or your kitchen counter from a Dutch oven, but they'll also look good doing it. You might be tempted to keep one for yourself, and gift the other to a friend or family member.
OrganiHaus Round Woven Cotton Placemats/Trivets, 6-Count
There are lots of woven trivets to choose from, in natural fibers ranging from coconut coir to banana leaves to straw or wicker. They all work well, and serve the basic purpose of protecting your kitchen countertop from heat damage, but they're not especially practical to clean if you should happen to spill food on them. That's almost inevitable with trivets, which means it's a pretty fundamental flaw. This set of six round trivets/placemats from OrganiHaus is made instead of high quality woven cotton, a similarly renewable resource, but with the added bonus of being machine-washable when spills do occur. They're available in multiple colors and patterns, and you can also find matching sets of oval mats for your baking sheets and oval casserole dishes. They were a top pick in our roundup of placemats, and they're great trivets as well.
Arly Ceramic Trivet for Hot Pots and Pans, 2-Count
In the category of "kitchen art that you can also rest a hot pot on," these ceramic trivets from Arly stand out from most others. The high-temperature ceramic plates will handle temperatures of almost 400 degrees Fahrenheit, while the slip-resistant cork backing provides the same insulating value as a (much less attractive) cork trivet. Make no mistake, these are beautiful to look at. They're brightly patterned in rich jewel tones, and there are multiple styles and color schemes to choose from. You can't use it directly as a plate or serving dish—the glazes aren't meant for direct food contact—but they're utterly beautiful as a trivet or as a decorative element in your home.
The Best Customizable Trivets
Areaware Table Tiles, 6-Count
Trivets are an innately practical product, but some of them pack along some whimsy as well. These "table tiles" from Areaware are a perfect example. Instead of a conventional trivet in a fixed size, it's a set of six hexagonal coasters that can be assembled into a trivet that matches the size and shape of the hot dish you need to set down. They're available in a range of fun colors and patterns, recalling the pop art days of the 1960s, and you can combine multiple sets to create a larger trivet as needed. We've chosen the cork-backed version to showcase here, but they're also available in beechwood and pine.