Butter keeps longest with refrigeration, but for day-to-day purposes, it's convenient to have some on the countertop where it will remain soft and spreadable for immediate use. Putting a few pats or curls of butter on a saucer will do the trick on a meal-by-meal basis, but that requires some forethought and planning (not great, if you skew to spontaneity and "winging it"), and it's not especially attractive. Your better option is to invest in a butter keeper, designed to keep butter fresh at room temperature for days at a time. They're available in a range of designs and styles suited for any kitchen and any budget; the only problem is that there are so many choices. To help narrow them down for you, we've compiled a list of the best butter dishes across multiple styles and price points.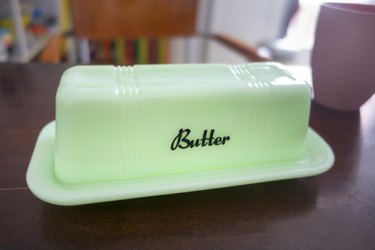 What to Consider When Purchasing a Butter Keeper
‌Design:‌ You have lots of options here. Are you looking for a classic French butter bell? A conventional tray-and-cover butter dish? A crock with a lid, or a modern design that boasts a tight-sealing lid? Something simple and utilitarian, or a design-forward statement piece? All of those, and many more, are available options.
‌Materials:‌ A butter keeper has a few basic jobs. One is simply storage. They also provide an environment that helps preserve your butter's freshness, both by moderating any swings in your kitchen's ambient temperature and by protecting it from air and light (both of which promote oxidation, and therefore spoilage). Most materials represent a degree of compromise between the latter two functions. Glass and clear plastics can be airtight, but don't keep out light. Stoneware and ceramic designs, for their part, block out light and help provide a stable temperature but don't generally make an airtight seal. You'll also see butter keepers in materials ranging from stone to stainless steel, all of which have their pros and cons. Keep your local climate (and decor) in mind as you consider your options.
‌Shape and Capacity:‌ How much butter do you need to keep on your countertop at one time? Many butter keepers are designed to hold a single stick of butter, or 1/2 cup. Others will hold two or more. Then there's the question of shape: Some are built for the relatively short and wide "west coast" sticks, and others for the longer and narrower sticks found in the rest of the country. Some will accommodate larger blocks, from half-pound squares (a shape you'll see with imported European butter) to a full pound. Most hold a stick or two, but a larger butter keeper might be useful if you go through a lot of butter.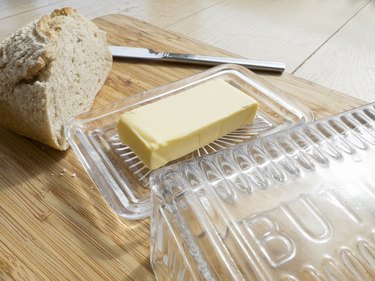 1. L. Tremain The Original Butter Bell Crock
Before the invention of refrigeration, the French kept their butter fresh in a simple piece of pottery called a ‌beurrier‌. American manufacturer L. Tremain modernized that classic French butter dish in the 1990s, updating it from its original stoneware to a modern, durable, high-temperature ceramic. The basic design remains the same: The underside of the lid contains a bell-shaped cup—hence the term "butter bell"—which you pack tightly with a stick of softened butter. Then you invert it into the base, which holds a small amount of cold water. The water in the base keeps out air, while the water and the crock itself work together to maintain a stable temperature inside. Your butter stays fresh and spreadable for weeks at a time, as long as you remember to change the water every few days. The dish itself is available in numerous styles and colors, but we like the old-fashioned Provencal look of this one from the company's "Antique Collection." There are lots of others to choose from, so feel free to pick one that fits your decorating style. You'll never wreck your toast with hard butter ever again.
2. Emile Henry French Butter Pot
The Butter Bell is a butter keeper in the French style, but this one from Emile Henry is genuinely a French butter keeper. The family-owned kitchenwares manufacturer is located in the Burgundy region, where this sleekly simple white crock is handmade (a stamp on the finished product tells you which actual artisan made it). Unlike the Butter Bell, which leans into its historic look, the Emile Henry's classic simplicity gives it a chameleonic ability to fit into any kitchen decor. It gives you spreadable butter using the same method as the Butter Bell but has nearly twice the capacity—7 ounces of butter, rather than 4—so it's handy for larger households or those that really like their butter. As with the Butter Bell, it's dishwasher-safe so it's easy to clean between uses.
3. Norpro Glazed Stoneware Butter Keeper
If you like the design of a classic French butter crock, but don't want to splash out big bucks for soft butter, this option from Norpro might be just the thing. It shares the same basic design as our top two choices but comes in at a much lower price point. The design leans into simplicity, with a clean blue stripe on white stoneware (there's an all-white version available at roughly the same price), and goes with just about any decor. Like most designs in this style, it will hold up to a full stick of butter. The company recommends hand washing—this model's stoneware isn't as durable as our other picks' material—but it's still an excellent value at the price point.
4. Aisbugur Large Butter Dish With Lid
If the French-style butter dish doesn't appeal to you, there are lots of other options. One common variation is a relatively deep ceramic crock, which can hold up to a full pound of butter. You'll find lots of them on the market, but we like this one from Aisbugur for a couple of reasons. First, the sleek matte finish is available in several bold colors to match any decor. Second, the bamboo lid has a silicone seal for a tight fit that keeps air out and preserves freshness (without water!). The lid also holds a butter spreader in a custom-fitted cutout, which gives it a nice appearance on the table when you have company. While our top picks work best with butter (other spreads get too soft, or plop into the water), this one will also hold margarine or cream cheese with equal ease. The scratch-resistant ceramic crock can go into your dishwasher, but the lid needs hand-washing.
5. Fox Run Whale Ceramic Butter Dish
The butter dishes we've named so far are all visually appealing in their own ways but skew heavily toward functionality. This one is for people who are willing to incorporate a bit of color and whimsy into their lives and kitchens. Functionally, it's a ceramic butter dish, like many others. The ceramic cover provides protection from light, air and extreme temperatures, just as you'd expect. The difference is that this one is fun, with its whimsical whale design in pastel aqua blue. It's wide enough to hold two sticks of butter at a time, and it's almost certain to be the first thing any guests notice when they sit down at your table. It's even dishwasher-safe.
6. Sweese Porcelain Butter Keeper With Gold Handle
Sweese manufactures a wide range of butter dishes, including most of the styles we've discussed so far. This one's a fun variation on the theme, though, because it provides a gold-colored handle along with six colors of butter dishes. That combination of bold color (or classic white) with gold trim provides a nice match for any kitchen with gold accents, or alongside a place setting of china with gold trim. It's not all about looks, though. The dish has a unique "ramp" inside, where the butter sits (a shallow version of a skateboarder's half-pipe, if you will). It keeps the butter from sliding around when you're trying to dip your spreader into it, and it's also a convenient place to scrape excess butter from your knife without messing up the lid. It's dishwasher- and microwave-safe (for those moments when, despite your best efforts, all you have is cold butter), and accommodates both eastern and western sticks of butter.
7. Amici Home Classic Glass Butter Dish
It may not be the best option in homes with small children or rambunctious pets, but a glass butter dish has a certain classic, timeless appeal. If that's your style, this one from Amici is a good pick. The glass lid is ridged at the sides to provide a good grip even when smudged with butter, and it's embossed with the word "butter" in case anyone should wonder what it's for. You can actually use this two ways: As a dish with a domed lid; or inverted as a crock with a flat lid. Either way, glass is impervious to air and will keep your butter at a spreadable temperature for days. There are a couple of downsides to be aware of, though. One is that the glass (of course) allows light through, which can oxidize the butter. A second is that it can become a miniature greenhouse if you aren't careful, and melt your butter. The answer to both issues is simply to keep it out of the light, wherever possible.
8. OXO Good Grips Butter Dish
This is the lowest-priced butter dish in our roundup, and with its clear plastic lid and minimal thermal mass, it does relatively little (other than a fairly tight seal) to help preserve your butter. That being said, in typical OXO fashion, it gets a lot of details right. The tray has ridges at either end to keep your butter from sliding around (not unlike the ramp in the Sweese butter dish), and—a detail bakers will love—it's embossed with tablespoon markings for easy and convenient measurement. It's sized to fit both eastern- and western-style sticks of butter, and there are separate sets of measurements for each. It's also dishwasher-safe for easy cleanup. It won't impress your guests the way a Butter Bell will, but they won't need you to explain it to them.