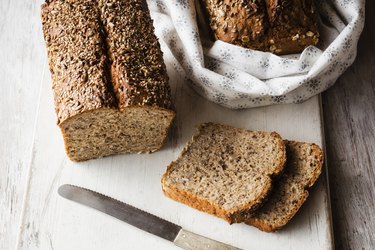 One unexpected outcome of the recent pandemic was that a ‌lot‌ of people rediscovered bread baking while they were stuck at home. As hobbies go it's low-cost, the results are delicious, and the aroma of fresh-baked bread makes your house smell wonderful. What's not to like?
Of course not everyone wants to bake bread by hand—certainly not if it's going to happen a few times a week—and that's where bread machines come in. Like a lot of other people, I believe that Zojirushi makes the best bread machines on the market: In fact, they accounted for three of the top picks in our recent roundup of the category. Let me tell you about my own Zojirushi, and why I love it.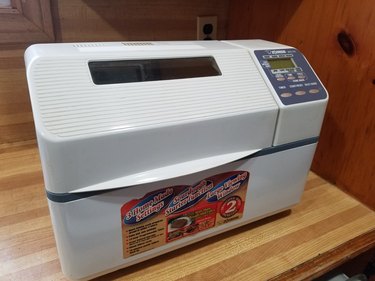 I Don't Need a Bread Machine (but I Love Mine Anyway)
I've been eating fresh-baked bread for as long as I can remember because my mom always baked her own. When I left home I wasn't prepared to stop eating the good stuff, so I learned to bake bread from scratch just like she did.
That was well over 40 years now (wow, how did that happen?), so I don't especially ‌need‌ a bread machine. I can whip up a batch of bread or rolls with nothing more than a mixing bowl and a wooden spoon, and I can even improvise without those in a pinch. I also have a powerful lift-bowl KitchenAid stand mixer with a spiral dough hook, which is no slouch in the bread-making department. But I still use my Zojirushi nine times out of 10 because it doesn't need babysitting and the finished bread is just as good as I can bake by hand.
As a self-employed person with acreage and a garden and animals and on-site grandkids, my time and energy are already pretty heavily committed. With my Zojirushi, I can just measure in the ingredients and get back to my day, knowing that everything is going to work out just fine.
Meet My Zojirushi Home Bakery Supreme
My Zojirushi is an older version of the current Home Bakery Supreme, which is widely sold online and in retail stores. The newer model looks sleeker in its black-and-stainless color scheme (mine's the older off-white), but it's otherwise essentially unchanged.
I have two main complaints about lesser bread machines (and I've owned several of those over the years, so I speak from experience). One is that I dislike the oddly squat, square-shaped loaves they produce. A second is that I've always found bread baked in these machines to be slightly doughy as if it needed to be baked for just a few minutes longer.
My Zojirushi is a different story. It has a wide rectangular pan that bakes a conventional-looking loaf, and the finished bread is just as good as bread baked conventionally in the oven. Its twin-paddle system (most machines only have one paddle) means that it can handle mixing and kneading these oversized loaves with ease. One other point that's worth mentioning—because of course these machines command a premium price—is that they'll outlast multiple lower-cost units. I bought mine used, 13 years ago, and it's still going strong.
The control panel on the Zojirushi is pretty old-school, with push buttons beneath a small LCD display. To use it, just push the Select Course button until the little dark arrows on the display point to the appropriate settings for what you want to make. The eight options are basic or quick loaves, wheat breads, a dough-only cycle, jam-making, cake-baking or sourdough starter, and finally the "Homemade" option for programming up to three custom cycles of your own for things like gluten-free bread.
My go-to bread—the one I make every week—is my grandmother's honey whole wheat, so I typically use the Wheat setting (if I'm baking in the machine) or the Dough setting (if I'm doing a double batch and baking in my oven in conventional pans). The dough setting is also useful for mixing up things like pizza dough, a batch of pan rolls, a fancy braided loaf for the holidays or a sweet dough for cinnamon rolls.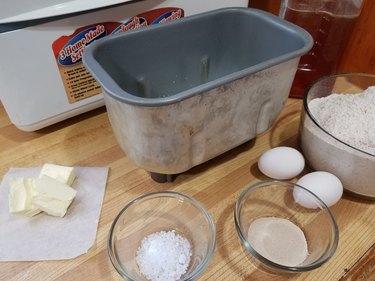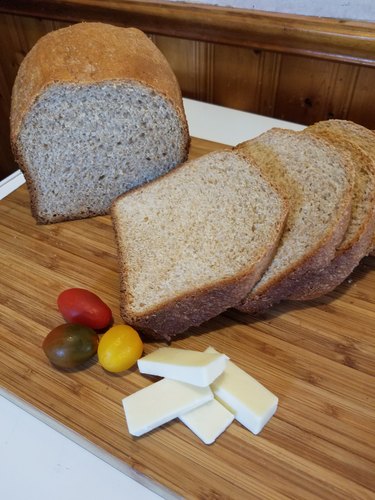 The Zojirushi Home Bakery Supreme will beep at you during the cycle to let you know when it's the correct moment to lift the lid and throw in any add-ins called for in your recipe, from nuts to herbs to dried fruit. My grandkids are fond of "cheesy bread," which is a plain white sandwich loaf studded with chunks of cheese and with a Parmesan-dusted crust.
Tip
If you're baking a loaf that contains cheese or anything sugary, I highly recommend using the dough-only cycle and baking it in a pan in your oven. Believe me when I tell you that cleaning burnt-on cheese or sugar out of the machine is a chore you're better off skipping. Been there, done that.
Some Useful Extra Settings
There are a couple of extra settings and features that I don't personally use a lot, but I appreciate them anyway. One is the crust control button, which you'll see on the display. Some people like their crust light and tender, while others (including me) like it darker and chewier. The crust control button lets you choose light, medium or dark, so you can please everyone. It's not entirely a personal preference thing, because some recipes brown faster than others and the crust control feature lets you adjust for that.
There's also a timer function, which is a great convenience. You can load up the machine before you leave for work in the morning, and come home to fresh-baked bread at dinnertime. Alternatively, you can load it in the evening, and wake up to fresh-baked bread in the morning. I work from home, so in my case, it's typically the latter. I'll often get busy and forget to bake during the day, so this way I know there'll be bread for breakfast.
The ability to program your own cycles is a real convenience too, especially if you get seriously into bread-baking and want to tackle some more complex recipes. You can customize how long the dough rises, whether it rises once or twice, and how long the bread bakes; so you can adapt almost any conventional bread recipe to work well.
Tip
Custom-programmed cycles are especially handy for gluten-free bread, which can be quirky and demanding (one size does ‌not‌ fit all). The gluten-free presets on other machines sometimes don't play nicely with a specific recipe, but you'll never have that problem if you buy a Zojirushi and create a custom cycle for your favorite bread.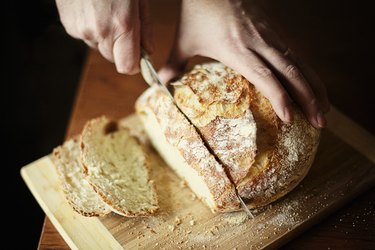 You can make loaves of up to 2 pounds in size with this machine (that's about 4 cups of flour), but it will also handle smaller loaves of 1 or 1 1/2 pounds. My grandmother's recipe makes 1 1/2 pounds, which is why I bake it in the oven when I do a double batch. My Zojirushi Home Bakery Supreme will mix the 3-pound batch beautifully, but it's way too big to bake in the machine. Smaller-sized loaves are handy if you don't go through a lot of bread, though baking a 2-pound loaf and freezing half is also an alternative. It just comes down to whether you want to do the math involved in adjusting the size of your recipe.
Tip
The instruction manual includes a selection of well-tested recipes tailored for the Zojirushi. I'd recommend starting with those, and then once you're comfortable with the machine's features you can start adapting other recipes to work with it.
Cleanup is easy. The nonstick coating on the heavy-duty bread pan works very well, so it usually only takes a quick wipe with a damp cloth to clean it up for the next use. My pan and paddles have been through the dishwasher occasionally, but I don't recommend it (and neither does the manufacturer). Hand-washing will keep it in prime condition for longer.
Zojirushi has sold this machine for 20 years with only cosmetic changes because it's really, ‌really‌ good at what it does. If you're in the market for a new or upgraded bread machine, one that will stand the test of time, I highly recommend it.