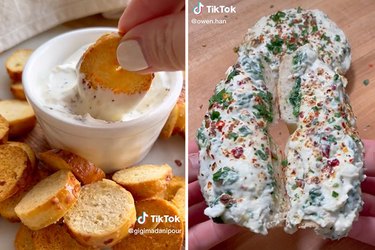 Bagels are universally beloved and with good reason. They're versatile, they're filling and, most importantly, they're made of bread. Perfection! But as much as we adore classic bagels, there's always room to spice things up and get creative. Thanks to a few brilliant TikTokers, we've rounded up a trio of tricks that will have you looking at bagels in brand-new ways. Just be forewarned: Your mouth WILL water as you read.
From chips to dips, here are three of our favorite TikTok bagel hacks.
Ever heard of bagel chips? If not, let @gigimadanipour introduce you. The TikToker uses an air fryer, but you could also whip these up in an oven. Start with an unsliced bagel (the "unsliced" part is important!) and cut small, chip-size slices from the outside edge toward the center. Next, Gigi suggests adding spray oil and salt before air frying at 325° F for five minutes, flipping them over and cooking for another four minutes. Personally, we'd add poppy and sesame seeds before air frying! Pair the completed chips with a dip of your choice or keep things simple with a side of cream cheese.
Next up is a brilliant bagel hack from @tastegreatfoodie. If your bagels have gone stale after a few days in the pantry, this trick is definitely worth a try. Begin by sprinkling water onto the inside and outside of bagel halves and then wrap the slices in aluminum foil. Bake in the oven at 325° F for 10 minutes and voilà! You'll have a revitalized bagel ready for your favorite schmear.
3. Spinach Artichoke Bagel Schmear
Speaking of schmear, if you've grown bored with adding plain cream cheese to your morning bagel, TikToker @owen.han has a mouthwatering solution. With a video that's equal parts recipe inspiration and ASMR delight, Owen shares a genius process for whipping up delicious spinach artichoke bagel spread. Ingredients include cream cheese, sour cream, mayonnaise, artichokes, garlic, spinach, three kinds of cheese, salt, red pepper flakes and garnishes. If you're feeling inspired to make your own dip and need more precise measurements, you can try ehow's own spinach artichoke dip, which would be delicious on plain bagels or the air fryer bagel chips detailed above!
Well, we're off to revive those stale bagels in our pantry, cut and air fry them into chips and whip up some dip to round it all out. Here's to bagels in all their forms!