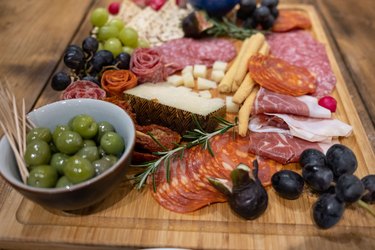 If there's one thing foodies love, it's trying new food. And if there's one thing that makes trying new food even better, it's having exciting selections regularly delivered right to your door. The best subscription boxes for foodies make it simple and convenient to explore new entrees, sides, snacks, ingredients, condiments, beverages and more—including plenty of variations and brands you probably wouldn't otherwise encounter.
No matter what you're most intrigued by, regardless of your dietary preferences or restrictions, whatever your guilty pleasure, there are enticing food subscription boxes out there for you. And if you're looking for the perfect gift for a foodie friend or family member, an edible subscription is sure to please.
What to Consider When Purchasing a Subscription Box for Foodies
‌Quantity, Frequency and Perishability:‌ Ideally, you'll use all the stuff you receive in your deliveries. Think about these three factors to determine whether a subscription is practical—or if you might be setting yourself up to create a lot of waste. How much will you get, and at what cadence? How many people will be helping you get through it? Does it have a long shelf life? Can you freeze what you don't eat?
‌Customization:‌ Some food subscription boxes leave you entirely at the mercy of what the provider chooses to send you. And, in many cases, you may be totally fine with that. But if you have strong preferences regarding the type of food or drink you're receiving, check out whether that can be taken into consideration.
For example, if you're getting a subscription with all sorts of animal-based proteins, but nobody in your house likes seafood, can you ensure you'll only get red meats and poultry? If you're joining a wine club and drink a lot more red than white, can you choose how many bottles of each type you get? If you only like light to medium coffee roasts, can you opt out of dark roasts?
‌Cost:‌ Budget considerations are always important. Especially if you're committing to a new monthly expense. Keep in mind that you're paying for shipping (generally, even when you get "free shipping," that cost has just been built into the base price), the convenience of home delivery and the service of curation—so you're usually paying more than if you purchased the same items in a grocery store or other brick-and-mortar retail location.
Often, you'll pay slightly less per package the longer the subscription you sign up for. And take a look at how the provider handles things if you don't like something you get (do they offer a replacement?). Also, one important thing to remember: Most subscriptions these days default you to automatic renewal, so pay attention to when and how you have to cancel if you decide to.
These considerations should help you pick out the best subscription box for foodies, whether it's for you or you're buying a gift for someone else.
The Best Subscription Box for Pasta Lovers
This subscription, available for three or six months, delivers two 16-ounce boxes of 100% organic pasta each month. Sfoglini, a small-batch Brooklyn-based company, sends one box of a signature pasta and one box of a seasonal specialty in each shipment. It locally sources ingredients and creates some unique, delicious flavors. You also get recipes and pairing suggestions to help you make the most of your dinners.
The Best Subscription Box for Meat Lovers
Get a serious supply of serious meats. While there are curated boxes to choose from, the custom box option lets you choose your assortment of meats, poultry and fish each month. The classic box ($169/month) includes 9 to 14 pounds of meat, which is good for about 30 meals; the big box contains 18 to 26 pounds ($306/month) for about twice as many meals. And you get feel-good stuff like 100% grass-fed beef, free-range organic chicken, cage-free pork and wild-caught seafood.
The Best Subscription Box for Cheese Lovers
If you're looking for a "safe" cheese subscription—that is, approachable cheeses over particularly moldy or stinky ones—this is a winning pick. Don't take that to mean it's boring; you get a wide variety of delicious cheeses through this subscription from high-quality domestic and international producers, with three or four types sent out on a monthly basis. You can try it out for just a month, commit to a year, or choose from a couple of other options in between.
The Best Subscription Box for Charcuterie Lovers
Love shelf-stable smoked and cured meats? This is the food subscription box for you. It hooks you up with a steady supply of salamis, sausages, ham, pâtés, other charcuterie board staples and assorted gourmet accompaniments. Some deliveries are even themed, like by a particular region or to showcase different takes on the same food from various locations around the world. Along with three full-size charcuterie products and two accompaniments in each package, you also get interesting information about the box's contents.
The Best Subscription Box for Barbecue and Grilling Enthusiasts
If you or someone you know spends lots of time barbecuing and/or grilling, this subscription is sure to be a hit. In each delivery, you get barbecue sauces; spice rubs; smoker pellets, wraps or planks for adding wood and smoke flavors; and even grilling tools and accessories. It's a good price, and you can sign up on a monthly basis or for 3, 6 or 12 months.
The Best Subscription Box for Hot Sauce Lovers
For some, hot sauces are a way of life. And for those people, this hot sauce subscription box is a must. Sign up for a year, and you'll get four quarterly shipments of three 5-ounce bottles. These are craft, small-batch hot sauces from all around the world. And they're carefully curated products focused first and foremost on flavor, enjoyment and palatability—they're not insanely hot sauces that serve no real purpose other than inflicting pain and sweating.
The Best Subscription Box for Snackers
This subscription box is a cool, unique choice for anyone who loves to nosh—and who wants to nosh on things they can't easily find in their local supermarket. Bokksu provides an assortment of Japanese snacks, candies and teas sourced from family-owned businesses in Japan. Each shipment contains 20 to 22 different items, as well as a 24-page culture guide discussing the included treats.
The Best Subscription Box for Chocolate Lovers
What could be better than monthly deliveries of premium chocolate bars? Probably nothing. If you agree, sign up for this subscription. Monthly shipments include three bars of organic, small-batch dark chocolate bars from a "bean-to-bar" producer who uses ethically sourced, single-origin cacao beans and spices and whole-food ingredients. Each month, one bar is a staple from Raaka's main lineup of products, while the other two are different micro-batch flavors being produced at the moment.
The Best Subscription Box for Coffee Lovers
If coffee is your fuel, and you love trying new brews from around the world, this coffee subscription was made for you. Choose whole beans or ground and from two, three or four bags per month depending on how fast you go through coffee in your home. And you can customize based on your preferred brewing method (e.g., automatic drip, French press, pour over, cold brew, etc.). Also, you can let Trade pick all your bags, or request specific products from a catalog of over 450 options.
The Best Subscription Box for Wine Lovers
For many foodies, few things are as fun to explore as the wonderful world of wine. Let them know whether you favor reds or whites, or enjoy both equally, and if you lean towards dry or sweet wines. Then you'll receive curated monthly shipments of three bottles from high-quality producers around the globe. If you get a bottle you don't love, they'll even replace it with something else for you. Sign up on a monthly basis, or for 3, 6 or 12 months.