When you're first getting your kitchen set up, it's all about acquiring the basics. For cookware, you'll need a couple of skillets and a good set of pots, and for bakeware, you'll need the essential workhorses like baking sheets, muffin pans and a couple of cake pans. Once you've got those, you'll have the opportunity to round out your collection with some things that are less essential, but fun and useful to have. If you're at that stage, we've got a list of the best and most useful specialty baking pans to add to your collection.
What to Consider When Purchasing Specialty Baking Pans
‌Your Baking Habits:‌ There's a place in the kitchen for pans you won't use weekly, but will still utilize on a regular basis. There's also a place in the kitchen for pans you'll only use once or twice a year, but really, really want to have for those couple of uses. The question is how much room you have for pan storage in between those occasions. There's no question that specialty bakeware is nice to have, so you'll need to do your own math to decide how many pieces you can fit into your cupboards versus how much you'll actually use each one.
‌Materials:‌ Specialty baking pans come in a range of materials, each with their own strengths and weaknesses. Aluminum is the most common because it's lightweight and excellent at heat conductivity, but plain aluminum reacts with acidic ingredients and thin aluminum is prone to warping. Stainless steel is sturdy and flexible but conducts heat relatively poorly. Aluminized steel— steel clad in aluminum—combines the virtues of both metals. Nonstick pans are typically aluminum and perform well when new, but the nonstick finish can wear off over time. Silicone is wonderfully nonstick but minimizes browning and crust development (for better or worse) and it's floppy, so you'll need a cookie sheet underneath to keep it from spilling batter. All of these options are perfectly usable, so it's largely a question of personal preference.
‌Convenience Factors:‌ Some pans take up a lot of space, while others are relatively compact and can be stacked. Some are dishwasher-safe, while others require careful hand washing. Some are a single, durable unit, while others have removable (and therefore lose-able!) parts or hinges and clasps that can malfunction. None of those is necessarily a make-or-break factor in your purchasing decision, but this kind of consideration can certainly help you decide between otherwise-comparable pans.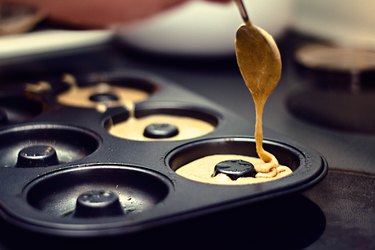 1. Nordic Ware Platinum Collection Anniversary Bundt Pan
Nordic Ware is the originator of the Bundt pan, adapted by founder David Dalquist from the ring-shaped pans used to make a yeast-raised Eastern European cake called ‌Gugelhupf.‌ Seven decades later, Dalquist's pan is an American classic, and his company still does it better than anyone. This is an updated, deluxe version of the pan, with a durable nonstick finish and a pair of wide handles to make it easier to ... well, handle. It's narrower and taller than most competitive pans, so it can handle anywhere from 10 to 15 cups of batter (more than most pans) with equal flair. The standard-issue 12-cup Bundt from Nordic Ware is about half the price, and there are other versions with more exotic patterns, but this one is the classic.
2. USA Pan Pullman Loaf Pan
Bread pans, as a rule, fall into the "basic workhorses" category rather than "specialty pans," but there are a few exceptions. If you love sandwiches, this is one of them. The "Pullman" pan is a long, narrow loaf pan with a removable lid, and it serves one purpose: It makes perfectly rectangular sandwich loaves. This one from USA Pan is an excellent example of the type (it was a top pick in our roundup of bread pans), made of aluminized steel with a patented, proprietary nonstick coating. To use it, place your dough inside the pan and then slide the lid into place. When you bake the bread, it expands to fill the available space, and then just stops. The end result is a loaf that yields perfectly square, "bakery style" slices for your sandwiches; with an unusually fine crumb (no big holes) because the loaf can only rise until it meets the lid. You'll want to hand-wash it to preserve the nonstick finish, but it's sturdy enough to last a lifetime.
3. EPICA Bellemain 6-Cup Nonstick Popover Pan
Can you make popovers—good ones—in a regular ol' muffin pan? Absolutely. Will they be as good as you could make in a proper popover pan? Probably not. A proper popover pan, like this one from Bellemain, has narrow, straight-sided cups that channel the batter upward for maximum puff, as it bakes. The welded-together frame has a purpose, too: It allows the hot air to circulate freely around your popovers as they bake, giving a faster and more even rise. This sturdy pan in aluminized steel is durable enough to stand up to years of popovers and Yorkshire puddings, and the better-than-average nonstick coating won't wear off in a hurry. The pans are dishwasher-safe, but as always, the finish will last longer if you hand-wash.
4. Nordic Ware Tea Cakes Cast Aluminum Cakelet
For anyone who has kids, or loves to entertain, cakelet pans can be a lot of fun. They're essentially the place where specialty cake pans intersect with muffin pans: Instead of just a plain ol' muffin or cupcake, each cup yields an appealing miniature cake with lots of detailing. A few large manufacturers including Wilton and Nordic Ware make them in metal, and countless relatively anonymous Asian manufacturers create them in silicone. If you're only going to have one, though, this little "tea cakes" pan from Nordic Ware is the one to have. Made of the company's signature cast aluminum, with a durable nonstick coating, it gives 30 tiny and pretty cakes in multiple patterns including florals, hearts, and—of course—miniature Bundt shapes. If you have the room to collect and store more, Nordic Ware has a vast selection of seasonal and holiday-themed cakelet pans as well, from Christmas trees to Halloween skulls and Easter bunnies.
5. USA Pan Aluminized Steel Donut Pan
Donuts are pretty easy to like. The extra calories and fuss involved in deep frying them? Not so much. That's why it's handy to have a donut pan like this one from USA Pan (the top overall pick in our roundup of donut pans). Instead of baking, you simply fill each of the pan's six ring-shaped wells with donut batter or a pre-cut yeasted donut and pop it into the oven. The sturdy pan is made of heavy-gauge aluminized steel, with the same proprietary coating used on the company's other nonstick bakeware, and has generously broad edges to make the pan easy to handle even with oven mitts on. Once again, the pans are dishwasher-safe but the finish will last better if you hand wash with warm, soapy water. Oh, and as the name suggests, they're proudly American-made.
6. Chicago Metallic Commercial II Nonstick Perforated Baguette Pan
Making a good baguette at home is one of those deceptively simple-sounding projects which turns out, in the end, to be surprisingly difficult. Part of the difficulty is that baguettes don't lend themselves to a sheet pan—they'll flatten—and can't be baked directly on the oven rack. Arguably the best option for home bakers (aside from a heavy baking stone or steel) is a perforated baguette pan like this one from Chicago Metallic. The warp-resistant pan is made of heavy-duty aluminized steel with a nonstick coating, with spaces for three baguettes to bake at once. The curved, semi-cylindrical shape supports the baguettes and helps them keep their shape, while the perforations allow hot air to circulate around the loaves for even browning. They're dishwasher-safe and come with a limited lifetime warranty. Your local supermarket probably bakes its baguettes in pans like these, and so should you.
7. Mrs. Anderson's Baking 12-Cup Madeleine Pan
The classic madeleine is a very small, cookie-like sponge cake that's generally eaten with tea or coffee as a snack. They have a distinctive shape, a sort of stylized seashell, that comes from being baked in a pan like this one from Mrs. Anderson's Baking. The narrow pan holds a dozen madeleines at a time, and they'll unmold from the tinned steel (tin is naturally nonstick) with ease. When you aren't channeling your inner Julia Child, the pan can be used for other cookies—shortbreads are especially good—or even cornbread batter, which gets especially crispy and golden around the thin edges of the molds. They'll work for candy-making, too. Just be aware that tin melts at temperatures of 450 Fahrenheit and above, so this pan isn't suitable for high-temperature baking.
8. Matfer Bourgeat Fluted Steel Tart Pan
Serious cooks revere iconic French manufacturers for their carbon steel skillets and their stratospherically-priced copper cookware. You don't necessarily need deep pockets to enjoy their craftsmanship, though, and this tart pan is a fine (and affordable) example. The classic 9.5-inch pan is made from the durable steel Matfer Bourgeat is famous for, with an enameled exterior and a nonstick interior. Your crusts will brown beautifully and evenly, and—thanks to the removable bottom—your tarts will lift out in one piece, ready for their Instagram moment. It'll work just fine for quiches as well when it's time for brunch rather than dessert.
9. Fat Daddio's Mini 2.5 Inch Tartlet Pans, 20-Count
Tarts are beautiful when you're serving a sit-down meal, but they're not ideal for every occasion. Sometimes you want the extra charm (and finger-sized portions) that come from using small individual tartlet pans instead. If that's something you want to add to your collection (they're tiny, they'll fit in a drawer ... not that we're enablers or anything), consider this set from Fat Daddio's. Fat Daddio's makes some of the best cake pans on the market, and their high-quality bakeware is used and loved by pastry chefs across the continent. These tiny pans are crafted from the same sturdy, nonstick anodized aluminum used in the company's larger offerings, and they're equally durable: They won't rust, they won't chip, and they're oven-safe up to 550 degrees Fahrenheit (spoiler: that's hotter than you'll ever bake a tartlet). More importantly, your tartlets will bake beautifully and release easily because anodized aluminum is nonstick and, unlike most nonstick pans, will never peel.
10. Nordic Ware Pan Springform, 9-in.
An ordinary round cake pan will do nicely for most recipes, but for some things—most notably cheesecakes—it's handy to have a springform pan in your collection. With a springform pan, you don't need to worry about getting the cake out of your pan, instead, you just unclasp the pan and remove it from the cake. Of course, springforms are like any other pan: There are good ones and not-so-good ones. This sturdy carbon steel version from Nordic Ware (a departure from the company's usual aluminum) is definitely one of the good ones. Lesser pans have flimsy construction and weak latches, making for an unreliable seal; the Nordic Ware, in contrast, is solid as a rock. As a bonus, it fits beautifully into a 6- or 8-quart Instant Pot. Oh, and did we mention there's a square version?