Cheese boards and charcuterie boards are among the most timeless and classic options for entertaining guests, and over the past couple of years have become social media trendy as well. Much of that online attention goes to the mixture of things you put on the board, but spare some thought for the actual board itself.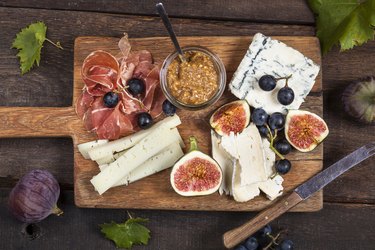 The best cheese boards are beautiful artifacts in their own right, and when not in use, can complement your kitchen's decor every single day. Unfortunately, when you search for cheese boards online, most of your results will be about what kinds of cheeses and garnishes to use rather than the boards themselves. To simplify your search, we've compiled a representative list of outstanding cheese boards to choose from.
What to Consider When Purchasing a Cheese Board
‌Materials:‌ Wood is the classic option—that's why it's a cheese "board"—though that covers a wide range of options. You'll see mainstream oak and maple, as well as bamboo, acacia, walnut and many more. They'll vary in sustainability, and the level of maintenance they require, and some—but not all—can even double as cutting boards. Stone is another popular option, with slate and marble being the most common. If you want something really upscale to showcase your charcuterie and artisan cheeses, you can splurge on materials like semiprecious stone or even petrified wood.
‌Size:‌ How large a cheese board do you want to set out? Something small and cozy for you and your bestie, with just a few types of cheese and some dried fruits? How about something that'll feed the masses at your next holiday feast? You can find all of those, and most sizes in between. There are even a few adjustable boards that can be opened up, when needed, to create more serving space.
‌Included Extras:‌ This isn't as make-or-break as your choice of size and materials, but it covers some things that are decidedly nice to have. Any given board might include cheese knives or a wire cheese cutter, reusable labels, chalk or other writing tools for writing on those reusable labels, and any number of other serving utensils or tools. Bonus points if the board itself provides hidden drawers or other storage options for the accessories.
‌Budget:‌ Who are we kidding? This is a big one unless you're putting a cheese board on your wedding registry or online "wish list" and hoping somebody comes through for you. You'll find basic, decent-quality boards at surprisingly modest prices, and high-end models at price points that will make you choke on your coffee. Where you fit on that spectrum is entirely up to you.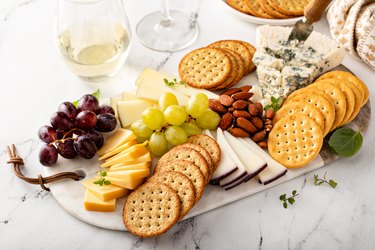 1. Karryoung Acacia Wood Cutting Board
If you're looking for solid value in a cheese board, this acacia wood offering from Karryoung is a great option. Acacia is a famously hard wood that's sustainable, beautiful and really durable, so you won't have to settle for a nearly-disposable board just because your budget is tight. It's a very serviceable cutting board for general-purpose use, but as long as you reserve one side for cheese and charcuterie only, it will look stunning on your table (and at 17 inches long and 7 inches wide, there's plenty of room on it). Care consists simply of hand-washing it after every use, and oiling it occasionally to preserve the finish.
2. Charmlife 2-Tier Serving Tray
There's an art to creating a visually appealing cheese board, and similarly, there's an art to creating a visually appealing table. One way to do that is by adding height to your display, with a centerpiece or a taller serving dish. This bamboo and steel two-tier server from Charmlife fills the bill, with its A-frame construction and two removable serving boards. However you decide to separate your offerings (cheeses above and cured meats below, "challenging" cheeses on the small one and crowd favorites on the large one), they'll look beautiful. Bonus: It's collapsible and portable with a convenient carrying handle.
3. Dansk Wood Classics Vivianna Cheese Board With Knife
The jewel-like perfection of this striking serving dish is no accident; it was created over 30 years ago by a jewelry designer. A dark stain brings out the dramatic grain of the acacia wood and is dark enough to make your cheeses (which are mostly light in color) really pop. The accompanying stainless steel cheese knife is dramatically curved and has a handle that's custom-fitted to a cutout in the board itself. The two pieces look wonderfully decorative on a sideboard or open shelf when they're not in use. Overall, it's both beautiful and highly functional, exactly what you'd want for entertaining.
4. Shanik Magnetic Cheese and Meat Board
This is a strikingly versatile cheese platter. It consists of three pieces—a large center piece at 16 by 12 inches, and two smaller ones at 8 by 12 inches—in dark-stained acacia wood. The three pieces contain embedded magnets which let you join them together as a single large serving surface for your cheese plate, or you can keep them separate and scatter them around the table to hold appetizers or crunchy snacks. The two smaller pieces are each divided into smaller separate compartments, perfect for fruits and garnishes. The three pieces stack neatly into the supplied storage bag when not in use, reducing the storage space you'll need and protecting the set's finish from dust and accidents.
5. Juvale Black Slate Charcuterie/Cheese Boards With Chalk, 6-Count
It's possible to spend a ‌lot‌ of money on a slate cheese board, a common choice of top caterers and cheese shops. Or, you can pick up this set of six compact slate cheese boards, each 8 by 12 inches in size, and enjoy a ton of flexibility in how you use them. Each individual slate is perfectly sized for one or two people, and you can deploy any number of them from one to six, as needed, for a given night's entertaining. You can write directly on the slate's food-safe surface with chalk (slates were used as school chalkboards back in the day), and three sticks of chalk are included with the set. They can be washed with soap and water between uses, and unlike fussier wood or marble cheese boards, require no other maintenance.
6. ChaseVintage Large Repurposed Circular Charcuterie Board
Interior designers love reclaimed wood as a rustic accent in kitchen decor, and this is a beautiful and functional way to incorporate it. ChaseVintage buys up vintage French cheese boards and cutting boards, restores their finish naturally (with lemon juice and salt), and then oils them to simultaneously protect the working surface and preserve all of that old-school character. They'll need some loving care to preserve their patina—wipe them clean with a damp cloth, oil them periodically, never drop them in a sink full of dishwater—but you'll be rewarded with years, or decades, of use. There are other shapes and sizes available from ChaseVintage, but the 19-inch-wide round (chosen here) offers ample space for your spread and would create a visual impact in almost any kitchen.
7. CTFT Bamboo Cheese Board and Knife Set
For shoppers who want a complete set (just open up the package and start serving!), it's hard to go wrong with this lavish set from CTFT. Made from sustainable, durable bamboo, the main board comes with a cutout to house a removable slate plate (use it with or without) and a wide groove to hold salami, fresh fruit, crackers, or other garnishes and accompaniments. Two concealed drawers open up to reveal a full suite of utensils, including cheese knives, picks, and two small ceramic bowls to hold olives, cornichons, chutneys and other wet accompaniments to your selection of cheeses. At 14 by 12 inches, it's big enough for a reasonably large display. One of the drawers has a small compartment for additional garnishes, and for large parties, you can use the removable slate plate as a second serving piece.
8. Boska Wooden Serving Cheese Board
Round, square and rectangular cheese boards are all common options, but they're not necessarily ideal for every serving scenario. Longer, straighter "paddle-style" cheese boards work extremely well on narrow console tables, kitchen islands and already-loaded countertops; anywhere, in short, you want lots of room for food in a tight space. This one from Dutch maker Boska is handmade from European oak, for durability and a timeless appearance, that adds a warm element to almost any kitchen. It's available in four sizes, to fit your entertaining ambitions. Our choice is the 28-inch version, which is plenty large for most people, but they go up to a whopping 44 inches.
9. Picnic at Ascot Patented Bamboo Cheese/Charcuterie Board With Knife Set
It would be nice if your cupboard held a cheese board that could magically grow or shrink, depending on how many people you're serving. It's not exactly magic, but this bamboo cutting board comes close. Its four wedge-shaped pieces can be pulled out to create a full 18-inch round if needed, but collapse back to a single wedge (evoking a cut from a full wheel of cheese) for storage, or smaller occasions. Each of the four wedges is sturdy and solid in its own right, so they won't tip over as your guests cut a portion from their chosen piece of cheese. One wedge contains a hidden pull-out drawer, which conceals a sturdy three-piece cheese knife set. It's a cool and space-saving design that will attract almost as much comment as your choice of cheeses.
10. CreativeHandStoneArt Blue Agate Cheese Platter/Tray
Wooden and marble cheese boards have their own low-key beauty, but there are more extravagant options out there. If you want one that's simply drop-dead gorgeous, consider this striking cheese board in blue agate from Creative Hand Stone Art. These irregular slabs of agate measure 11 by 7 inches and have gold-plated edges, and each one boasts a naturally unique and distinctive pattern of colors, accents and imperfections. It's not just an eye-catching serving piece, it's a legitimate piece of stone art that you can display proudly between social occasions. It's a perfect option for anyone who wants to bring the bling, albeit naturally.
How to Plan and Fill a Cheese Board
‌Decide How Much Cheese You'll Need:‌ One good cheese is enough for a small cheese board intended for one or two people, with a few complementary accompaniments and a glass of wine. Three can be enough for a small group, and five is enough for a larger board. To scale up for large parties, just increase the amount of each cheese or set out multiple boards. Opting for multiple boards is a good option because it allows you to showcase different types of cheese (and on a practical level, it means everyone won't be crowded around the same spot).
‌Provide a Variety of Textures and Flavors:‌ Ideally, you'll want a combination of mild, young cheeses (bocconcini or fresh mozzarella, spreadable "farmer" cheese); firm, nutty and more complex cheeses (aged Gouda and cheddar, Gruyere or Appenzeller); soft cheeses (Brie, Camembert and their kin); blue cheeses (Roquefort, Gorgonzola, Bleu d'Auvergne); and sharp, crumbly hard cheeses (Pecorino, Parmigiano-Reggiano, Dry Jack). You don't need every kind of cheese on every board, just make sure the ones you pick offer some variety.
‌Pick a Theme:‌ Overwhelmed by the wealth of great cheese available at your local cheesemonger? Pick a theme to unify your board. You might opt for a board that showcases a particular region (Wisconsin, the Greek Islands, or Provence), or that offers a compare-and-contrast of goat cheese with sheep's milk cheese and cow's milk cheese. Which theme doesn't matter so much, just as long as you have one.
‌Settle on the Accompaniments:‌ There are a few things you'll want to set out alongside the cheeses. You'll need at least one kind of bread or cracker for a small board, and more for a larger one. Crackers can be flaky and delicate or crisp and crunchy, and suitable breads can be anything from a soft naan to a crusty baguette (lightly sweet options such as shortbread cookies or oatcakes work well too). A few kinds of charcuterie (cured meats) such as prosciutto, salami or cold-smoked salmon are a must. Nuts, grapes and apples will all go nicely with most of your favorite cheeses, and so will dried fruits. Finally, fill in the gaps with a variety of sweet and savory items such as pickles, chutneys and preserves. Some combinations are established classics—think fresh figs with ricotta and a drizzle of honey, or Manchego with membrillo (quince paste).
‌Get the Details Right:‌ Your cheeses will taste best if they've been at room temperature for at least an hour or two before your party starts. Label your cheeses so your guests can make a note of any particular favorites. Provide knives for firm cheeses, spreaders for soft cheeses, and spoons for condiments and preserves. For firm cheeses, you might consider cubing some ahead of time for ease of serving (provide toothpicks!), and similarly, a few curls or flakes of hard cheese can save your guests some awkward one-handed cutting. Ideally, it's good to have one or two spare sets of your serving utensils, so you can replace dirty or dropped ones a few times in the course of your party.