Food processors, mixers and immersion blenders can be pretty useful in the kitchen, but sometimes there's no substitute for a regular full-sized blender. A high-performance, high-power blender is standard equipment in a lot of commercial kitchens, but even a relatively pedestrian model can purée hot soup, turn out a decent smoothie, or turn that last bit of ice cream into a milkshake. If you're ready to take the plunge on one, we've picked out eight of the best blenders on today's market at a range of prices to suit every budget.
What to Consider When Purchasing a Blender
‌Power:‌ Blenders range pretty widely in power, from low-wattage portable models to the industrial-strength, two-horsepower motors found in a high-end Vitamix. All things being equal, more power is better, but—of course—all things are ‌not‌ equal. Design, durability and ease of use are all key features as well, but raw power makes an excellent tie breaker.
‌The Jar:‌ Blender jars can be as small as a cup or two (in the case of smoothie-oriented "personal" blenders), but can range up to 64 ounces or more at the high end. Choose according to your usage: You don't need a big blender to make a frozen cocktail or two, but a full-sized jar can be handy for general-purpose use. There's also the question of plastic versus glass. Glass won't stain or retain flavors, but it's heavier and can break if dropped.
‌Your Budget:‌ Commercial kitchens rely on high-powered models from Vitamix and Blendtec, and if you have the room in your budget (and on your counter), they're great to have. You don't necessarily have to spend that kind of money, though. There are perfectly serviceable blenders at lower price points, able to crush ice or purée a soup, though they may not have the same level of long-term durability.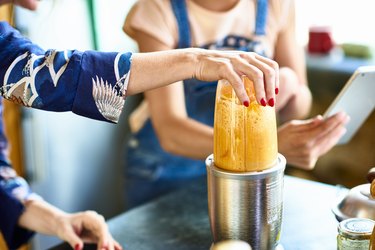 1. Ninja Compact Kitchen System With AutoIQ
If you have a small kitchen, you may find yourself wondering whether a food processor or a blender is a better use of your limited counter and storage space. Well, good news! This powerful 1200-watt appliance from Ninja is both.
You'll get a 72-ounce blender jar with Ninja's unique stacked multi-blade system, as well as a 40-ounce food processor bowl with its own attachments, and even an 18-ounce personal blender jar/drinking cup for your smoothies and protein shakes.
The machine's "AutoIQ" programming provides smart presets for all of the machine's functions, letting you combine high- and low-speed blending seamlessly with one press of a button.
2. Cuisinart Hurricane Blender
The sheer power of a Vitamix is impressive, but the fact is, they're expensive. If you want a blender that gives you Vitamix-level power at about half the price, this Cuisinart may be just what you're looking for.
Its generous 60-ounce jar offers plenty of room for soups or for crushing ice, but it's equally adept at smoothies and shakes.The smooth touchpad interface is especially easy to clean (didn't you hate those big buttons on old-school blenders?), which helps keep your blender looking good.
A really nice feature is the built-in timer. You can either start it to count up and see how long it takes you to blend a particular beverage, or set it to count down for a specific length of time and then shut off. All in all, it's a genuinely capable appliance that punches above its weight.
If you want the ultimate blending machine, well...this is it. Vitamix blenders have been around for generations, and they're a mainstay in commercial kitchens and bars all across the country.
They're insanely powerful, they'll blend anything to the finest imaginable texture, and they're built to last. They're also extremely simple to operate, with only three controls: The on-off switch, a second switch for toggling between high speed and variable speed, and a old-fashioned analog dial to give you extremely precise control of the blender's speed.
It has no presets, but you won't miss them once you get used to the ability to dial in exactly the speed you need for any given job. It'll give you the lowest low speed and the highest high speed of any blender you've ever handled, and it'll turn out anything from a cup of mayonnaise to a batch of nut butter with equal aplomb. Nothing can touch it for raw versatility.
The downsides? Well, it's big and heavy and expensive. But it's utterly glorious to work with.
4. Vitamix E310 Explorian Blender
If you want the power of a Vitamix but don't necessarily need a full-sized, industrial-strength blender, this scaled-down model might be a better fit for your kitchen. The E310 Explorian has all the power of its larger siblings but a smaller 48-ounce jar, which means it'll fit better underneath your kitchen cabinets. It also checks in at a lower price point than the larger models, which makes it a good entry point into the Vitamix line.
Alternatively, you might want to look at the Blendtec Classic 570, which is even more compact (and only slightly more expensive) despite boasting a 90-ounce jar. Blendtec is one of the few brands that can go toe-to-toe with a Vitamix, so either way, you'll own a really superior blender.
5. Nutribullet Blender Combo
Nutribullet more or less invented the concept of the "personal blender," a compact machine that made single servings of your favorite shakes and smoothies, in a jar that doubled as a cup. While traditional blender-makers are now offering Nutribullet-style cups as accessories, Nutribullet itself now offers more traditional-style blenders. This one covers both of those bases.
At 1200 watts, it has plenty of power to pulverize anything you put into its 60-ounce main jar, from frozen fruit to nuts and fibrous greens (it even includes a Vitamix-style tamper to help you break up "log jams").
That being said, it's still true to its "personal blender" roots, and includes both a 24-ounce and a 32-ounce cup with to-go lids. That makes it a pretty compelling option for anyone who mostly drinks shakes and smoothies, but also wants the capacity and power of a conventional blender.
6. BlendJet 2 Original Portable Blender, 20 Ounces
If there's one thing that a Vitamix or BlendTec doesn't do well, it's fit into a backpack or carry-on bag. For that, you need a portable blender like the BlendJet 2. It's relatively low-powered compared to countertop blenders, but it's cordless and simply charges from a standard USB-C charger (like most phones and other devices). A charge will last for about 15 blends, and the careful design means it'll give you a serviceable smoothie in seconds despite its compact motor.
The cup/blender jar fits neatly into most cupholders, and at less than 11 inches tall, the whole thing will fit neatly into any bag you choose to carry. In short, it's perfect for the gym, a weekend vacation rental, or that #vanlife road trip you've been planning.
7. Hamilton Beach Smoothie Smart Blender
While it's always nice to have the very best, if you can swing it, many of us just aren't ready to spend over $400 on a blender. In fact, many of us don't want to spend even $100 on a blender. The good news is that you can get a pretty decent and fully-featured budget blender, like this Hamilton Beach model, for well under that price point.
As the name suggests, it's pre-programmed with a one-press button for making smoothies, and others for purées, ice crushing (that's the "Pulse" setting) and even for self-cleaning. The 40-ounce glass jar won't discolor, deform or develop any off flavors, and the black-and-stainless design will go well with most other contemporary appliances.
At this price (and half the power), you can't expect it to compete with or outlast a Vitamix, but—by the same token—at this price, it doesn't have to.
8. KitchenAid 5-Speed Diamond Blender
If you have a little more to spend, this KitchenAid blender won't break the bank but will break your ice. Despite the relatively modest price point the blender punches above its weight, easily turning out mayonnaise and other dressings but still packing enough of a punch to crush ice cubes with minimal effort or turn out a nicely smooth green smoothie.
The 60-ounce Diamond pitcher (its shape helps it blend smoothly) is made of BPA-free polycarbonate that's scratch- and stain-resistant, and it's dishwasher-safe as well. It's also one of the quietest blenders you'll use, if you appreciate that sort of thing (and did we mention it comes in over 20 colors?).
KitchenAid enjoys a well-deserved reputation for its kitchen appliances, and you can spend the money you save to fill it with milkshakes and margaritas.