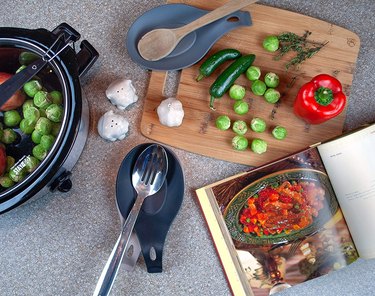 There's certainly no shortage of kitchen accessories out there. And if you don't want your home getting cluttered up with drawers and cabinets full of unused kitchen gadgets, you need to be selective about which ones you buy—and stick to the ones that are practical.
Spoon rests might seem a bit trivial if you've never owned one. But they're more than just a stoveside decorative touch. A spoon rest is actually a great convenience item that just makes cooking and cleanup a little smoother and easier. Getting one isn't going to revolutionize your life in the kitchen, but you'll quickly come to appreciate its simple usefulness.
No more looking around after you stir a pot trying to figure out what to do with the dirty utensil. No more laying down oil- or sauce-covered spoons on your countertop, leaving behind puddles to clean up. No more leaving a metal ladle in a saucepan or a piece of silverware on the stovetop, then picking it up to find it's become incredibly hot. Yes, spoon rests have tangible benefits.
What to Consider When Purchasing a Spoon Rest
‌Material:‌ Spoon rests are made from a wide range of materials, affecting the appearance and how well it matches your kitchen decor, as well as the cost, care requirements and other considerations. Wood and bamboo are aesthetic and eco-friendly, but they should only be hand-washed and air-dried promptly; some may pick up stains from preparations like tomato sauce, too. Stainless steel is another common material, as is ceramic, porcelain and other stoneware. These are all typically dishwasher-safe. Silicone is popular as well, and it's an especially good choice if you have a glass-top stove and don't want to worry about your spoon rest scratching it.
‌Capacity:‌ Most spoon rests are round and designed to accommodate one spoon or another cooking utensil. Some larger models can fit two or three. And then there are pieces that are rectangular or other shapes that are made to hold even more utensils at the same time. Think about whether you often have multiple pots, pans, bowls, etc. going at the same time and would generally benefit from a larger capacity. And, of course, it's a trade-off, as the more utensils your spoon rest can hold, the more counter space it will take up.
‌Features:‌ Yes, even such simple kitchen accessories as spoon rests can be found with different features. For example, some have a nonslip coating or feet on the bottom to help keep the item in place. Spoon-shaped rests may just have a circular part for holding the head of a spoon, while others have extensions of varying length to also catch drippings from part of utensils' handles. Some spoon rests have drip pads and a vertical component with slots for holding the handles of multiple utensils. Others have a place to lay a spoon and a side to hold a pot lid. Consider what functionality suits your needs and preferences.
Along with your budget, these factors should help you select the best spoon rest for your kitchen.
The Best Silicone Spoon Rest
If you're looking for BPA-free, food-grade silicone spoon rests, these are a top pick. It's a great price for three pieces, letting you accommodate multiple utensils without cross-contamination. And they'll fit full-size cooking utensils. They have a simple, streamlined, modern look, coming in three different elegant colors: black, dark gray and light gray. They're stackable for compact storage, plus they have hanging holes in the handle if you prefer to store them on a utensil rack. These spoon rests are heat-resistant and an especially smart pick for use on a glass stove top, with no risk of scratches. Wash them easily by hand, or just toss them right in the dishwasher.
The Best Stainless Steel Spoon Rest
This is an excellent product if you're looking for a lightweight but sturdy stainless steel spoon rest that's big enough to hold large cooking utensils like ladles and whisks. It has a heat-resistant, nonslip silicone base, keeping it in place as you quickly deposit and pick up a utensil—and it's also safe for use on a glass stovetop and won't scratch your kitchen counter. It's a budget-friendly piece from a trusted name in low-cost, high-quality kitchenware. And, since it's dishwasher-safe, there's no extra work at cleanup time.
The Best Wooden Spoon Rest
For those who like the natural look of a wood spoon rest, this acacia wood product should appeal. It has a classic appearance, yet feels right at home in a contemporary kitchen. Its well-designed curves reliably hold spoons and other utensils in place, while the rubber feet on the bottom hold the rest itself in place and protect your stovetop and countertop. At just under 5 by 5 inches, it's conveniently compact if you have limited counter space, but it still accommodates a lot of larger cooking utensils. Like other wood kitchenware, this piece shouldn't go in the dishwasher or be soaked; hand-wash it and let it air dry efficiently in a well-ventilated spot.
The Best Ceramic Spoon Rest
This simple ceramic spoon rest works as an elegant accent piece in addition to holding spoons and larger cooking utensils. Choose from midnight blue, brick red, charcoal gray, black or white to perfectly complement your kitchen decor. The deep groove holds the handle in place effectively, even if you accidentally knock into it as you go about your prepping, cooking and serving tasks. It's a durable piece with a strong glaze that can go into the dishwasher. And, with its compact size and aesthetic appearance, you'll have no hesitation setting it out on the table, too, whether it's an everyday family dinner or a gathering for a special occasion.
The Best Stoneware Spoon Rest
If you own other cookware by beloved manufacturer Le Creuset, there's no forgoing this pretty piece. Like most products from this brand, it's a little pricier than a lot of the competition. But the high-quality and undeniable beauty make it worthwhile. Available in an array of the brand's trademark colors, you'll have no problem finding a spoon rest to complement your other pieces. And if you don't have other Le Creuset cookware, this will still look great on your countertop—and you'll probably find yourself starting a collection once you make the leap. It's dishwasher-safe, but also nonstick to come clean easily by hand. And don't worry about placing metal utensils on it; the glaze is heavy-duty and scratch-resistant.
The Best Marble Spoon Rest
Prefer the elegant, upscale look of a marble spoon rest? This one is made from high-quality onyx marble and is available in white and black. It has a deep groove for securely holding the handle of your cooking utensils and a broad head for accommodating cooking spoons, spatulas, ladles, whisks, tongs and other large implements. You can even use it as a serving tray for small food. The material is naturally fairly nonstick, so it isn't hard to wipe clean or wash by hand; however, it's also dishwasher-safe. It's a hefty piece, so it won't easily slide around but do keep in mind that it can scratch surfaces if it does get pushed across them.
If you're often using several cooking tools at the same time, pick up a set of spoon rests. A set has the advantage of preventing cross-contamination over a single larger utensil holder. This set of four ceramic spoon holders is a great buy at a great price. Plus, the elegant, understated embossed patterns make them an aesthetically pleasing pick you can even set out on the table for serving spoons. They're heat resistant up to 482 degrees Fahrenheit and dishwasher-safe (though ceramic is nonstick and also very easy to clean by hand). And they stack neatly and tightly for compact storage, too.
The Best Spoon Rest With Drip Pad
Here's a versatile silicone utensil holder that rests up to four utensils over a drip pad that catches all the sauce, juice, oil, batter and other liquid or semi-liquid foodstuff that falls off them. Use it for cooking spoons, cooking forks, spatulas, turners, tongs, whisks, brushes, basters, ladles and more. It's nonslip and heat-resistant, it won't scratch your stove or counter surfaces, plus it's conveniently dishwasher-safe. And, just to make it a little more fun as you peruse your options, this spoon rest is sold in over 30 different colors. So, pick out the perfect piece to add some personality and pizzazz to your kitchen decor.
The Best Spoon Rest With Pot Lid Holder
If you'd like the added convenience of a spoon rest that also holds a pot lid while you're stirring, this is the product for you. This sturdy stainless steel accessory has a generously sized spoon rest that accommodates even the largest cooking utensils. Then there's a smaller rest on the other side that can be used as a second spoon rest, but it also nicely fits a pot lid. The lid leans against a vertical stainless steel wire rack in the center to sit securely. It can even handle many cutting boards and some lighter pans. The piece has a simple, modern look, it's relatively compact, and it's well-made and durable enough to last a long time.