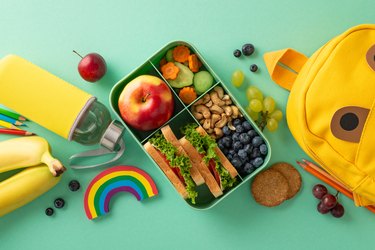 When it comes to packing school lunches, it's easy to get stuck in the same routine. Classic peanut butter and jelly sandwiches and apple slices have their place, but everyone likes a dash of variety and creativity at mealtime—even kids! If you're looking to cut down on meal prep time for your kids' school lunches while filling their lunchboxes with fun and tasty fare, you've come to the right place. We rounded up a collection of inventive school lunch ideas from social media parents to get you started on your quest to take lunchtime up a notch.
The best part? These aren't just kid lunches—many of them are just as suitable for work lunches or quick snacks at home. If you're ready to dig in, read on to explore some of our favorite easy lunch ideas for school and beyond.
1. Thermos Grilled Cheese Sandwiches
There's nothing terribly appealing about a room-temperature grilled cheese sandwich. Luckily, there's an easy lunch hack to keep grilled cheese toasty well into the school day. TikToker @wee.made.it shows us how it's done: Simply whip up a grilled cheese sandwich, cut it into rectangular slices and store in a dry thermos to retain heat. Come lunchtime, your child (or you!) will have a hot and toasty entrée with plenty of melty cheese.
2. Air Fryer PB&J Sandwiches
Here's a fun way to recreate beloved Uncrustables (aka round peanut butter and jelly sandwiches with no crusts) at home. Take a cue from @justataste on TikTok, who uses bread, peanut butter, jelly and a stamped cookie cutter to seal edges and make her own crustless sandwich. After buttering the exterior, she cooks it in the air fryer at 400°F for only five minutes before revealing a perfectly crisp, delicious and completely crust-free creation!
Let's face it: Cafeteria food often leaves a lot to be desired, especially when it comes to pizza. If your child is a fan of pizza but opts away from hot lunch at school, try these DIY mini pizzas from TikToker @missyfarmer4. Start with a pack of frozen rolls. Arrange dough on a baking sheet, add sauce and cheese complete with favorite toppings and brush with garlic butter before baking at 400°F until perfectly browned. With another dash of garlic butter on the crust and a sprinkle of Parmesan cheese, you've got packed lunch perfection!
4. Ready-to-Pack Costco Muffins
If you've never tried one of Costco's famous mega muffins, you're missing out. In fact, we love Costco muffins so much that we made layered cakes out of them! TikToker @briannabrowndesigns shows off a trick for prepping the muffins for kids' school lunches. She simply cuts each muffin in half, covers it in plastic wrap and stores individually wrapped halves in the original plastic container. When it comes time to assemble packed lunches, the muffins are ready to grab and go!
5. Vegetarian Tortilla Pinwheels
Trying to add more veggies to your child's lunch without them ‌really‌ noticing? You'll love this easy lunch recipe from TikToker @shwetainthekitchen, who creates vegetarian tortilla roll-ups using cream cheese, assorted seasoning, onions, broccoli, carrots, bell peppers, shredded cheese, red pepper flakes, spinach and warm flour tortillas. Simply roll, refrigerate, slice and pop into a lunch bag. Include a side of ranch dressing or hummus for extra deliciousness.
6. Butterfly Orange Slices
Oranges make a great addition to any packed lunch, but why not make them extra special? @haleyparkerstyle on TikTok uses nothing more than a knife to (carefully!) cut orange slices into butterfly shapes. Serve solo or alongside other fruit (blueberries are an easy-to-pack school lunch classic) with a bit of Greek yogurt and granola. No matter how you slice it, these citrusy butterflies are adorable.
7. Mini Hummus Sandwiches
If your child is a hummus fan (or you're trying to turn them into a hummus fan), these mini naan hummus sandwiches from @neatnoms on TikTok are tough to beat. Sauté seasoned red bell peppers, broccoli and other veggies of your choice and sandwich them between two pieces of mini naan with hummus as an adhesive. @neatnoms opts to add olive slices, but we think zucchini, cherry tomatoes or another veggie would be tasty too! For a work lunch, try the same recipe with full-size pita or naan and a side of quinoa or brown rice.
No time to tackle a complex meal plan? Out of ingredients to whip up any of the more involved lunchbox ideas mentioned here? No worries. You can upgrade your child's school lunch without hitting the grocery store or spending tons of extra time planning. Simply pull a few unique cookie cutters out of storage and use them to cut PB&Js or simple deli meat sandwiches into fun shapes like TikToker @vnesa.draper demonstrates. Bears, stars, hearts, flowers—the ideas are endless.
Here's another packed lunch idea that makes creative use of a thermos! TikToker @slackerketo offers a solution for packing ramen noodles in a school lunch. Simply split a pack of ramen into quarters, place each piece in a thermos or "keep hot" container, add hot water, seal and pack. By the time lunchtime arrives, the noodles should be perfectly cooked and ready to enjoy.
10. Mini Peanut Butter Cheesecakes
If you ask most kids (or most adults, for that matter), you'll quickly learn that dessert is the highlight of lunchtime. Round out your child's packed lunch by including one of these mini peanut butter cheesecakes, beautifully made by TikToker @kasiekreations with premade no-bake cheesecake, peanut butter, mini tart shells, "magic shell" chocolate topping and Reese's Pieces. Keep them frozen or refrigerated and pack in a lunch bag or bento box alongside an ice pack to keep them cool. Yum!
Lunchtime just might be the best part of any day. With these easy school lunch ideas, your mouthwatering and thoughtful creations will be the talk of the cafeteria in no time.