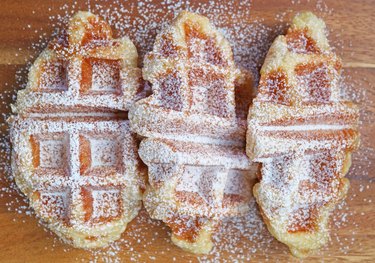 While waffle makers are meant for, well, making waffles, that's not their only use. In fact, waffle makers (aka waffle irons) are more versatile than you might think. Whether you're a fan of sweet treats, potato-based dishes or something in between, there are plenty of alternative uses for your favorite waffle-making appliance and not just when it comes to breakfast.
We've rounded up five ideas from TikTok to get you in the know. If you ask us, these unique recipes look "waffley" delicious!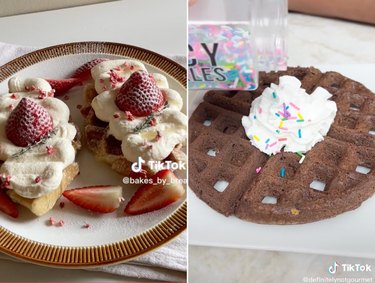 1. Waffled Grilled Cheese
Few dishes are more comforting and classic than grilled cheese—and you can take your favorite recipe up a notch by preparing it in a waffle iron! TikTok foodie @fabeveryday shares tips for crafting a waffle iron grilled cheese complete with mayo and butter for extra golden-brown crispness, a combo of sliced and shredded cheese and just enough pressure from the iron to send that cheese oozing outward in the most mouthwatering way. We'll take three, please.
Brownies are pretty fantastic in their traditional form, but why not elevate your next batch with a fun new shape and style? Yes, you guessed it: Brownies are another easy-to-make waffle iron treat. TikToker @cast_iron_chris mixes things up by using a vintage cast iron waffle maker, but these would work just as well in modern waffle makers with a spritz of cooking spray. Just spread boxed or from-scratch brownie batter into your iron and voilá —waffle brownies just waiting to be topped with ice cream or whipped cream.
Next, if you want some hash browns fried up quickly, check out @mealsandmunchies's tutorial for whipping them up in a waffle maker. The process should only take about five minutes—that's it! Just don't forget to add butter to your waffle iron before adding the hash browns. Use pre-shredded potatoes and cheese or shred your own for a fresher feel. Either way, these are some seriously special spuds.
More Things You Didn't Know You Could "Waffle"
Looking for more delicious inspiration? Here are a few other foods that can be taken to the next level thanks to the humble waffle maker!
4. Croffles, aka Croissants + Waffles
Now for a recipe that feels like something from a dreamy fairy tale. Thanks to @bakes_by_brea, we've learned a brand-new word: croffle! Brea pops two rolls of croissant dough into a waffle iron and creates delightfully crisp "croissant waffles" that have us drooling. She completes her creations with homemade cream topping, real strawberry slices, freeze-dried strawberry bits and a tiny sprig of thyme. If you ask us, croffles should be the next big thing.
Finally, another sweet treat that you didn't realize could be "waffled": standard cake mix! TikTok baker @definitelynotgourmet explains that boxed cake mix and waffle irons are a fantastic combination. Simply combine ingredients (the TikToker dumps his straight into a bag of devil's food cake mix!) and add them to the waffle maker before topping with whipped cream and plenty of sprinkles. To take it up a notch, add ice cream or frosting to your mini waffle cake. How's this for a unique, celebratory treat?
The next time you're craving cake in a pinch or have a hankering for hash browns, try one of these tips! Who knew a waffle iron could be so versatile?