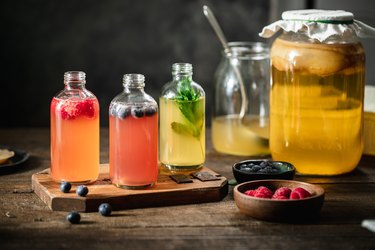 Kombucha has gained a lot of popularity in recent years, thanks to its health benefits and delicious taste. This fermented tea drink is known for its probiotics, antioxidants and detoxifying properties. For those who have never tried it before, it tastes somewhat like a more acidic and tart version of sweet tea—which makes sense, given that kombucha actually does start out as a sugary sweet tea, which is then fermented with the help of a SCOBY (Symbiotic Culture of Bacteria and Yeast), a white or tan, gelatinous-looking pellicle roughly the diameter of a beverage coaster.
If you're a person of ‌culture‌ (dad joke alert!) and want to start brewing your own kombucha at home, then a kombucha brewing kit is the perfect way to get started. These kits come with everything you need to make your own kombucha at home, including a SCOBY (Symbiotic Culture of Bacteria and Yeast), tea, sugar and a brewing vessel. Occasionally, you may need to supply a few simple items yourself, such as a Mason jar.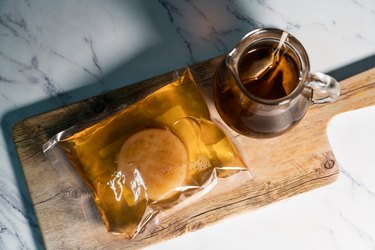 Why Make Kombucha Yourself?
For most people, the number one advantage of making kombucha at home would be to save money in the long run. While most 16-ounce bottles of kombucha retail for between $3 and $5 (a bit less than a smoothie these days), if you're all about that "booch" life and tend to buy kombucha more once a week, the costs can really add up over time (that's around $260 a year in high cost of living areas for not a huge amount of kombucha). It's the same reason some people opt to make their own smoothies at home: It's (way) cheaper.
A healthy, individual SCOBY can brew for six to nine months, meaning if you use your kombucha kit often enough, it pays for itself in no time. Plus, if your entire household loves kombucha, nothing's stopping you from using more than one SCOBY at a time to produce larger batches of kombucha, which will go a longer way than purchasing individual bottles for everyone. Once you learn how to make your own kombucha, you can even experiment with new flavor profiles by using different teas and sweeteners.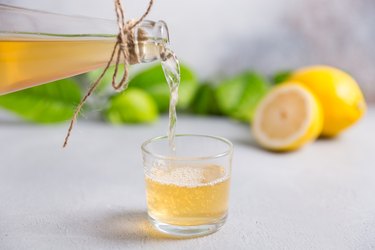 What to Consider When Purchasing Kombucha Kits
‌Size:‌ Consider how much kombucha you want to brew at a time. If you're just starting out, a smaller kit may be sufficient, but if you plan to make larger batches, you may want to opt for a bigger kit. Homemade kombucha can last between one and three months in the fridge—before it's opened. After opening, it's recommended to consume kombucha within one week.
‌Materials:‌ Look for a kit with components made of high-quality materials that are durable and safe for brewing. Glass containers are ideal as they are non-reactive and won't affect the flavor of the kombucha, but some kits may use food-grade plastic instead.
‌What's Included:‌ Make sure you know just what is included in the kit. Some kits may come with additional accessories such as temperature strips, pH test strips or funnels, which can be helpful for brewing and monitoring your kombucha. Most kits will come with fermentation jars, but if you have plenty of jars at home, you might be able to find a slightly cheaper kit that doesn't include any.
‌Price:‌ Kombucha brewing kits can range in price, so consider how much you are willing to spend. Cheaper kits may be more basic, while more expensive kits may include additional features and accessories. The typical price range for kombucha starter kits is $40 to over $100.
With these considerations in mind, we've selected some of the best kombucha brewing kits on the market:
1. The Kombucha Shop 1-Gallon Starter Kit
This highly-rated and bestselling kombucha starter kit comes with everything you need to begin brewing your own kombucha at home. It includes a 1-gallon glass brewing jar that's significantly larger than what many other brewing kits provide, as well as a breathable jar cover, an organic black and oolong tea blend, an organic kombucha culture (the SCOBY) and starter liquid, a pipette, pH test strips, step-by-step instructions and a temperature gauge to help you monitor your brew's progress.
The Kombucha Shop's cultures are grown in a MOSA Organic-certified brewery in Madison, Wisconsin using triple-filtered water, high-quality sugar and loose leaf tea, along with a six-week aged kombucha starter. You won't need to provide anything yourself, making this kit one of the easiest to get started on.
The Deluxe Starter Kit ($79.99 at time of writing) includes everything the starter kit contains, as well as six 16-ounce swing-top glass bottles with strong gaskets and a stainless steel funnel and strainer set to help you add ingredients to these narrower bottles. This kit gives you the option of brewing in the 1-gallon jar or directly inside the swing top bottles. There's also a bendable bottle brush for cleaning the bottles afterward.
2. Fermentaholics Complete Kombucha Starter Kit
Another fantastic and complete option is the Fermentaholics Complete Kombucha Starter Kit, which, like The Kombucha Shop kit, allows you to brew 1 gallon of kombucha at a time. The kit includes a 1-gallon brew jar, organic cane sugar, a tea blend, a reusable cotton tea bag, an adhesive thermometer, pH strips, a pipette, a cotton cloth cover, a rubber band, a set of detailed instructions and a flavoring guide. You don't have to provide any materials yourself.
There are two other versions of this kit, as well: The Deluxe Starter Kit includes the entire regular starter kit, as well as a kombucha heat wrap to ensure you brew at the right temperature (ideal for those living in colder climates), while the Pro Starter Kit includes the regular starter kit, the kombucha heat wrap and a bottling kit complete with seven swing-top glass bottles, a bottle brush and a stainless steel funnel.
If you've already got some of the necessary brewing equipment and just need the tea and cultures, you could purchase the Fermentaholics SCOBY and starter tea instead, which comes in a resealable bag and makes 1 gallon of kombucha (it's also great for kombucha refills).
3. RevitalKombucha Basic Kombucha Starter Kit
While this more affordable kombucha starter kit doesn't include a brew jar, it still comes with everything else you'll need to make 1 gallon of kombucha at home. The kit includes a SCOBY with 16 ounces of starter liquid, one bag of a ceylon and oolong tea blend, one bag of organic cane sugar, one reusable cotton muslin tea bag and step-by-step instructions with graphics. Once you get your hands on a suitable jar, the kit is very easy to use.
RevitalKombucha also offers a Deluxe Kombucha Brewing Kit that is more comprehensive: It includes a 1-gallon glass jar, four swing-top bottles, a food-grade stainless steel steeper, two bags of tea blend, two bags of organic cane sugar, two temperature gauges, one cloth cover, pipettes, step-by-step instructions and more. If you find the deluxe kit is too fancy, customers of this store have found that the basic kit is still more than sufficient.
4. BooChiKombucha Letterbox Organic Kombucha Making Kit
This beautifully-packaged kombucha brewing kit would be our pick for sending to someone as a special gift (however, make sure your recipient already has suitable jars for brewing, or else provide them with one, as this kit does not include a jar).
Despite not including a jar, the kit contains all of the other important ingredients and components you'll need to brew your first 3 liters (approximately 0.8 gallons) of kombucha, such as organic green tea, 130 grams of organic cane sugar, an organic SCOBY and starter cultures, a cloth top, an elastic band, a full set of instructions and a how-to video. The step-by-step instructions are printed on the back of the box, so make sure you or your gift recipient don't toss the box out!
5. Kitchentoolz Kombucha Starter Kit (Jar Excluded)
Another cost-effective option for those who aren't worried about having to provide their own jar, this kombucha starter kit comes with everything but the jar itself. The kit brews a full gallon of kombucha and contains a SCOBY in starter liquid, organic sugar, tea, pH test strips, an adhesive thermometer, a cotton cloth, a rubber band and a pamphlet of instructions. It's not the most glamorous-looking kit, but for anyone interested in giving kombucha brewing a try without overspending, it's a safe and economical option.
6. Masontops Kombucha Brewing Starter Kit for Wide-Mouth Mason Jars
Yet another affordable, jar-less starter kit, this kombucha brewing kit differs slightly from other kits by providing an air-locking kombucha brewing lid instead of a cloth top and rubber band. The kit also contains a brewing thermometer, a dehydrated SCOBY (and the ingredients to activate it), black tea and sugar. It comes with access to a digital recipe book with step-by-step instructions. The kit is designed for wide mouth Mason jars or canning jars.