Sure, sometimes those pricey, elaborate, multipurpose, fancy kitchen gadgets are lots of fun to buy and play around with. And yes, if they're smartly designed for practical applications, they can improve life in the kitchen in a variety of ways.
On the other hand, sometimes it's the simplest purchases for the simplest purposes at the lowest prices that leave you feeling particularly satisfied.
It's a must-own coffeemaking accessory for anyone who uses an espresso machine at home. And it's such an easily overlooked one, too. So many people have their own bean grinder, knock box for expelling used grounds, specialized cleaning implements for components of the espresso machine and more—but not one of these handy little mats.
The concept is simple: The espresso tamper mat sits on the edge of your counter directly in front of your espresso machine. Place the portafilter on it when tamping the espresso grounds, and it holds the portafilter steady in place as you press down.
And that has three benefits. First, you can tamp the grounds with an easy, smooth motion. If you're clumsy—or maybe just not fully awake because you haven't had any caffeine intake yet—that's something you'll appreciate.
Secondly, no grounds get dumped out on the kitchen counter or floor because the portafilter slid or tipped over. If you don't like dealing with extra messes—especially granular ones before you've had your caffeine—that's nice, too.
And thirdly, it protects your countertop. If you tamp the portafilter directly on the counter, you're pressing metal into the surface of your counter. That's not such a great idea. And if that portafilter slips and slides across the counter, you may end up with scratches or cracks.
The NuLink Espresso Tamper Mat is a heavy-duty nonslip food-grade silicone gel mat. Crucially, it reliably stays in place for stability while tamping. An additional folded-down piece in front that clings to the vertical edge of your counter is a big help in this regard.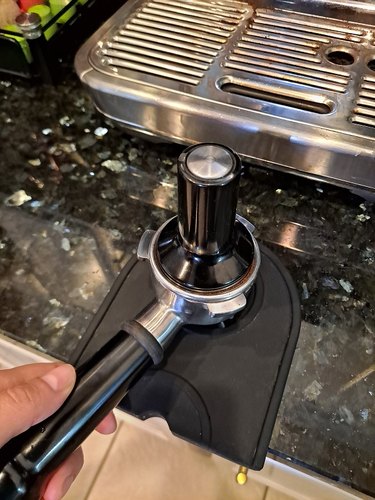 This mat has a circular indentation on top if you prefer to place the portafilter fully on the counter when tamping espresso grounds. And there's also a semi-circular cutout at the edge, offering another place to sit the portafilter while tamping. Choose whichever positioning is most comfortable for you.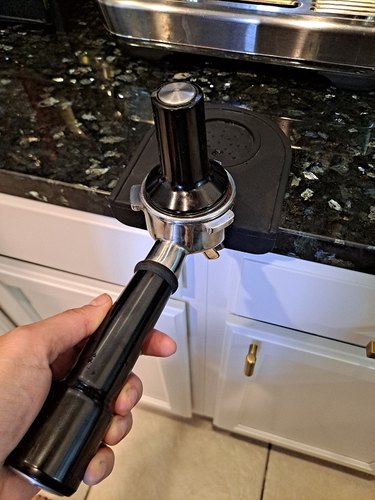 And this mat is durable. Ours gets used two or three times most days, and we've had it for about two years now. After multiple daily uses over all that time, it may not look brand new, but it's still in really good shape. The black color has faded a bit, but there are no cracks, rips, worrisome wear, signs of weakening or other damage.
As for cleaning, all this mat usually needs is a quick rinse in the sink if you get some grounds or milk on it. But when you want to give it a more thorough washing and sanitizing, the NuLink Espresso Tamper Mat is dishwasher-safe and heat-safe up to 445 degrees Fahrenheit.
Leave it in place on the counter in front of your espresso machine, or toss it in a drawer between uses. Either way, it's a great little convenience item at a low price. You won't pay a whole lot of attention to or give it much thought, but it makes your morning barista routine a little smoother when you're just getting going with a couple of shots of espresso, latte, cappuccino or other espresso-based beverage.