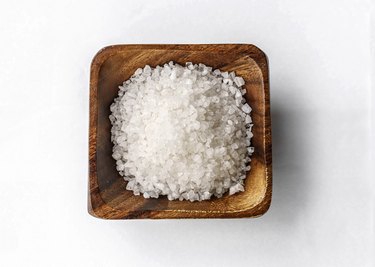 If you're still dispensing salt from a shaker when you cook, you're doing it wrong. It comes out too slowly and it's prone to getting stuff in it and clumping up from exposure to moisture. Plus, you get better control over salt quantities when you use your fingers. And sprinkling by hand helps you become a better cook as you develop a more intuitive sense of how much you should salt different preparations.
You want a salt cellar (otherwise known as a salt keeper, salt box or salt container; then there are also salt pigs, but more on that below) on your countertop, close to your stove or primary prep area. Or, even two salt cellars, with one in each area, if you really like to be efficient.
The best salt cellars hold a good amount of salt—all different types, whether your go-to is iodized table salt, kosher salt, sea salt, Himalayan sea salt, gourmet salt, etc. They protect the salt from contamination and give you easy access to quickly grab a pinch or more. And they're a cookware accessory that helps you season like—and look like—a pro.
What to Consider When Purchasing a Salt Cellar
‌Design:‌ Many salt cellars are round with a swivel lid, and these days, a lot of them lock closed with a magnet. But others are square or rectangular, and you can find products with regular removable lids, flip-top lids, and other shapes and styles. Even whimsical ones shaped like animals. There's no right answer as to which is best; it's mostly a matter of personal preference.
Salt pigs and some salt crocks don't have lids. Their design prioritizes unfettered access while prepping and cooking. But they should be designed in a way that protects their salt content against contamination. These are best if you go through lots of salt relatively quickly so it's not sitting out on your counter for a long time in an open container.
‌Material:‌ Ceramic, wood and bamboo are common salt keeper materials. You can also find glass, plastic, stainless steel and other materials. Ceramic and finer woods tend to cost more, but they also look nice. Material affects care requirements, too. Wood and bamboo should be hand-washed and dried quickly. Some materials are dishwasher-safe. And some, like ceramic and other stoneware salt cellars, may be dishwasher-safe but still recommend hand-washing to reduce the risk of cracks or chips.
‌Features and Accessories:‌ Salt cellars are simple kitchen tools, so you won't find much in the way of different features and accessories. But one design feature you might appreciate is a divided container that accommodates two types of salt, salt and pepper, or salt and another seasoning you use frequently. This makes for a tighter fit for your fingers, though. And many salt keepers come with a little spoon (and ideally a built-in way to store it) if you want an alternative to using your fingers or you end up with a model that's too small to reach into.
Along with your budget considerations, these factors should help you select the best salt cellar for your kitchen.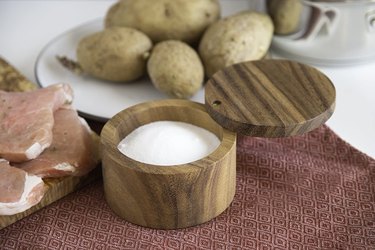 This salt box features an easy-to-use flip-top lid and it's available in four fun colors to complement its cute design. The body is ceramic and it has a convenient handle—you don't often see that on salt cellars—while the lid is made from Japanese cypress wood, offering protection and breathability. With a generous 14-ounce capacity, you won't have to refill often, and you shouldn't have any problem getting your fingers in there. It's a good price for the size, material, quality and uniqueness of the piece. Hand-wash this product.
2. KITCHENDAO Bamboo Salt Cellar
This bamboo salt keeper and spice box is both a budget-friendly and eco-friendly top pick. It has a protective coating of mineral oil that helps prevent unpleasant odors, and it can be easily hand-washed with a damp cloth and then air-dried. There's a smoothly swiveling lid with a magnetic lock that's easy to operate with one hand. Plus, the piece comes with a small bamboo serving spoon and it has indentations on the lip so you can rest the spoon across the top of the opening. This salt keeper has a standard 6-ounce capacity.
3. Totally Bamboo Salt Cellar
This item is very similar to the previous one and a great choice if you'd prefer to spend a little less and forgo the serving spoon. It's also bamboo, has a 6-ounce capacity, and features an easily operated swivel lid that shuts securely with a magnet lock. As with other bamboo kitchenware, hand-wash this product and let it air dry right away in a well-ventilated spot; don't soak it or put it in the dishwasher. And remember, bamboo is an environmentally-friendly material, so you can feel good about this purchase in that regard as well as its low price and high quality.
4. Ironwood Gourmet Appalachian Salt Cellar
This attractive, elegant wooden salt keeper is made from acacia wood. It offers a darker, richer coloration with a more striking contrast than bamboo, but it has the same care requirements (hand-wash only, air-dry quickly) and a comparable price point. And this one too has the common cylindrical shape, swivel lid and magnet lock. The lid swings open and closed quite smoothly, and the lock holds it closed securely. With about an 8-ounce capacity, this salt cellar is slightly larger than many similar products.
This olive wood salt box is a gorgeous item, though you do pay a higher price for the luxury look. However, you also get a generous 8-ounce capacity and a unique, handcrafted piece of kitchenware. It's of high quality, too, with a magnetic swivel lid and stainless steel hinge. The wood is also harvested from a sustainably managed forest. Like other wood products—and to protect your investment and maximize its life—this salt cellar should only be washed by hand, never soaked, and allowed to air dry quickly in a well-ventilated area.
6. HTB Divided Salt Cellar
If you're looking for a divided salt cellar with two compartments, here's a recommended pick. It's an eco-friendly bamboo piece sold at a good price point. With dual chambers, you can have two types of salt readily on hand, or salt and pepper, or any other combination of spices and/or herbs that suits you. This one also comes with a little bamboo serving spoon, and the magnetically locking swivel lid has a convenient cutout for storing it. The divided spice box has just under a 6-ounce capacity and should only be hand-washed and promptly air-dried.
Le Creuset is a beloved name in upscale enameled kitchenware, and its charming salt crock is another great product in its catalog. It's sold in four of the brand's most popular colors, so it'll fit right in if you have other Le Creuset pieces, or still complement a variety of kitchen decor and cookware if you don't. This salt keeper doesn't have a lid, but it's designed to protect its contents well. It resists stains, scratches, cracks and breaks well, and is dishwasher-safe (though you may still choose to wash it by hand—and its nonstick glaze makes that easy).
If you prefer a salt pig, this ceramic one is a top pick. It's a quality product, made from high-fired Burgundy clay and finished with a high-performance scratch- and crack-resistant glaze. Emile Henry has been a respected French brand producing ceramic cookware and other kitchenware since 1850. The shape and size of the opening allows for easy access to the contents while protecting them against splattering oil and other contaminants. Choose from white, black, blue flame (pictured here) or burgundy. This salt keeper is dishwasher-safe and makes a fine addition to any luxury or casual kitchen.