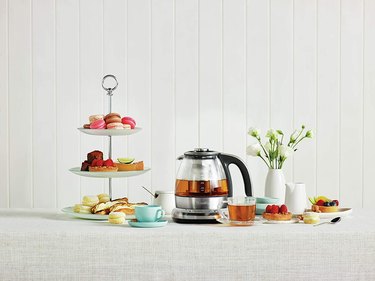 People have been drinking tea for over 4,000 years. Allegedly since 2737 BCE. That's when, as legend has it, Chinese emperor Shen Nung sat by a ‌Camellia sinensis‌ tree waiting for a cup of boiled water. While his servant prepared it, some leaves blew into it. Shen Nung thought the tinted water looked more appealing than the plain stuff, so he drank it. And was pleased.
FYI, ‌Camellia sinensis‌ is the evergreen species from which we get black, green, white, oolong and other types of tea.
In all this time, there's been much ado about how to brew each type of tea. Ratio of leaves to hot water. Water temperature. Steeping vessel. Steeping time. These and other factors are the subject of millennia of civil conversations, heated debates, testing, books and lofty proclamations.
I'm fascinated by the history of food and beverages. Especially something like tea, with such significance as a cultural, spiritual and medicinal preparation around the world. And there's something very Zen and beautiful about a tea-making ritual. And I think it's great when people learn about and take seriously the stuff they like to consume.
But when I want to relax at night with a cup of tea, I don't want it to be a process. I just want it to be easy.
That doesn't mean I'm resorting to tea bags, though. Loose-leaf tea yields a fresher, more flavorful, more aromatic, more nutrient-rich beverage. I may be lazy, but I still have standards.
It's an automatic tea infuser that has distilled the art and science—and the ritual—of brewing loose-leaf tea down to the push of a button.
This convenient kitchen gadget has five presets for black, herbal, green, white and oolong teas. Use one of these selections, and the infuser brings the water to the appropriate temperature and sets an ideal steeping time for the type of tea you're preparing.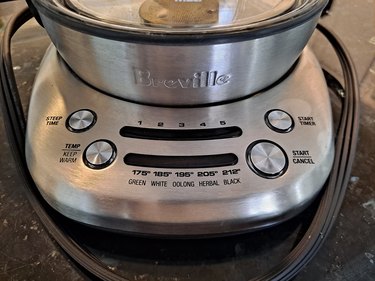 Or, set the water temperature and steep time yourself (from 1 to 5 minutes for a mild, medium or strong brew) if you prefer. Whichever settings you use, an alarm goes off to let you know when the steeping time is done. Plus, there's also a handy function to efficiently boil water.
The stainless steel mesh filter basket is relatively spacious. It lets the tea leaves float around in the water as they steep, maximizing infusion. A lot of infusers pack the leaves into a tight space, which hampers infusion. And because it's a mesh filter, it contains even small bits of leaves so they don't end up in your mug.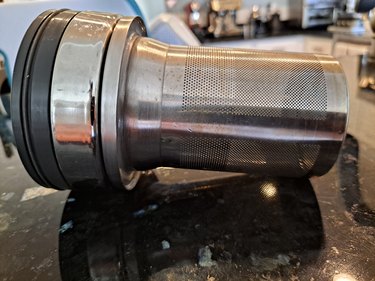 The filter slides easily in and out of the carafe. The stainless steel basket lid attaches securely with a magnet and releases with the touch of a button. The lid and basket are dishwasher-safe for occasional, effortless cleaning. Protect the glass carafe by hand-washing it.
Brew 2 to 4 cups of tea at a time with the Breville Smart Tea Infuser. If you usually only make a single cup, this product isn't a great pick. But if you generally enjoy more than one cup or make tea for two or more people, this is a simple, convenient option. At 9.33 inches long, 8.39 inches wide and 8.27 inches high, it won't take up a lot of space on your countertop, either.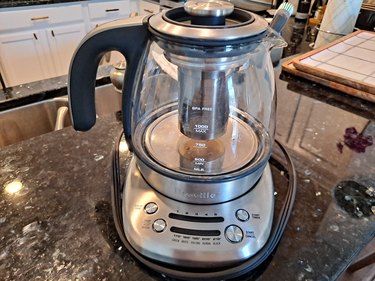 If you do prepare multiple cups for yourself, there's an automatic keep-hot function that kicks on when the steeping time has elapsed. So you'll find the tea is still hot when you return for a refill.
I'll also point out that this is a nice-looking piece of equipment. It fits right in among the other stainless steel countertop appliances in the kitchen. And it's made by Breville—a go-to brand for high-quality, high-performance kitchenware. It still works well after lots of use over a few years.
So, for those who want a simple way to brew perfect cups of loose-leaf tea at home, I recommend the Breville Smart Tea Infuser. It's a bit of an investment, but one you'll be happy with for years to come.