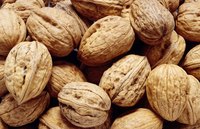 Choosing the right preparation method for shelling walnuts makes the difference between laboring with a nutcracker and removing the skins by hand. Blanching walnuts softens the outer shell so you can peel it off with ease before serving or using them in a recipe. The exposure to heat when using this shelling method also decreases the bitter flavor of the tannins contained in walnuts. You can unveil the sweet and nutty flavor of walnuts to pair with sauces, snack mixes, desserts, salads and wines.
Things You'll Need
Bring water to a boil in a saucepan. Pour the walnuts into the boiling water, submerging them in the water.
Boil the walnuts for about 30 seconds. Remove the saucepan from the heat. Pour the walnuts into a colander to drain them.
Pour cold water over the walnuts to cool them. Peel the walnut shells off with your fingers. Pour the walnuts in a single layer on a baking pan to dry.