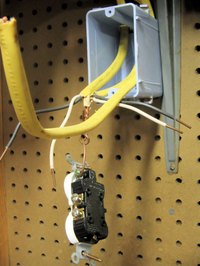 The National Electrical Code (NEC) details the grounding system for a residence. In the NEC, a proper grounding system consists of four major components: an Earth ground, the main load center, the neutral conductors and the individual circuit grounds.
Main Load Center
The case of a home's main load center, also called the main breaker panel, must have an earth ground. This ground consists of a long copper rod called an electrode that is driven into the earth. This rod then connects to the metal case of the main load center via a bare copper wire.
Neutral Conductors
Electricity circulates throughout a home via individual circuits. Each circuit has a neutral conductor (wire) and a hot conductor. According to the NEC, all circuit neutral conductors must connect to the case of the main load center, which in turn is connected to the earth ground.
Circuit Grounds
Besides the neutral and hot conductors, each branch circuit must have its own ground, which is either a green wire or a bare copper wire. These ground wires connect to the various devices in the circuit, such as electrical outlets. The other end of the ground wires connect to the main load center's case, reaching the earth ground through the case.