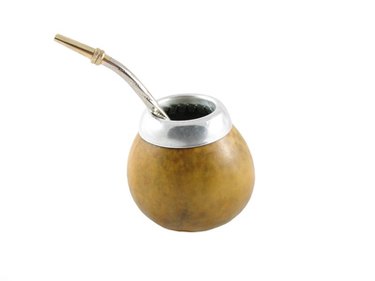 Argentina is a country full of passion and color. It's also a land with its own particular brand of heroes, from gauchos to soccer players; so for Argentinian children, there is no shortage of artistic inspiration. In fact, that are several crafts that are perfect for kids who call Argentina home.
Argentinian Flag
Argentinians are a proud people and their flag is an important symbol of their national identity. The Argentinian flag lends itself well to replication by children. The baby blue and white bars are easy to color, and the sun with a face in the center of the flag adds another pleasing dimension. Flags of all sizes can be printed out and colored, or children can attempt to draw their own from memory. It's a perfect way for children to both learn Argentinian heritage and develop artistic expression.
Goucho Gourd
One of the most colorful, yet mysterious, characters in Argentina is the gaucho, who is the equivalent to the North American cowboy of the Wild West. Gauchos have a distinct style with their hats and scarves, and they are passionate drinkers of a tea called Yerba Mate. In fact, each gaucho has his own hollowed out gourd from which to sip tea from a metal straw. Since many gourds have their own designs, a great craft idea for Argentinian children is to paint, draw or carve designs onto their own gourds. When they complete the craft, kids will have their own special cup and another accessory for when they play gaucho dress-up games.
Papier Mache Soccer Ball
Soccer, or futbol as it's called in Argentina, is not just a hobby in this country, it's a borderline religion. Before they can even speak, many children discover the game. A great way to give sports-loving children a reason to want to participate in crafts is to let them build and design their own papier mache soccer ball. Not only is the sphere shape a good introduction to learning the craft, but there is a lot of room for creativity in the design of the ball. Although it can't be used as a real ball, the papier mache soccer ball makes a unique decoration, and smaller versions can even be made into Christmas ornaments.
Milk Carton Armadillo
Armadillos are common critters in the open lands of Argentina. In addition, some people consider them a culinary delicacy. Either way, the armadillo is one of those creatures with a distinct personality and one that kids from Argentina will certainly be familiar with. A simple craft idea for children is to make an armadillo out of milk cartons. The basic shape is there, except for the tail and ears, which can be added when the carton is wrapped in brown paper. From there it is simply a matter of picking up a black marker and drawing a face, as well as the many cracks and curves of an armadillo shell. The sturdiness of the carton makes for a durable little craft.