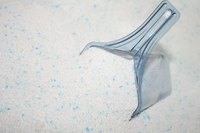 Stains are a serious nuisance to you and potentially damaging to your clothing. The costs of chemical stain removers are sometimes expensive, but that's nothing compared to the cost of a new article of clothing. Commercial stain removers are not always available in a stain emergency. Because it is best to treat a stain as quickly as possible for the best chances at removing it completely, you may need to rely on ordinary household items as stain removal solutions.
Food Stains
A little soap and water is your first defense again food stains. The sooner you remove the food, the better chance you have to remove it for good. If this is not enough, try using hydrogen peroxide. Simply splash a clean, dry towel with hydrogen peroxide, and dab the stained area. If the stain is more set-in, try pouring the hydrogen peroxide directly on the stain. Allow it to sit for a few moments or until it starts to bubble. Use a dry towel to absorb the moisture. Wash the article of clothing as normal.
Grease and Rust Stains
At home or at the workplace you may be required to work with materials such as grease and rust that can potentially stain your clothing. Try dabbing the stained area with WD-40 or lemon juice, and allow it to set before laundering the item of clothing as usual. Another way to remove grease from a stain is to sprinkle cornstarch or a talc powder over the stain. Allow it to set for several minutes to absorb the grease. Brush off the powder and launder as required.
Other Stains
Remove oil-based stains by using another oil-based product. For example, if you were to spill gasoline on your shirt, try using baby oil to remove it. If you have an article of clothing that has been damaged around the neck or underarms with sweat, soak the shirt in a 50:50 ammonia and water solution. Squeeze in a few drops of dish soap, and allow it to sit for several hours. Remove blood stains from an item of clothing with hydrogen peroxide and water. Remove pen stains by dabbing on ammonia and water.