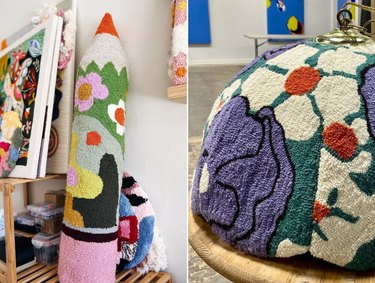 If you've spent any time exploring Etsy, the crafty side of Instagram or TikTok's ever-popular #CraftTok corner lately, you've undoubtedly come face-to-face with the marvels of tufting. In fact, tufting is so popular that eHow Makers of the Month, artists Tim and Tiernan from Tuft the World, recently hosted the first-ever tufting convention: TuftCon!
Tufting's skyrocketing popularity comes as no surprise. This fun, relatively beginner-friendly craft allows newcomers and experienced tufters alike to whip up custom rugs, coasters, bath mats and just about any other soft item imaginable with the aid of a tufting gun, a wooden tufting frame and some yarn. Like its close cousin punch needling (a similar process that's done by hand), tufting offers the chance to get totally creative with rug designs and brilliant colors—but the use of an automated tufting gun cuts down on production time and brings a new DIY phenomenon to the masses.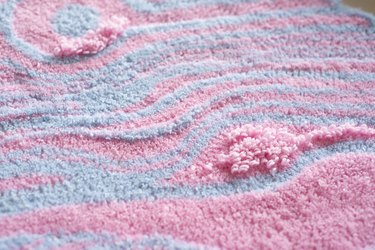 We've been feeling especially inspired by the countless tufted rugs and other pieces of utterly unique tufted home decor floating around the web in recent months. To celebrate all things tufting, we've rounded up a few of our favorite tufted creations from social media to kick your creative energy into high gear. Whether you've been making your own rugs and wall art for years or you're brand new to the world of yarn-based crafting, these quirky, intricate and downright beautiful tufting picks are sure to impress.
TikToker @fruityhousedesigns shows off a simple yet totally adorable way to use a tufting gun: creating soft and versatile tufted checkerboard coasters! We love getting a firsthand look at the process, which calls for a tightly stretched fabric pattern, yarn and, of course, a tufting machine. The completed coasters are simultaneously nostalgic and modern not to mention vibrant!
One of the many delights of tufting? Crafters can create just about any design they want as long as they have a vision and a means of superimposing their design onto tufting cloth. (Some tufters even draw freehand designs with pencil and "trace" the outline with yarn.) TikTok artisan @happy.rugs demonstrates her tufted sneaker rugs, designed to look like famous kicks. Incredible!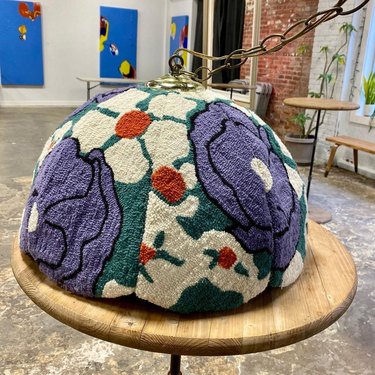 Tufting extends far beyond the wonderful world of rugs, and artist @sachi.sometimes offers proof in the form of an utterly one-of-a-kind tufted lampshade. Made with a vintage lampshade skeleton and colorful tufted yarn in shades of turquoise, purple and orange, the finished product feels retro-inspired and, well, completely original. What a beauty!
You might have seen smaller-scale tufted mirrors on Etsy, TikTok or Instagram, but artist @bassamartt of @Ghazlah.studio takes things to a whole new level with a large-scale "rug mirror" that features a rainbow of colors and magnificent artistry. It's mesmerizing to watch each section fill with color before yarn is trimmed with shears, adhered to a mirror and displayed against the wall. Can you imagine adding something so eye-catching to your space?
5. Nature-inspired tufting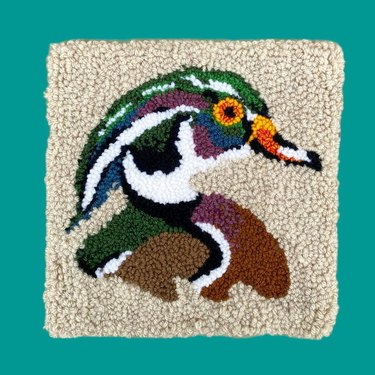 Many tufted rugs and other pieces are abstract, but artist @tarakosowski highlights a piece of nature-inspired tufting with an intricately depicted duck. We love the beauty and versatility of this piece—it would look equally beautiful as a small rug, a coffee table accent piece or even a wall hanging. When we say the options are limitless, we really mean it.
Tufting is for everyone—really. TikToker @mannilasha_ gives followers a glimpse into her first-ever rug-tufting workshop, where she learned how to use a tufting gun and created a bright, floral-inspired area rug. She explains that while creating a large piece was time-consuming, the opportunity to try a new craft made for an unforgettable and positive experience.
How to start tufting
Have all these fantastic pieces of tufting inspo left you itching to try it for yourself? If you're ready to tackle the craft, it's a worthwhile investment—but you can give it a try first by searching for tufting classes in your area. Alternatively, pick up a tufting starter kit from Tuft the World and jump right in with your own materials. You can even sign up for a beginner-friendly online tufting workshop! For a more detailed overview of what it takes to make tufting part of your life, check out our interview with Tim Eads and Tiernan Alexander, founders of Tuft the World.
7. Tufted Pompompurin rug
Pop culture and anime characters are popular choices when it comes to tufting designs, and TikTok tufter @jayglasss highlights a rug made to resemble Sanrio character Pompompurin. After using a projector to trace the design onto tufting cloth, he makes the adorable piece comes to life—and the finished product would look adorable as a kid's room rug, a home office focal piece or even smack dab in the middle of an eclectic living room. It's almost too cute to step on!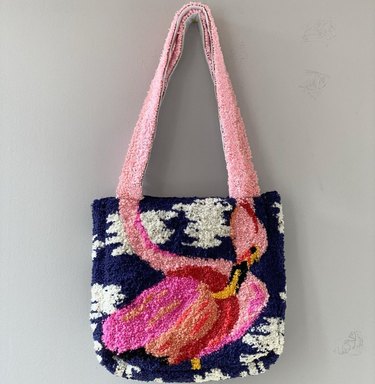 Room decor and rug ideas are wonderful, but if you're looking for something a bit more useful, tufting still comes in handy. Artist @mollypilkington proves this point with a tufted tote that's sure to draw compliments around every bend. We're totally enamored with the inventive flamingo design and fully tufted exterior, right down to the handles.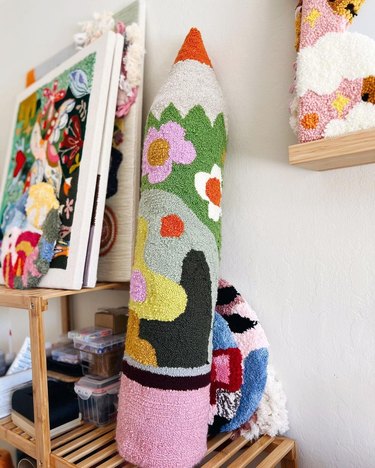 We're firm believers that you can never have too many throw pillows, and this philosophy certainly extends to charming tufted pillows! Traditional square and rectangular pillows are fantastic, but we love the approach TikTok artist @byadelinewang took with this tufted 3D pillow pencil. It might not be quite the right size for your armchair or bed, but it's a fairy tale-esque addition to just about any room.
10. Tufted plant pot cover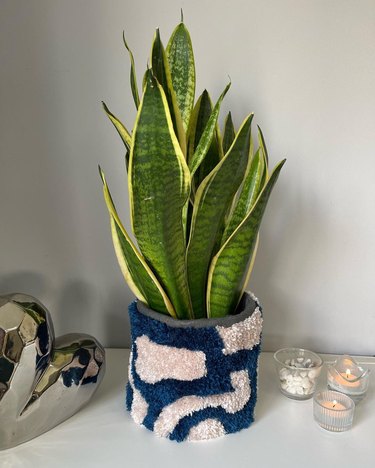 If you're both a plant person and a crafty type, you just might fall in love with this tufted plant pot holder from artist @zeenamorrisxdesigns. There's something so fun about combining greenery with a fluffy outer shell, particularly when it's soft enough to snuggle! We'd like to fill an entire shelf with these unconventional plant pot holders.
Whether you're preparing to make your foray into rug-making, seeking memorial gift ideas or simply enchanted by the creativity of talented tufters, we hope our roundup of handmade rugs and other tufted treasures has left you feeling inspired. Tufting is here to stay—and we're thrilled to have a front-row seat.