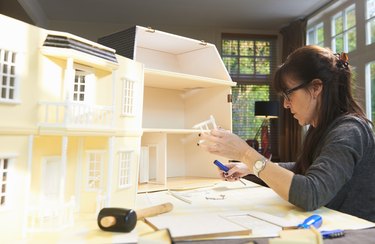 Dollhouses are ‌technically‌ toys, but they have deep crafting roots. Dating back to the 1500s, these miniature houses featured stunning craftsmanship and were designed for imaginative play with teeny tiny pieces of dollhouse furniture and decor for dolls. With the growing popularity of slow crafting on social media platforms TikTok and Instagram, wooden dollhouses have recently seen a resurgence in popularity, not just for kids but for crafty adults who wish to create a whimsical dollhouse of their own.
If you're like us and feel the itch to jump on this craft trend, you might be wondering: How do you make a dollhouse, anyway? While some hobbyists might design and build their dollhouses from scratch—as in painstakingly cut out dollhouse pieces from sheets of wood—there's actually a much easier way to build the wooden dollhouse of your dreams, thanks to DIY miniature dollhouse kits. These kits come with pre-cut pieces of wood that you piece together to form the structure of your dollhouse, requiring very little woodworking skills (all you really need to know is how to glue wood).
Up ahead, we share our top picks for the best DIY wooden dollhouse kits.
What to Consider When Shopping for Wood Dollhouse Kits
‌Assembly:‌ Dollhouses are quickly growing in popularity in the crafting world. And, if you want to try your hand at a dollhouse kit of your own, the first and most important thing to consider is the assembly. In some cases, you can find dollhouses already assembled and ready to paint and decorate. However, most of them don't come assembled and require you to piece them together at home. If you don't have a lot of experience working with wood, don't worry. Kits typically come with pre-cut pieces and a clear blueprint of how to put everything together to form a miniature house. That being said, we highly recommend starting small if you're a beginner. Some dollhouses can measure up to 4 feet tall and taking on that much assembly could get a little daunting. For first-time dollhouse creators, it's best to begin with something like the ​​Greenleaf Orchid Dollhouse Kit, which is just under 2 feet tall and wide, or the Greenleaf Buttercup Dollhouse Kit which is only 11 inches long, 17 inches wide and 18 inches high.
‌Dollhouse Style:‌ Just like houses, there are lots of different dollhouse styles to choose from. The most popular options are Victorian dollhouses, which resemble the same architecture and design of the Victorian era. However, if that's not your preference, you can also find dollhouses in a variety of other home styles, including farmhouses (we love the Vermont Farmhouse Jr. Dollhouse Kit for this style) as well as modern lofts and even dollhouses inspired by brownstones to create your dream house.
‌Decor:‌ Most DIY mini dollhouse kits come with everything needed to build the structure and then leave the decorating up to you. Depending on the size and style of your dollhouse, it might help to think about how you will decorate once the dollhouse is built, so you can source materials and even create a budget (dollhouse decor can certainly add up). You can use platforms such as Pinterest to source design inspiration and save links to supplies or decor pieces for when you're ready to start furnishing, too.
‌Renovation:‌ Let's be honest, building a dollhouse isn't for everyone. If you are looking for a dollhouse project but don't want to actually build a dollhouse yourself, you can source vintage dollhouses online on Etsy and Facebook Marketplace and even find some at local thrift stores and antique malls and renovate them. Renovating a dollhouse is just as fun as building one from scratch as you can completely transform an old miniature house into something new and chic with fresh paint, stain, and interior features like modern wallpaper, decor, and a furniture kit.
‌Gifting:‌ DIY dollhouse kits are fun projects to work on that also double as stunning homemade birthday gifts and Christmas gifts. If you're looking to make a dollhouse for someone special in your life, it helps to consider their age and how you can incorporate their interests in the finished wooden dollhouse. For example, if you're gifting it to a child who loves art, you could turn one of the miniature rooms into an art room. Or, if you're making a dollhouse as a gift for an adult, you could make a miniature flower shop for someone who loves to garden, a tiny wooden coffee shop for someone who loves a morning cup of Joe, or even a small-scale dollhouse versions of someone's dream house.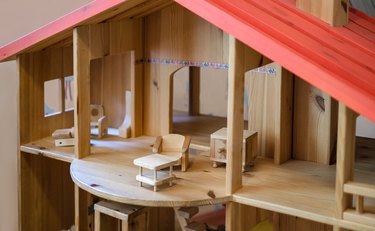 1. Greenleaf Buttercup Dollhouse Kit
Greenleaf is one of the most iconic dollhouse kit manufacturers and you can't go wrong with any of their kits, especially if you're new to dollhouse making. We love the Buttercup Dollhouse Kit because it's a small-scale dollhouse with a simple structure and adorable design. It's a fantastic first dollhouse for hobbyists and crafters alike, thanks to its petite size at 11 inches long, 17 inches wide, and 18 inches high. Once built, you can add things like roof shingles (pictured) and siding for an elevated touch, give it a fresh coat of paint, and decorate the interior with wallpaper, flooring and more.
2. Real Good Toys Painted Lady Dollhouse Kit
If you love Victorian dollhouses, the Painted Lady Dollhouse Kit from Hobby Lobby is a must. Inspired by the iconic Painted Ladies in San Fransisco, this 42.75-inch tall DIY dollhouse miniature is constructed from thick milled clapboard exteriors with adorable details like silkscreened windows, wooden roof shingles, and strip wood trims for a timeless dollhouse design. While the large dollhouse might be a big undertaking for beginners, the step-by-step building instructions make it easy to assemble and the spacious interior rooms boast plenty of space to decorate.
3. ​​Greenleaf Orchid Dollhouse Kit
The Greenleaf Orchid Dollhouse Kit is one of the best dollhouse starter kits, thanks to its size and easy assembly. The best-selling dollhouse measures 21 inches long, 21 inches wide and 14 inches high, and is designed with ornate trim, roof shingles (which are included in the kit), and double-hung style windows to create a cozy Victorian cottage dollhouse from the ground up. The kit also boasts plenty of design potential, as you can paint or stain the roof shingles to match your style preferences. And, albeit a smaller structure, the open back still has plenty of space for lots of unique design moments.
4. Miniature Joy DIY Miniature Dollhouse Kit with Remote Control
Dollhouses can be expensive, but there are budget-friendly ways to get started. This miniature modern loft kit costs under $30 and is a fantastic introduction to miniatures for kids and adults alike. This kit comes with everything you need—including tools like scissors, a knife, a screwdriver, and tweezers, as well as glue—to assemble the mini loft scene that lights up with the help of battery-operated light fixtures. It even comes with a dust cover to keep your creation spick and span.
5. Real Good Toys Vermont Farmhouse Jr. Dollhouse Kit
Not all dollhouses are of Victorian style. Case in point: The Vermont Farmhouse Jr. Dollhouse Kit from Hobby Lobby features a stunning farmhouse-inspired design with a front porch, gingerbread trim and wooden roof shingles. Constructed from thick milled clapboard, this DIY miniature house kit is durable and designed to withstand the test of time (and play). Once assembled, it measures just over 39 inches tall and 24.25 inches wide, making it a good full-sized dollhouse option. When turned around, the dollhouse features seven rooms that are ready to be decorated however you choose.
6. LaserLines Stackable Dollhouse Room Box
For crafters who prefer to create something a bit more custom, the LaserLines Stackable Dollhouse Room Box kit from Etsy is an excellent route to take. This kit allows you to choose different rooms and patterns so you can piece them together in your own unique way. As a result, you'll have a nearly custom base that you can completely transform through decor and further renovations.
7. VictorianDollhouse Crockett Victorian Dollhouse Kit
Constructed from laser-cut Baltic birch plywood, this dollhouse kit features everything you need to craft a beautiful wooden model Victorian-inspired dollhouse from scratch. The dollhouse kit, which is available on Etsy, is modeled after a historic home in Chula Vista, California, and features four large rooms—including a kitchen, living room, and other miniature rooms—that are easy to decorate, whether you want to lay down hardwood floors, carpet it, add wallpaper or simply paint it. It's also on the small side of the dollhouse spectrum, measuring 12 inches tall and 17 inches wide, making it a good beginner dollhouse project.
8. AgedWithThyme Putz Brownstone Kit
If you love miniatures, you'll adore this sweet brownstone-inspired dollhouse kit. While not intended for play, the city-inspired kit is perfect for adults looking to add some miniature magic to their home (especially holiday home decor). The handmade kit comes with pre-cut pieces that are easy to assemble to create three tiny brownstone buildings that measure approximately 4.5 inches tall and 2.5 inches wide, which you can then decorate with craft supplies like paint, glitter and fake snow, and light up with a battery-operated LED light.