As grown-ups, we tend to fill our days with high-production, fast-paced activities so we can cross off the things on our seemingly never-ending to-do lists. We are now finding out that keeping up an unrealistic day-to-day pace can only last so long before stress and damaging cortisol levels get so high. When that happens, our creativity plummets and we aren't able to accomplish what we set out to do each day. In today's world of constant stimulation, we all need an inexpensive, stress-relieving hobby that we can do anywhere and anytime.
When we don't have control over the outside forces that are causing stress, we can choose to control our response to the stress instead. One healthy self-care activity that is guaranteed to melt away stress is doodling or creating masterpieces on the pages of adult coloring books with colored pencils, gel pens, crayons or watercolors. Coloring in intricate designs is a type of mindfulness meditation that creates positive changes in your brain and helps to regulate emotion, learning and memory. Coloring in the patterns of adult coloring books and choosing the colors will access the logical and creative parts of your brain to help you to enter into a more relaxed and creative space.
So sharpen your pencils, do some deep breathing, and turn on some peaceful music because we are going to help you navigate the process of choosing the right adult coloring book for you.
What to Consider When Purchasing an Adult Coloring Book
​The Layout of Designs:​ When choosing a good adult coloring book, you'll want to make sure the original designs are high-quality and not pixelated. The designs should only be on one side of the page so the color won't bleed through to the other side of the page. If you want to tear out the pages to display them or give them as a gift, you'll want to make sure that your coloring pages are perforated for easy removal.
​Page Size:​ If you think you'll be carrying your coloring book around with you for a stress-free lunch break, you might want to get a small book that fits in your purse, backpack or pocket. A small coloring book with stress-relieving designs would also be good if instant gratification is your thing. But if spending loads of time and becoming one with your page is important and space isn't an issue, then a large coloring book might work best for you. If you'd like to remove your masterpiece and frame it for display, your coloring pages should be a standard size for framing.
​Page Thickness:​ The pages of your adult coloring book should be made from quality paper and thick enough so your masterpieces won't bleed through to the other side of the page.
​Binding Style:​ Adult coloring books are bound in several different ways. Books with fewer pages usually use the simple, clean and economical saddle stitch when binding the book. The saddle stitch is basically folded sheets of paper that are stapled together and will lie flat while working. Books with more pages will use the perfect binding technique that consists of gluing pages together at the spine. The spine will be thicker and the title of the book can be printed on it. Wire-O and spiral coil binding will open a full 360 degrees for smooth coloring.
​Details​: Detail-oriented people will most likely want to color pages with intricate designs that are complex enough to hold their attention but coordinate with their skill level so frustration won't set in and defeat the relaxing purpose of coloring. Check to make sure that the coloring book you choose has been created by an artist and not a company that compiled stock images and bound them together into a book. The details in your coloring book of choice will also depend on what type of coloring tools you plan on using. Sharp colored pencils will fill in very small spaces whereas crayons and watercolors will need larger spaces in the designs.
​Price:​ Many people start out their adult coloring book adventures online by downloading and printing free coloring pages. When you consider the cost of the special paper and the ink, it may not be the most cost-effective way to go. Plus, single pages don't have any protection from tears or wrinkles like when the pages are bound together in a book or in a folder. You can find many high-quality adult coloring books that range in price from $5 to $30.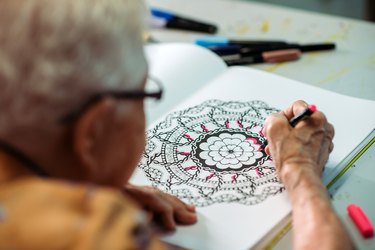 1. "Good Vibes: Don't Give Up" Adult Coloring Book by Cherina Kohey
Stay in the moment and get outside your head with the "Good Vibes: Don't Give Up" adult coloring book. Relieve stress and take a deep breath when coloring pages in this beautifully designed adult coloring book with motivational phrases and words. There are 30 one-sided pages covered in positivity to get your creativity flowing. The intricate designs allow you to use a 1-millimeter pen without going outside the lines. Pair this beautiful activity book with some colored pencils for a wonderful gift for someone you know who could use a little stress relief in their life.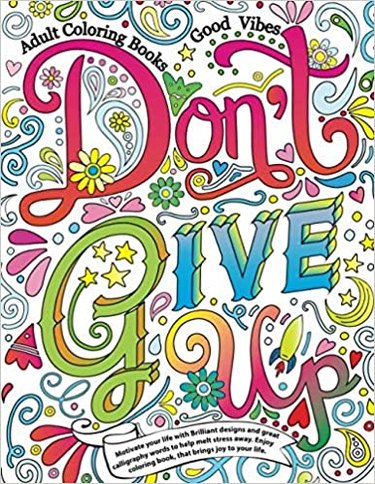 2. "Stress Less Coloring: Mandalas" Adult Coloring Book by Jim Gogarty
Combat stress and boredom, ease restlessness and create a masterpiece at the same time when coloring pages in the "Stress Less Coloring: Mandalas" adult coloring book. A mandala is considered a sacred circle and has been used for meditation throughout history and across many different cultures. Color the mandalas in this book to calm your mind and manage anxiety. Even a beginner can use this book for art therapy and to release tension and shift focus to something fun and new while coloring the 100-plus pages in this book.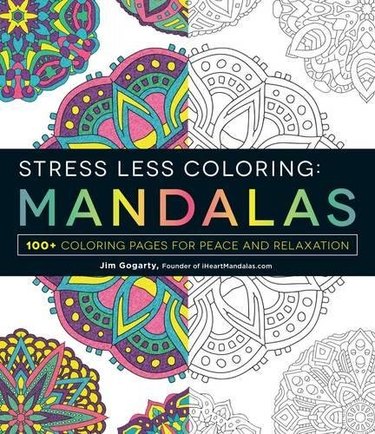 3. "Hand Lettering for Relaxation" by Amy Latta
Access the cognitive and emotional benefits of coloring while learning hand lettering in Amy Latta's adult coloring book, "Hand Lettering for Relaxation." Learn how to create whimsical hand-lettered masterpieces on the 208 pages of brain-quieting activities. This gorgeous book comes in a Kindle version, a paperback version and a spiral-bound version that will lie flat while you work.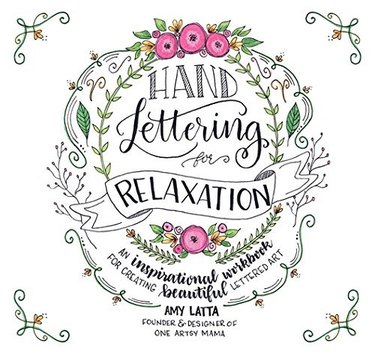 4. "Adult Coloring Book: Stress Relieving Designs" by Cindy Elsharouni
You will find over 60 diverse patterns, mandalas, flower bouquets, woodland creatures, sea animals and many more designs in this adult coloring book. Stimulate the motor section of your brain and lower your cortisol levels while coloring the one-sided pages in this beautiful book. Whatever tools you choose to use—crayons, gel pens, colored pencils or markers—you won't have to worry about any of the color bleeding through to the next page. Beginners and experts alike will enjoy relaxing while creating masterpieces on the pages of this book.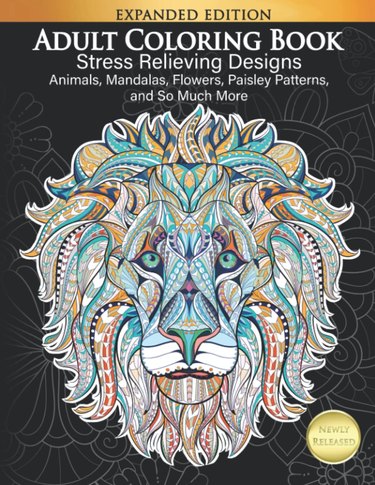 5. "The Golden Ratio Coloring Book" by Steve Richards
For all you math geeks out there who also want to combat stress, "The Golden Ratio Coloring Book" by Steve Richards explores the geometric patterns and mathematics of our universe. The Golden Ratio, or phi, is the divine proportion that can be visualized from geometry to the human body. It's found in nature, art and architecture. Sharpen up your colored pencils because this stress-relieving book takes doodling to a whole new level. "The Golden Ratio Adult Coloring Book" explores the way numbers and beauty combine. Whether you have a logical or creative mind, you're sure to enjoy wellness, relaxation and quietness while coloring pages and creating masterpieces in this book.
6. "Adult Coloring Book: 60 Stress Relieving Animal Designs" by Olympia Soares
Nature lovers will enjoy coloring pages in this relaxing adult coloring book. It's easy to see why this book is a best seller. The 60 animal designs are printed on one side of quality paper to prevent watercolor markers or gel pens from bleeding through. The artwork includes animals, birds, wildlife, sea creatures, cats, dogs, mandalas and much more for hours of stress relief.